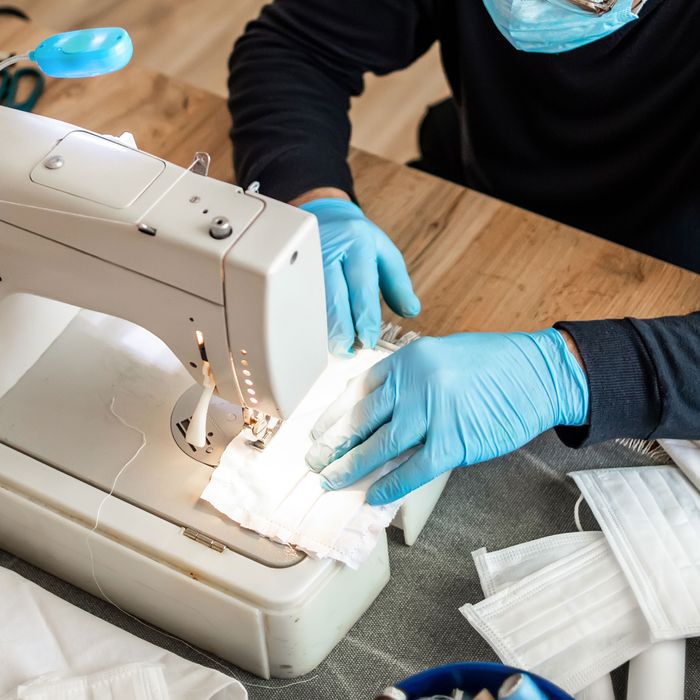 Photo: Milan Markovic/Getty Images
The fashion industry faces a dire financial future. Stores are closed, production is largely halted, runway shows are canceled, and magazines are scrambling to figure out how to produce remotely. But companies are still diving deep into their pockets to donate millions of dollars to help fight the coronavirus. They're also doing what they can with the resources they have, whether that means sewing masks and hospital gowns, producing hand sanitizer, or culling donations.
Below, an exhaustive list of what companies, brands, and stores — big and small — are doing to help.
AG Jeans
The California-based brand will donate $1 million to the COVID-19 LA County Response Fund, which will support community clinics and hospitals across the county, specifically their ability to scale up capacity, increase staffing, and implement testing. AG has also committed to continue paying and providing benefits to their 2,000 employees between their affiliate companies in LA, Mexico, and at each of their retail store locations nationwide.
Armani
The Italian fashion designer Giorgio Armani has pledged to donate a total of 2 million euros to Italy's Civil Protection and various Italian hospitals. Mr. Armani has also shifted all of the company's Italian manufacturing plants to produce medical overalls for the medical community.
Alexis
Designer Alexis Barbara purchased 2,000 N-95 masks and 3,000 medical-grade gloves from local construction companies in Miami and donated them to all the Baptist Health Hospitals in the area.
Baby Phat
Kimora Lee Simmons and her daughters, Ming Lee and Aoki Lee donated 150,000 meals via Freedom Shield Foundation, with another 160,000 meals scheduled for the following week to feed families affected by COVID-19. Their donation will reach over 21,000 families.
Brooks Brothers
The American fashion brand will devote its factories in New York, North Carolina, and Massachusetts to producing 150,000 medical masks a day, as well as a number of gowns. They are one of the few brands actually producing medical-grade masks.
Browns
The London-based retailer will support the BFC Foundation Fashion Fund for the Covid Crisis, a continuation of its ongoing commitment to British fashion and the BFC NEWGEN initiative. It has increased its support to the crisis fund by 50 percent.
Bulgari
The Italian jewelry and accessories brand will manufacture several hundred thousand bottles of hand sanitizer to be distributed in priority to all medical facilities through the Italian government.
Burberry 
The British fashion house will manufacture hospital gowns and more than 100,000 non-surgical masks for the U.K.'s National Health Service. The brand will also help to fund Oxford research into a single-dose vaccine and will donate to FareShare and The Felix Project, both of which supply meals to those in need.
Canada Goose
The outerwear brand will make scrubs and patient gowns to be distributed across Canada. It also donated 1 million Canadian dollars to the Wuhan Charity Federation.
CFDA
The Council of Fashion Designers of America and Vogue's Fashion Fund jointly launched a new initiative called A Common Thread to help distribute funds to people in the American fashion community. Click here to apply.
Chanel
Chanel has given 1.2 million euros to an emergency fund for the public hospital system and promised its employees eight weeks of salary. It also plans to make masks and gowns.
Christian Siriano
The New York-based designer and his small studio have made 1,500 fabric masks so far.
David Yurman
The Yurman Family Foundation has committed 1 million dollars to COVID-19 related causes, starting with New York. The jewelry brand said that it furloughed a majority of its staff, but will continue to provide all health benefits.
Dolce & Gabbana
Domenico Dolce and Stefano Gabbana made an undisclosed donation to Humanitas University in Milan for the scientific research and development of diagnostic and therapeutic interventions against the coronavirus.
Ermenegildo Zegna Group
Zegna reopened its production facilities in Italy and Switzerland to start manufacturing 280,000 protective hospital suits for medical staff to provide urgently needed supplies to the Piedmont region and Canton Ticino.
Estée Lauder
The beauty brand donated $2 million to Doctors Without Borders/Médecins Sans Frontières. It has also reopened its New York factory to make hand sanitizer.
Geox
Mario and Enrico Moretti Polegato, presidents of Geox and Diadora, donated 1 million euros to the Veneto region of Italy.
Graff
The Graff Foundation will donate $1 million to the World Health Organization COVID-19 Solidarity Response Fund. This donation will support research, resources, patient care, frontline worker care and supplies, as well as efforts to develop vaccines, tests and treatments.
Gucci
The Italian house donated a total of 2 million euros and launched two crowd-fundraising campaigns. 1 million euros will go to the National Civil Protection Department in Italy in partnership with Intesa Sanpaolo, and another 1 million euros will go to the COVID-19 Solidarity Response Fund in support of the World Health Organization through a matching campaign with Facebook. Gucci CEO Marco Bizzarri also made a personal donation of 100,000 euros to eight hospitals located in his native Emilia-Romagna region.
Hanna Andersson
The children's wear brand is supporting hospitals across the country by donating their organic cotton pajama sets to healthcare workers and patients in need. Additionally, Hanna Andersson is donating pajamas to Baby2Baby's COVID-19 Emergency Response Program to support their mission to provide basic essentials to children in need, including children placed in the foster care system.
Inditex
The parent company of Zara plans to produce and ship hundreds of thousands of surgical masks to coronavirus patients and medical professionals in Spain. It also plans to manufacture hospital gowns.
John Elliott
Inspired by several health care workers in his family, John Elliott has made a $10,000 donation to the UCLA Health Fund. An additional 10 percent of sales will be donated to UCLA Health Fund, with a target goal of $100,000.
Jimmy Choo
In London, Jimmy Choo will donate $500,000 to support relief efforts in the brand's home country of the U.K. and also globally. Half will go to the National Health Service, and the other half will go to the World Health Organization's COVID-19 Solidarity Response Fund.
Kate Spade
The New York-based brand will be donating $100,000 to its longtime partner, Crisis Text Line. The donation will fund a program to provide targeted mental health support to doctors and nurses who are feeling the immediate and ongoing effects of the heavy stress as they face this crisis head-on. The Kate Spade New York Foundation is also committing an additional $100,000 to ten existing grantees (who will receive $10,000 each) to provide short term emergency funding needs.
Kering
The French conglomerate and its houses collectively donated $1 million to the CDC Foundation specifically to provide PPE and other vital supplies to frontline healthcare workers in the United States, particularly in highly impacted states such as New York, New Jersey, California, and Florida, and locations in Latin America. In addition, Kering will contribute to the CFDA/Vogue Fashion Fund as well as 'Your Friends in New York™ Want to Help' — an organization launched by Kerby Jean-Raymond of Pyer Moss. These contributions follow those already made by Kering in France, Italy, and China in recent weeks and the production of over 1 million surgical masks and gowns for healthcare personnel.
Loewe
For every product of the Paula's Ibiza collection sold between May and August 2020 in Loewe stores and on the brand's website, the Spanish house will be donating 40 euros to educational projects, starting with an initial donation of 500,000 euros. Loewe is also donating 100,000 surgical masks to the Spanish Red Cross.
Louis Vuitton
The French brand will produce of hundreds of thousands of non-surgical protective masks, re-purposing its workshops across France, where 300 artisans are mobilized in response to the French government's plea for the increased production of alternative non-surgical masks.
LVMH
The French luxury conglomerate is using facilities that normally produce fragrances and cosmetics for Christian Dior, Guerlain, and Givenchy to make hand sanitizer, which will be given to French health authorities and hospitals free of charge. It has also promised to donate a total of 40 million face masks and has already paid 5 million to a Chinese supplier to deliver 10 million.
Mango
Using its own logistics system, the Spanish brand will distribute 2 million face masks among various Spanish hospitals.
Mayhoola
The parent company of Balmain, Valentino, and Pal Zileri, will donate of 1 million euros to La Fondation Hôpitaux de Paris - Hôpitaux de France (FHP-HF).
Michael Kors
The New York-based brand will donate $1 million to support local relief efforts. In addition, Kors himself and the CEO of Capri Holdings, John Idol, will make personal contributions of an additional $1 million toward these efforts. The combined $2 million donation will be distributed to New York hospitals, God's Love We Deliver, and A Common Thread.
Moscot
In partnership with Cherry Optical Labs, Moscot will be providing durable, handcrafted eyewear frames with clear, scratch-proof lenses (prescription or non-prescription) to healthcare professionals to help reduce exposure to airborne particles or fluid-borne pathogens from patients. This is also an effort to get healthcare providers solely reliant on their contact lenses into a pair of protective eyeglasses.
Nike
The brand has made a total commitment of more than $17.5 million to COVID-19 response efforts. $500,000 will go to the Food Bank for New York City and the COVID-19 Emergency Relief Fund, created by the Mayor's Fund to Advance New York City. Nike is also donating 250,000 three-ply disposable face masks to New York State and Nike-produced full-face shields and PAPR lenses to health systems across Oregon, along with health systems in the greater Boston, Memphis, Tenn., and St. Louis areas. As of April 20, Nike had shipped approximately 130,000 units combined of full-face shields and PAPR lenses.
Nordstrom
The Seattle-based company will have its alteration teams across the country sew over 100,000 face masks for Providence Health & Services, a nonprofit health-care system that operates hospitals in six states. CEO Erik Nordstrom and his brother, president and chief brand officer Pete Nordstrom, both say they are declining their salaries from April until September.
Prada
The co-CEOs of Prada, Patrizio Bertelli and Miuccia Prada, have donated six ICUs to three Milanese hospitals. The Italian house also plans to produce 80,000 medical overalls and 110,000 masks to be allocated to health-care personnel, following a request from the Tuscany Region.
Pyer Moss
The New York–based brand converted its studio into a donation center for N95 masks and latex gloves, calling the initiative, 'Your Friends in New York™ Want to Help.' Designer Kerby Jean-Raymond also said he set aside $5,000 to buy supplies himself, plus an additional $50,000 to aid minority-and women-owned creative businesses in distress.
Ralph Lauren
Ralph Lauren is donating $10 million to a variety of charitable organizations, including the World Health Organization's COVID-19 Solidarity Response Fund. Internally, the brand is offering financial grants to Ralph Lauren employees facing special circumstances due to the coronavirus, like medical, elder-care, or child-care needs. Another portion will go to the company's own Pink Pony Fund to support cancer institutions that are caring for those who are especially vulnerable at this time. And the last of the proceeds benefit A Common Thread. The brand is also working to assess the need and technical requirements for medical-grade masks and isolation gowns that guard against virus transmission.
Saks Fifth Avenue
The Saks Fifth Avenue Foundation will donate a total of $600,000 to three organizations. $250,000 will go to the New York-Presbyterian COVID-19 Patient Care Fund to provide personal protective equipment, such as masks and ventilators, to medical workers and fund capacity expansion for additional staff and clinics. Another $200,000 will go to Bring Change to Mind to help create virtual programs for high school students aimed to reduce isolation by keeping them connected and supported. And finally, $150,000 will go to Girls Inc. to support the expansion of virtual resources in the absence of in-person programming as well as provide social and emotional support for girls affected by the pandemic once face-to-face interactions can resume.
Tanya Taylor
The New York-base brand is creating and donating 5,000 non-medical grade masks for New York City hospitals. It is also currently crowd-sourcing to produce 5,000 more.
Tapestry
The parent company of Coach, Kate Spade, and Stuart Weitzman committed $2 million to the NYC Department of Small Business Services to provide relief to small businesses in New York City affected by COVID-19.
Theory
The brand's parent company, Fast Retailing will donate 10 million masks to high-priority medical facilities around the world, with 1 million delivered to New York alone.
Tiffany & Co.
The Tiffany & Co. Foundation will donate $1 million to COVID-19 related causes. $750,000 will be allocated to the COVID-19 Solidarity Response Fund for the World Health Organization, and $250,000 to The New York Community Trust's NYC COVID-19 Response & Impact Fund. Tiffany & Co. will also match employee donations to any qualified nonprofit organization supporting COVID-19 relief, dollar for dollar.
Tod's
On behalf of their employees, the Della Valle family will donate 5 million euros to support the family members of health personnel who lost their lives in the fight against Covid-19. The fund will be called "Sempre con Voi", and its administration entrusted to the Protezione Civile.
Ugg
With its parent company, Deckers Brands, the California-based company will launch the Better Together initiative to donate over $1 million to the COVID-19 pandemic relief efforts. In New York, specifically, they are donating to the city's healthcare system, and partnering with select hotels that have opened their rooms to first responders and medical personnel serving on the frontlines.
Versace
In Milan, Versace is donating a total of $500,000 to support local institutions, including the San Raffaele Hospital's intensive-care unit and the National Chamber of Italian Fashion (Camera Nazionale Della Moda Italiana). This is in addition to the 1 million yen that Versace donated in February to support the Chinese Red Cross Foundation.
Vince
The brand will produce 30,000 masks to aid the hardest-hit hospitals in New York City and Los Angeles. They will also be donating to Million Mask Challenge to distribute the masks where they are needed most. The week of April 6, Vince will also host a charity auction with 100% of proceeds going to Meals On Wheels and God's Love We Deliver.
We will continue to update this post as more brands contribute.