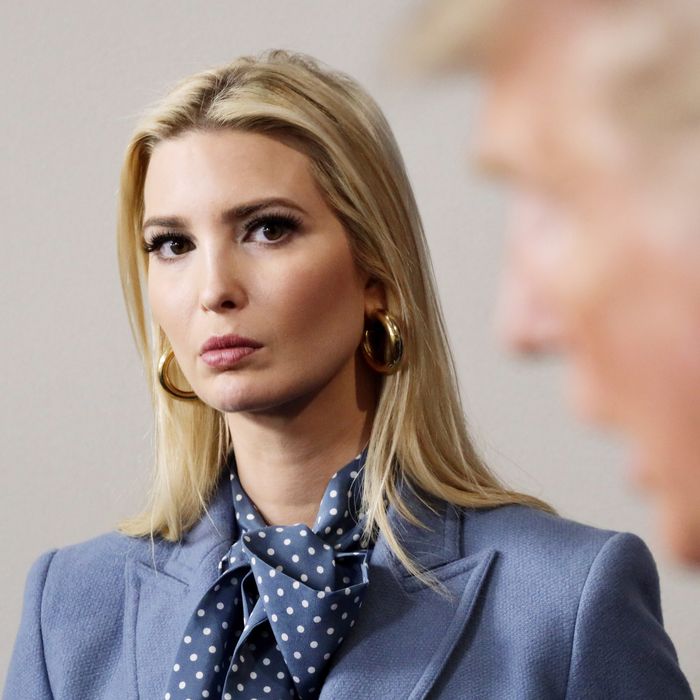 Ivanka Trump.
Photo: 2020 Getty Images
At the end of March, as the coronavirus crisis worsened, Ivanka Trump — the president's eldest daughter, senior adviser, and part-time frilled lizard — posted a video to her Twitter urging everyone who's "lucky enough to be in a position to stay at home" to follow the government's official guidance on social distancing, which had just been extended to April 30. "Social distancing saves lives!" she captioned the video. "Please do your part. We are all in this together. [Yellow heart emoji]"
By "we," though, Ivanka must have meant "you," and by "together" she must have meant "on your own." Because last week, while millions of Americans were following the government's guidance, Ivanka and her family traveled from Washington, D.C., to the Trump National Golf Club Bedminster in New Jersey to celebrate the first night of Passover, the New York Times reports. The trip not only flouted federal guidelines, which mandate that everyone should avoid discretionary travel, but also came days after D.C. issued a stay-at-home order for all residents unless they are performing essential activities.
Jared Kushner, Ivanka's smooth-faced husband, has since returned to Washington to help coordinate the president's efforts to combat the current pandemic. Ivanka has reportedly remained in New Jersey, assuring people that the club is shut down, and therefore she's actually maintaining an even greater social distance there than she had been at her mansion in D.C. In fairness to Ivanka, the phrase "stay-at-home" order must be a little confusing when you have multiple homes at which to choose to stay.
Well, at least "we" are all in this "together."