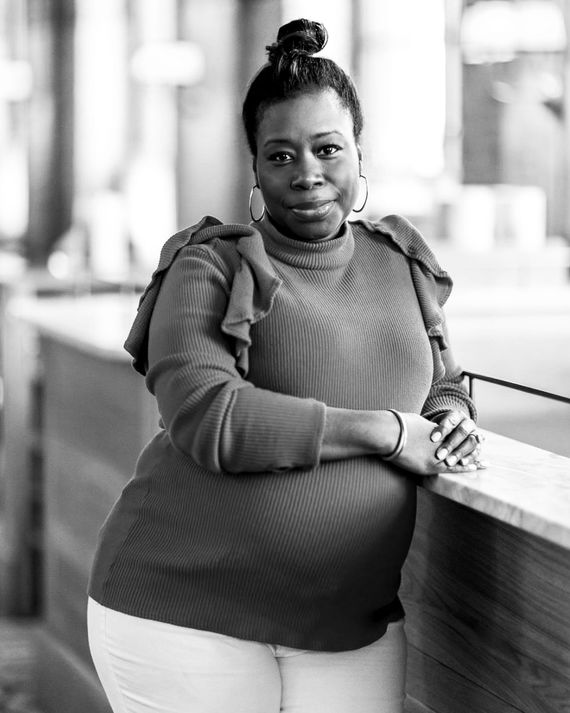 LaToya Jordan.
Photo: Courtesy of LaToya Jordan
Everything shifted when LaToya Jordan said she had a lingering cough. At 38 weeks pregnant, sudden and uncontrollable vomiting brought Jordan from her Brooklyn apartment to Long Island's NYU Winthrop Hospital on Sunday night, March 29. She was doubled over in pain. Jordan, 45, didn't have a fever, but the cough was enough for the staff to abruptly separate her from her husband so she could be tested for the coronavirus.
Alone in a room and hooked up to an IV, Jordan was getting sicker and sicker, and not with typical COVID-19 symptoms. "I called my doctor and said, 'No one is listening to me.'" Jordan was finally diagnosed with preeclampsia, which can be life-threatening. "They said, 'We need to deliver you right now,'" she said. "I started bawling. I'm in here by myself this whole time. Then you tell me I still can't have my husband here." The day before, Governor Andrew Cuomo's executive order had said all patients in labor could have a support person, and she argued that if she had the virus, so would her husband. It didn't make a difference; she wouldn't see him again for days.
By 6 a.m. on Monday, Jordan had fought off a Cesarean she didn't want, agreed to be induced, and gave birth to a baby girl, whom they named Ellison. She was still on the delivery bed when she learned that she would not be allowed to hold her baby or be in the same room with her, pending the coronavirus-test results.
"They separated me from my baby. I never saw her further than my knee," she said. "Not touching or seeing my child's face, no skin-to-skin — I cried a lot about that." She said she wasn't allowed to take a video of her daughter being bathed at a distance, or even glimpse her in the nursery through a window. Jordan was handed a breast pump and put in a room with another woman in the same boat, who she remembers sobbed when she asked if she could see her baby.
"I get that everyone is overwhelmed, but I didn't feel like a patient. I felt like I was a damn near criminal," said Jordan, who has her own organizational and leadership consulting practice. "It felt so inhumane." Jordan was desperate to get out of the ward, where she said nurses were afraid to come help the two recovering women, even though her roommate struggled to even use the bathroom. On Monday evening, more than 12 hours after her daughter was born, Jordan was told she had tested positive for COVID-19. On Tuesday, she agreed to be discharged without her baby, who was being treated for jaundice. The next day, her daughter tested negative for the coronavirus and Jordan was allowed to hold her for the first time and bring her home. She was instructed to wear a mask and wash her hands, raising the question of why she had to be separated from her at birth in the first place.
In a move that has so far flown under the radar, hospitals around the country have been separating newborns from postpartum patients who are suspected of having COVID-19. With the virus continuing to spread and new recommendations from the American Academy of Pediatrics recommending strict separation — notwithstanding that the same group strongly endorses skin-to-skin contact at birth for the purposes of bonding and breastfeeding — the number of women in Jordan's position is certain to rise. Coronavirus testing remains scattershot and can take days in some places, so some of these parents might endure a temporary separation without even testing positive for the virus.
As it happens, NYU Langone, which merged with Winthrop last year, decided on a relatively nuanced policy for all of its hospitals late last week that recommends separation, but it said it will "individualize care based on the medical status of mother and infant, as well as family wishes." It was too late for Jordan. On Friday, when Jordan gave me permission to ask the hospital system about her case, the chair of obstetrics and gynecology, Dr. David Keefe, said he would call her to apologize for how she was treated. "It reeks of a futuristic horror story," he said. He also said the hospital system has recently acquired the 15-minute test for the coronavirus that will reduce the number of needless separations.
The discussions of how to treat women in labor and their babies had been happening near daily, he told me. The problem is everyone is making decisions with piecemeal, ever-changing data. "If you've seen one case of COVID-19, you've seen one case of COVID-19," Keefe said.
Like a growing number of hospitals, NYU has prided itself on its World Health Organization- and UNICEF-granted "baby-friendly" label, which relies on physical closeness with the birthing parent and the primacy of breastfeeding. Not coincidentally, the WHO says that the harm from separation outweighs the risk of COVID-19, and recommends direct breastfeeding with a mask. "Initially, we thought there was no evidence of babies getting really sick," Keefe said. Then, last week, two American babies who tested positive died: A 6-week-old in Connecticut and an infant under a year old in Chicago, although medical examiners haven't yet made full determinations. Keefe said bluntly, "On the one hand, we're trying to keep babies and mothers together. On the other hand, we're trying to keep babies from dying."
Globally, there's no unanimity on this front; China separated all mothers and babies, while Britain's Royal College of Obstetricians and Gynecologists opposes separation. "That's because nobody knows," said Keefe. "Doctors are human," he added. They're also terrified — of getting sick themselves or of having a dead baby on their conscience. "The World Health Organization policy-maker walks away and says, Oh, I guess I was wrong. The doctor doesn't sleep for months sometimes."
When Keefe said nobody knows, he wasn't just talking about whether it's safe for a coronavirus-positive mother to hold her newborn. The stubborn, confounding mysteries of the virus are many, and some are crucial in deciding how to treat pregnant and laboring people and their babies. Can the virus be transmitted in utero? (Unclear, though several virus-negative babies have been born to positive mothers.) Is it safe to breastfeed? (So far, the virus hasn't been detected in breastmilk, but research is limited.) What if a pregnant woman contracts the disease early in pregnancy? (Much of what we know is derived from women who were sick when they gave birth; it could take months to detect long-term effects, if they exist.) Researchers have told me they aren't sure how much credence to give the only published research so far, not only because it's highly preliminary and narrow but also because they are afraid that scientists in China, where almost all of the data has come from, are being censored.
Stephanie Gaw, an assistant professor of maternal-fetal medicine at UCSF, is the co-principal investigator of the Priority Study, which is racing against the clock to answer all of these questions. The doctors involved in the study already have patient referrals from about 20 states and are aiming to collect samples from women to test for antibodies, viral shedding, and immune responses that may confer immunity in the future. "We'll be able to get a picture of what's happening in the U.S. with women here and hopefully guide best practices in as close to real time as possible," Gaw said. "A lot of our research staff has dropped everything to work on this. We've been working overtime."
But as fast as Gaw and her colleagues can work, babies aren't waiting to be born. "Here at UCSF, if you test positive, we recommend separation for 14 days. And if your test is still pending, you're in the same category," said Gaw. "Those recommendations are very conservative. We would rather be safe than sorry. Which is unfortunate for all the women going through it right now." As for the costs to families of separating, Gaw said, "That's been pushed to the wayside in a crisis." She said separation could cause
posttraumatic-stress disorder or other acute psychiatric problems. The Priority Study, she added, will include questionnaires that ask patients about what policies were in place where they delivered and the effect they had on them.
"That's really a huge burden on a new family," acknowledged Gaw's UCSF colleague Valerie Flaherman, a professor of pediatrics, epidemiology, and biostatistics who is also working on the Priority Study. She added, "It's so hard to know what the right thing to do is. There's so little data." Broadly speaking, the data suggests that COVID-19 is "relatively benign in children," she said, but "it doesn't mean that there's no risk to children."
What happens, I asked, if a mother refuses to be separated? As of last week, Flaherman said, UCSF hadn't had to put its policy into practice, so that hadn't happened yet.
As word began trickling out about the separation policies in recent weeks, the contingent of the pregnancy and birth community that is already deeply skeptical of hospitals' treatment of laboring patients — including people who work in them — has reacted with alarm.
Rebecca Dekker, a nurse, founded the organization Evidence Based Birth in 2012 in part out of distress at her own experience being separated from her newborn for several hours. "That's what got me interested in what the research was," she said. She found, for example, a 2009 study of 176 infants in Russia that randomly assigned some mothers and infants to be separated for the first two hours after birth. A year later, it was found that "infants who were separated early from their mothers were significantly more dysregulated and irritable compared with the infants who were in close contact with their mothers," and there was a visible effect on maternal behavior toward the babies. It was studies like the Russian one that convinced hospitals to start getting rid of baby nurseries and placing newborns in the room with a parent.
Now, Evidence Based Birth trains thousands of pregnancy and childbirth professionals. A few weeks ago, labor and delivery nurses started contacting Dekker about separation policies. "Nurses were really concerned because they were at these meetings hearing these broad, sweeping plans being laid forth to separate moms and babies with any suspicion of COVID-19," she said. "The nurses that I talk to on the ground are talking about rooming-in being banned. And not giving mothers a choice. The CDC is pretty clear that it should be based on the mother's decision, but the hospitals skip past that and are separating everybody."
Those Centers for Disease Control and Prevention guidelines, I discovered, are being interpreted in vastly different ways. Several doctors told me they read them, conversely, as recommending separation. The actual language, last updated in February — ancient in COVID-19 terms — says, "Facilities should consider temporarily separating (e.g., separate rooms) the mother who has confirmed COVID-19 or is a [person under investigation] from her baby until the mother's transmission-based precautions are discontinued." (Strikingly, the guidelines account for a woman refusing separation: They say that if the family rooms together "in accordance with the mother's wishes," the hospital should take other precautions, like a curtain or six feet of distance between the mother and newborn.)
"The bottom line from the CDC is there is risk of infection to the newborn," Dr. Tina Yarrington, the director of labor and delivery at Boston Medical Center, told me. "From an infection-prevention perspective, separation of mom and baby is safest. The language is appropriately nuanced because not every hospital may have the physical space to room the baby separately." Her hospital is separating sick mothers from babies. "We get results back in 24 to 48 hours," she said. "It seems like a quick turnaround from a clinical perspective, but it's forever to a mother who has already waited nine months to meet her baby. We haven't had an instance of a negative result yet in this specific context, but of course it's possible."
Adding to the confusion is the fact that I couldn't find these policies on hospital websites, and I knew to look for them. "People have no idea that this is what hospitals are planning to do," said a longtime labor-and-delivery nurse in the Cincinnati area, who contacted Dekker because she was appalled at directives given in meetings and written guidelines she was presented with in March dictating that newborns be separated "until the mother is known to be negative." In a fast-moving situation, parents may find out separation is on the table only when they're admitted in labor.
The pandemic, the nurse pointed out, comes just as the medical system is finally starting to recognize the racial and socioeconomic disparities in this country's sky-high maternal and infant mortality rates. "You have portions of the population who we're already failing, who are already at a disadvantage. It's so unfair to say, 'Well, I'm going to take your baby now,'" she told me, speaking on the condition of anonymity because she fears retaliation. "It doesn't take into consideration what damage we're going to do in the long term."
Indeed, the new guidance from the American Academy of Pediatrics, which has 67,000 members, give short shrift to the potential damage of separation. "While difficult, temporary separation of mother and newborn will minimize the risk of postnatal infant infection from maternal respiratory secretions," the new interim guidelines say. "Their immature immune system leaves newborns vulnerable to other serious respiratory viral infections, raising concern that [the virus] may cause severe disease among neonates." The AAP recommendations further stipulate that infected mothers not visit babies who are in intensive care until they haven't had a fever for 72 hours and test negative twice on two occasions at least a day apart. How this works in practice when tests are hard to come by is unclear.
If a parent refuses to be separated from a baby at birth and the hospital insists, she would face an unsympathetic legal landscape, said Indra Lusero, a staff attorney at the National Advocates for Pregnant Women. Lusero said similar conflicts have arisen when, say, a hospital tries to separate a newborn from a mother who tests positive for substance use. "In my work, I already see how hospitals make policies that don't always take into account families' needs, people's psychological well-being, or even the specific needs of newborns with regards to bonding and attachment," they said. "The way perinatal health care is organized in hospitals prioritizes the baby to the detriment of the pregnant, laboring, postpartum person."
Dekker concedes that even before COVID-19, some babies had to be separated from their parents because, for example, they needed intensive care. "That doesn't mean you can't bond with your baby," she said. "But you don't want to make it more difficult for new parents. Especially if you throw in that it was done forcibly. That has a major mental-health impact." Dekker believes the hospitals themselves are mainly afraid of being sued. That's why she consulted with lawyers to draw up a sample informed-consent form, which includes some of the relevant recommendations, states a refusal to be separated, and vows to release the hospital of any liability. Dekker said members who work at hospitals have been bringing it in to management "to try to get it out there earlier."
As for Jordan, Keefe wasn't at that hospital during her ordeal, but he offered a guess: "If she'd kept persisting, they would have acquiesced" to letting her see her baby. This struck me as a lot to ask of a woman who had just given birth, alone and terrified, while suffering from a complication that black women like her are three times likelier to die from, and had, in fact, asked repeatedly to just glimpse her baby through glass.
Not that Jordan ultimately would have chosen differently than the hospital. Jordan, who called me after having just put her daughter down for a nap ("She latches like a queen," she told me proudly), said that she is pretty sure that if she'd had everything explained to her up front, she would've asked questions of the doctors and then, given all that information, "I probably would have said 'Yes, keep my baby safe.' If you tell me I have to be isolated, I would have complied." The problem was, and she doesn't know whether it was the terror of the crisis, or whether it was because she's a woman, or because she's a black woman — well, whatever the reason, no one even gave her a choice.
We're committed to keeping our readers informed.
We've removed our paywall from essential coronavirus news stories. Become a subscriber to support our journalists. Subscribe now.