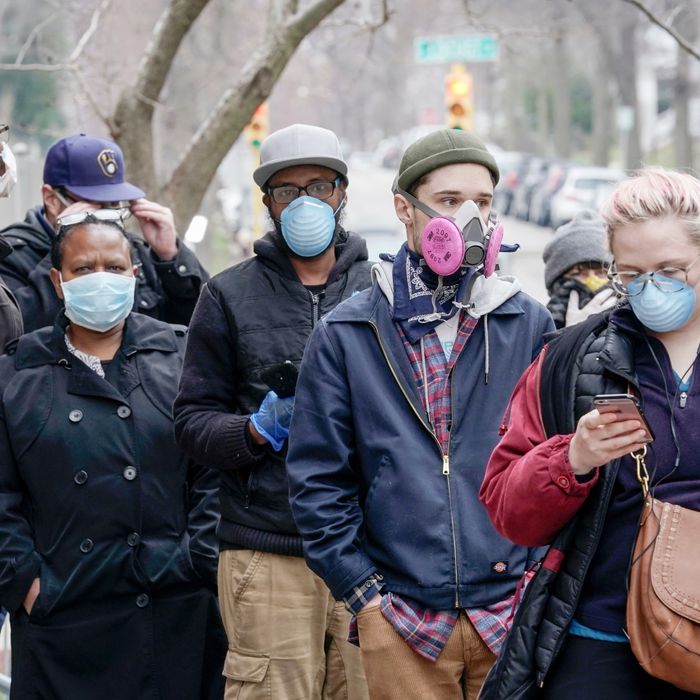 Photo: Morry Gash/AP//Shutterstock
Despite the global coronavirus pandemic, despite over 10,000 deaths in the United States, and despite 85 of those deaths occurring in Wisconsin, the state is still holding its presidential primary today.
Masked voters are attempting to maintain social distancing while standing in long, winding lines, many hours long, waiting to enter a handful of understaffed polling stations. Inside, they wait in more lines, standing in designated spots six feet apart while poll workers wearing gloves hand them ballots. Images out of these sites this morning are disturbing given the dangers of the virus — and they are an indictment of the Republican factions that forced citizens to risk their health to cast their ballots.
While thousands of Wisconsinites queue to vote, over 90 percent of the country is under stay-at-home orders to prevent the spread of the virus. Wisconsin is the only state to hold in-person voting in April, a month experts say is crucial for "flattening the curve" of coronavirus cases; Alaska, Ohio, and Wyoming, which also had April primaries scheduled, have all postponed them. Though Democratic governor Tony Evers waited much longer than the leaders of these other states to take action, he did eventually ask the GOP-led state legislature in late March to send every registered voter a ballot in order to vote by mail. Legislators rejected that request, so late last night, Evers signed an emergency executive order postponing the election until June 9. Not to be deterred, the conservative state Supreme Court struck Evers's order down. The U.S. Supreme Court quickly followed suit, ruling 5-4, along ideological lines, to deny Wisconsin Democrats' request to extend absentee voting deadlines by six days amid a rapid increase in requests for absentee ballots.
Now those who never requested a by-mail ballot are being forced to vote in person, despite the state's own month-long stay-at-home order, which took effect on March 25. And those who did request to vote by mail must postmark their votes today or they will not be counted. That means that the 11,090 people who still hadn't received their ballots by Tuesday will almost certainly not be able to vote in time. Those for whom voting in person is the only option now have to navigate the confusion generated by these latest developments, trying to juggle work and childcare to spend hours in line. They're also faced with a dismaying choice: whether it's worth it to risk their health and safety to exercise their right to vote.
In her dissent, Justice Ruth Bader Ginsberg said that the Supreme Court ruling "boggles the mind." The question of "whether tens of thousands of Wisconsin citizens can vote safely in the midst of a pandemic" is "a matter of utmost importance — to the constitutional rights of Wisconsin's citizens, the integrity of the State's election process, and in this most extraordinary time, the health of the Nation," she wrote.
People on Twitter have been sharing alarming images from the ground, where polls will remain open until 9 p.m. Here is a scene from the early morning at a polling site in Milwaukee, one of only five that are open (usually 180 polling stations are available, but so many volunteers quit that they could only staff those few):
At another site in Milwaukee, most people had masks. They were also told to expect wait times of possibly five hours.
At a high-school polling location in Milwaukee, a reporter was told it took nine minutes just to walk to the end of the line, then 25 minutes before it began moving. It took two and a half hours for that person to vote.
The city of Waukesha, which has 72,000 residents, has the only polling place in operation:
Compared to 66 still open in Madison:
A health-care worker who recently tested positive for coronavirus told the New York Times that she had requested a vote-by-mail ballot but never received one. She was devastated to be staying home, but knew she had no other choice. "I've always said that every vote matters, every vote counts, and it's your one chance to have your voice heard," she said. "And it's now something that I really feel has been taken away from me."