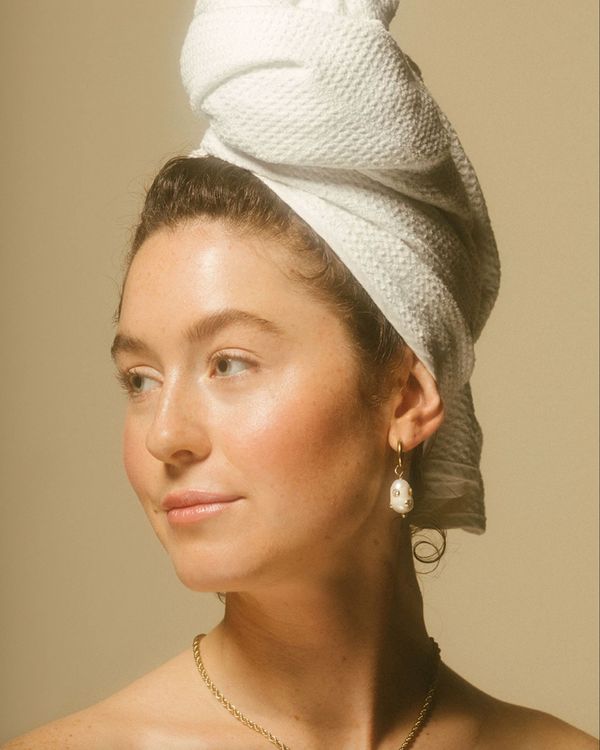 Caring about towels is kind of like Googling "best salt" — a step on the road to adulthood. Fluffy towels, like Maldon or Diamond Crystal Kosher salt, are a nice little upgrade to your life. Unfortunately, while downy towels are great at sopping up the moisture from your body, they are terrible at actually drying your hair.
Ironically, the secret to good-looking air-dried hair is a thin towel, the slimmer the better. The best ones are made of microfiber and feel sort of like a fancy ShamWow. Aquis microfiber towels are excellent at blotting wetness and reducing friction between strands, but my new favorite one comes from Crown Affair. Unlike the Aquis, it isn't an elasticized turban, but one free-form piece that you can easily wrap around your head so you look like you're in the Towel Series or the Girl with a Pearl Earring.
Each piece is made of a white waffle microfiber that's gently rounded and generously sized so it fits even people with huge heads like me. About 20 minutes after I wrap my hair, most of my head is dry enough to let my hair down. When I do, it's incredibly smooth and extra shiny, like I'm a member of Haim or a model in a Mansur Gavriel ad. My hair looks like one long plane, without any pesky, feathery flyaways.
It also makes it easy to get that Instagram–friendly towel wrap look, the one that brags that you participate in self-care and downtime. After getting out of the shower, flip your hair down and position the label side of the towel (note the elastic strip, you'll use that later) on the back of your head. Twist the towel, flip, and insert the ends into the now conveniently located elastic, which ensures that the wrap won't flop around (there's a mini-tutorial).
Even with all of my sopping wet hair twisted up, it's light and comfortable —a good look for more casual Zooms and FaceTimes. It will look great with your pasta, too.
If you buy something through our links, New York may earn an affiliate commission.