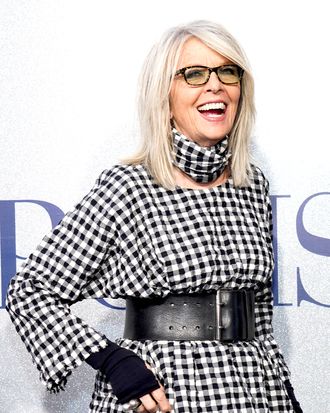 Let her show you what's in the box…
Photo: Getty Images/Rachel Luna
Over the past few days, ALL-CAPS INSTAGRAM QUEEN Diane Keaton has been teasing followers with cryptic posts. "JUST OUT OF CURIOSITY DO ANY OF YOU SEE WHAT'S MISSING???" she captioned a video on Tuesday. In it, she's sitting on some stairs and singing, with all her signature accessories — hat, glasses, belted coat — seemingly accounted for. Nothing amiss here, I thought to myself after watching it. Just Diane being Diane.
On Wednesday, however, she goaded her public again, sharing a follow-up video in which she attempts to corral her golden retriever from a crawl space. "THIS TIME YOU MUST HAVE SEEN WHAT WAS MISSING!!!" she urged from the caption, but reader, I did not.
And perhaps I was not the only one, because on Thursday, Keaton spelled out the riddle's answer for us.
"All right all you Instagrammers," she kicked off her latest video, which opens on a black circular box tied with a black satin ribbon. Tugging at the bow with the leather-gloved hands of a jewel thief, Keaton continues: "Nobody really was able to discover what the mystery was that was missing from our wonderful — oh dear, I'm too excited." Giggling, she pulls off the box's lid to reveal a white, lumpy little hunk of — so sorry, is that … ?
"That's right, it's my tooth," Keaton exclaims, with audible glee. "My tooth fell out of my head. It fell out of my head, now I need a dentist. Does anybody have a wonderful dentist who can help me? Please?"
The coronavirus pandemic means many people must stay home right now, celebrities included. A number of them have spent isolation documenting their descent into stir-craziness on social media. Keaton, whose Instagram presence has always been delightfully unhinged, is no exception. But a mystery whose chapters unfold over multiple days? And offers occasional, momentary distraction from the dread?? And ultimately ends with a bicuspid in a box??? This is more satisfying, more compelling, content than I ever dared dream. Celebs, the bar has been set.