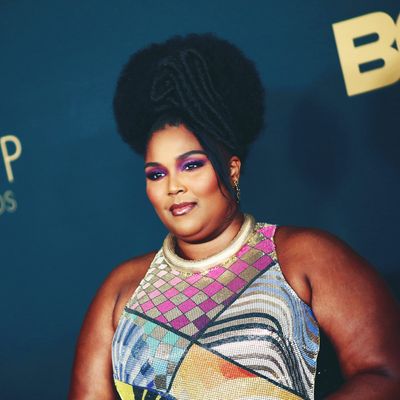 Let Lizzo twerk.
Photo: Tommaso Boddi/FilmMagic/Getty Images/2020 FilmMagic
Diddy would like to clarify for everyone who has been wondering: You're allowed to twerk on Easter.
Well, who is Diddy, a.k.a. Sean Combs, to make this call; did he not just shut down Lizzo's twerk performance on Instagram Live?, you may be asking, and in short: Yes. During a virtual dance-a-thon Diddy held on Sunday to raise money for coronavirus relief, the rapper and producer did interrupt the singer-slash-flutist as she twerked to "1 2 3," by Moneybagg Yo. "Stop the music," he said, per E! News. "It's Easter Sunday. Let's play something a little bit family-friendly."
This momentarily flustered Lizzo, who subsequently requested her own fan favorite, "Juice." It also upset a number of viewers, who pointed out that Draya Michele twerked to "Back That Azz Up" without Diddy objecting — in fact, according to BET, he later called Michele's "one of the top performances." Just what is the meaning of this double standard?
A misunderstanding, according to Diddy. In a Live message to his followers, he explained that he wasn't passing judgment on Lizzo's dancing — he just wanted a radio edit for any kids watching.
"There's one thing I wanna make clear," Diddy says. "My queen, my sister Lizzo, when I stopped the music, it was because it had a lot of curses in there, not because she was twerking. She's one of the best twerkers in the world, okay? So let's keep that clear. It wasn't about twerking. You're allowed to twerk on Easter."
And so it is settled. You can dance if you want to, on Easter Sunday or regular Sunday or any day you choose, using as much or as little butt as you see fit. Twerking? On Easter? Sure! I don't make the rules; I just report them.