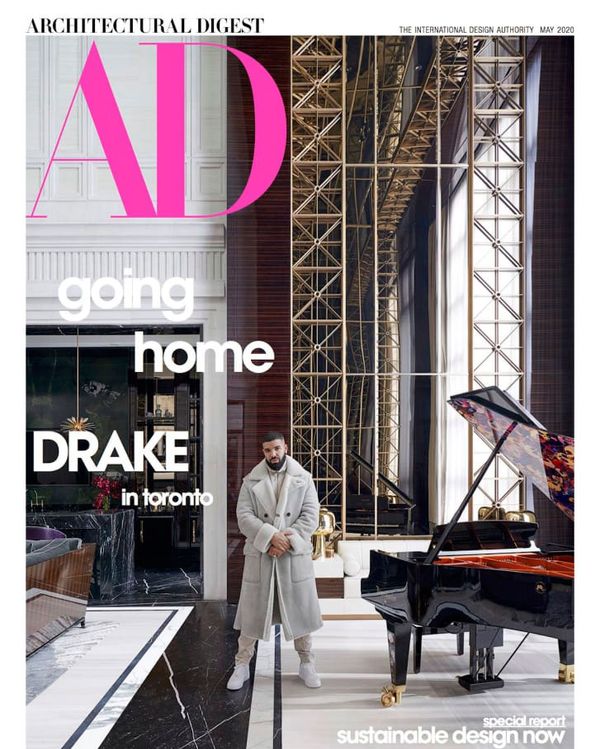 Photo: Courtesy of Architectural Digest
With many of us now spending most of our time indoors, images of lavish celebrity homes in magazines seem to taunt us with their expansiveness. Get that infinity pool out of my face! However, after seeing Drake's breathtakingly obscene mansion in Architectural Digest this morning, we found ourselves more grateful for our humble abodes.
Drake gave fans a quick tour last week (in the dark) for his new video, "Toosie Slide," but he opened up his Toronto home Cribs style for the cover of AD's May issue on Wednesday. As you can see, the 50,000 square-foot space looks like a luxury mall. Designed by fellow Canadian Ferris Rafauli, it is stuffed with marble and gold trimmings, Swarovski chandeliers, furniture upholstered in dyed ostrich skin, and — of course — art by Kaws. There's an NBA regulation-size basketball court and an indoor pool made of black granite. The 3,200 square-foot master bedroom houses a "Grand Vividus" Hästens mattress with a headboard that is also a bar. And we haven't even gotten to the best part: the two-story closet displaying Drake's mythical Birkin bag collection, which is currently collecting dust for his future wife.
In a phrase that could be interpreted as a backhanded compliment, AD merely describes Drake's house as an "astonishing domicile." Drake, meanwhile, calls it the Embassy. "It will be one of the things I leave behind, so it had to be timeless and strong," he told the magazine. In 100 years, our ancestors can visit the Drake Museum. The Birkin bags might still be there, unclaimed.
Below, the Cut staff takes a tour.
Emilia Petrarca: Does Drake live in Hudson Yards?
Kerensa Cadenas: This is fully like a department store.
Madeleine Aggeler: It has the vibe of a really wealthy-but-not-well-liked kid in school who throws an over-the-top birthday party that no one attends.
Kathleen Hou: It has sad Jay Gatsby–meets-Vegas vibes. Not one surface in his house is squishy. Why do celebs always have the hardest couches?
Bridget Read: It's like an opulent Dave & Buster's. It seems everything has to be made of marble and weigh 45 tons? No celebrity has yet had what I thought all rich people had when I was little, which is a pool of ice cream or pudding or some dessert. The Food Pool Room.
Callie Beusman: His chandelier looks like the coronavirus!
Amanda Arnold: I love mirrors but this is too many. Plus, there are so many things you could trip onto and die.
Callie Beusman: Imagine getting too high and then having to walk down that staircase.
Emilia Petrarca: His song "right foot up, left food slide; left foot up, right foot slide" is actually just about him trying to walk up those stairs high at night and not die.
Madeleine Aggeler: Being high in this house would generally be terrifying. Imagine walking down these stairs and being like, "I'm just gonna grab some Cheez-Its from the kitchen." I'm imagining trying to make out on that lounge couch but just feeling so profoundly sad.
Callie Beusman: There is something so deeply lonely about every room. I can't help but picture a lone woman sitting in every one, kind of bored, just tolerating Drake's antics.
Amanda Arnold: Oh my God, watching Drake shoot hoops by himself, listening to the sound of the basketball hitting the ground, echoing throughout that massive room. I would be so depressed.
Hannah Gold:  The comment about the collections of Birkins being for his "future wife" bums me out.
Stella Bugbee: One time I was in Miami on Christmas Eve and my entire family had the norovirus, which is the one where you projectile vomit for days. I had escaped our hotel room briefly with George and he fell asleep in his stroller so I had to keep walking. I wandered into that store the Webster, like a cast member of The Walking Dead. As I was perusing the bag department Drake came in with a security guy and a salesperson and started buying all the Chanel bags he could scoop up, "for the women in his life." I was mortified for all of us.
Callie Beusman: … sitting on the luxury couch by the desolate basketball court, wondering when it's okay to leave considering he did give you a Chanel bag.
Amanda Arnold: Okay, I would maybe endure the horrifying department-store house if it meant I got to leave with a bag.
Bridget Read: How would you ever find your way out?
Stella Bugbee: I'd be trying to figure out how to get that wall of Birkins, without having to marry him.
Madeleine Aggeler: He seems like someone who would constantly be checking in on his "gifts." "That would go great with that Birkin bag I got for you. Well, not YOU you, but you."
Kelly Conaboy: "This could have been for anyone, but it's for you :)"
Stella Bugbee: I was once talking to a man who told me he had designed his kitchen for his "future wife." I wanted to tell him, "Women, we contain multitudes … we might not all like this theoretical kitchen of your dreams." I think he thought it was sweet or endearing.
Madeleine Aggeler: Ew, what? Also what does that even mean? It's just his kitchen then? Men need kitchens too. "I hate my kitchen, but you know, my wife — I mean my future wife — she wants what she wants!" If I married a guy, I would not be pleased to receive a bunch of romantic gifts he had purchased on spec.
Callie Beusman: This house is so obscene. I am going to illegally pirate some Drake music out of spite.