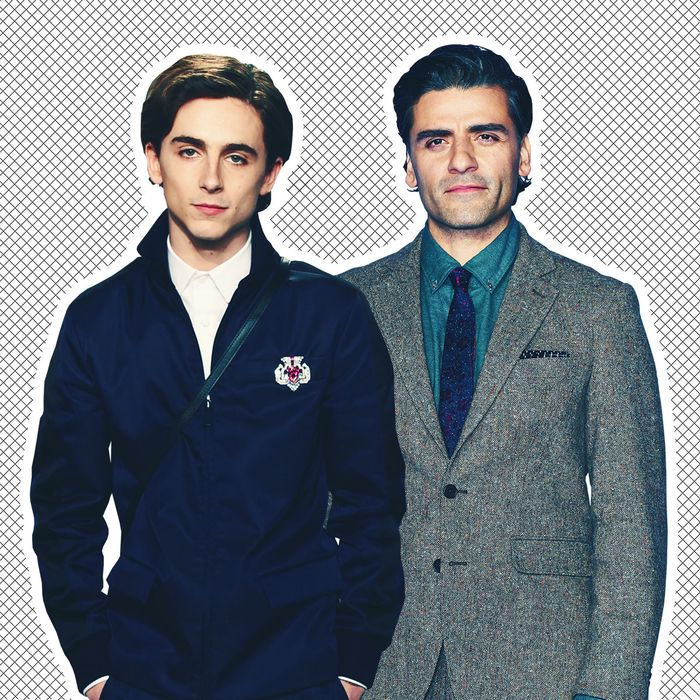 Timothée Chalamet in anything — a harness, a peach, a historical drama — is a treat. But add him to a company of other beautiful people, and you have a kind of feast. Such is the case with Dune, the latest adaptation of the 1965 sci-fi novel, directed by Denis Villeneuve (Arrival, Blade Runner 2049). A first look at the film — which also stars Zendaya, Oscar Isaac, and Jason Momoa, among others — was released today by Vanity Fair. Naturally, things look very hot:
Based on the 400-page epic by Frank Herbert, Dune tells the story of Paul Atreides (played by Timmy), a space prince destined to save his space kingdom from ruin. Dune takes place nearly 10,000 years in the future, and Paul is from a desert planet, but first looks from V.F. show him wearing the kind of sleek black getup you can spot on the Upper East Side in December:
Isaac — sporting a glorious Zeus-like beard and a scowl — plays his father, Duke Leto:
Other beefy supporting cast members include Javier Bardem as Stilgar, a rugged tribe leader who joins Paul's cause, and a (beardless, sad) Jason Momoa as Duncan Idaho, a famously hot warrior:
Dune will only cover the first half of Herbert's epic, with the second half coming as a sequel. And lest you think sci-fi isn't for you, this isn't a story about aliens. Rather, think of it more like Avatar meets Game of Thrones: Capitalism, power, politics, and ecology are some of the major themes, and the story's villains are mostly human.
And, like I mentioned, hunky space daddies and Timothée Chalamet. Dune is set to premiere on December 18, 2020.