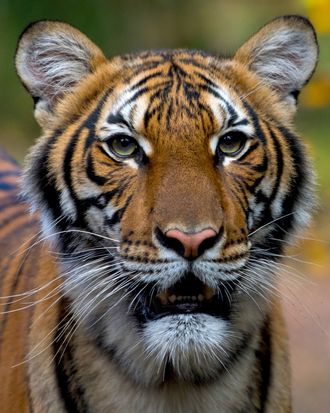 Nadia, a 4-year-old female Malayan tiger at the Bronx Zoo.
Photo: Julie Larsen Maher/© WCS/WILDLIFE CONSERVATION SOCIETY
In early April, a four-year-old tiger at the Wildlife Conservation Society's Bronx Zoo tested positive for the coronavirus, while a number of her fellow big cats began to show symptoms. Now, four more tigers and three lions have also come down with COVID-19, the zoo announced on Wednesday.
In its April 5 press release, the zoo — which has been closed since March 16 — said it tested one of its Malayan tigers, Nadia, "out of an abundance of caution," because she and her sister, Azul, in addition to two Amur tigers and three African lions, had developed dry coughs and decreased appetites. Having tested fecal matter from Nadia's wheezing peers, zoo officials said Wednesday that "resources used did not take from those being used for human testing."
Announcing Nadia's status, the zoo said the cats remained "bright, alert, and interactive with their keepers," and "all are expected to recover." Weeks later, it says that "all eight cats continue to do well. They are behaving normally, eating well, and their coughing is greatly reduced."
Initially, the zoo said it suspected that the affected animals caught the coronavirus from an asymptomatic keeper who didn't know they were infected. The zoo's chief veterinarian, Paul Calle, subsequently told Intelligencer: "There is no one person who we're suspicious of, and there is no person who worked with the cats who's tested positive." Keepers, Calle noted, interact with the big cats through barriers.
None of the other big cats — servals, pumas, cheetahs, a variety of leopards — have charted symptoms so far.
Some pet owners have registered concern and confusion on the subject of animals and the coronavirus: In February, a dog came up with a "weak positive" for COVID-19 in Hong Kong, but experts assured us that the odds of dogs spreading the virus to humans were very, very low. Cats may — may; there is so much we still don't know — be a slightly different story. One recent study suggests cats might be able to pass the novel coronavirus to other cats, if not necessarily to humans. And on Wednesday, the Centers for Disease Control and Prevention and the United States Department of Agriculture announced that two New York house cats had tested positive for the coronavirus after exhibiting mild respiratory symptoms.
But according to Dr. Jane Rooney, a veterinarian and an official with the USDA, pets and livestock probably aren't cause for worry when it comes to COVID-19 transmission. Rooney previously told ABC that — although the USDA's National Veterinary Services Laboratories have processed only a small number of animal test results — "there doesn't appear to be, at this time, any evidence that suggests that the animals can spread the virus to people or that they can be a source of the infection in the United States." On Wednesday, the CDC confirmed to the Cut in an email that, "to date, there is no evidence that companion animals play a role in spreading the disease," and most of those that have tested positive appear to have come in contact with a person who had the coronavirus.
COVID-19 still seems to spread primarily from person to person, and the best ways to mitigate your risk (and your pet's risk! And other people's risks! And the tigers' risks — they already have so much to worry about!) are still keeping hands washed and simply staying home whenever possible.