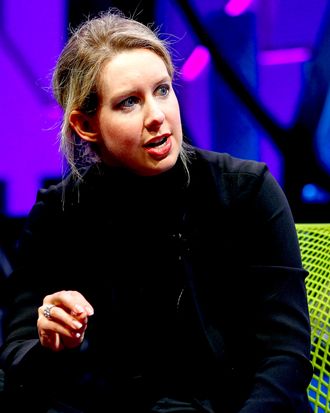 Elizabeth Holmes.
Photo: Kimberly White/2015 Getty Images
Elizabeth Holmes's criminal trial has been pushed back by at least three months, due to concerns over the coronavirus. The disgraced Theranos founder, who has been accused of running a sweeping medical scam and also of faking her voice, will now stand trial in October, or possibly even next year. The new date will depend on how the public health situation looks this fall.
"We're in unchartered waters and unchartered territories," U.S. District Judge Edward Davila said Wednesday, according to CNBC. "We need to make sure the environment is safe for all parties, including the jury that's called to hear the matter."
Davila tentatively rescheduled the trial for October 27, but said he might move it to early 2021, if needed. According to ABC News, Davila will make that call over the summer.
Holmes was set to be tried in July on charges of wire fraud and conspiracy to admit fraud. Prosecutors contend that, along with her business partner — Theranos president Ramesh "Sunny" Balwani — Holmes duped investors, doctors, and patients with a non-functional device she baselessly claimed would revolutionize blood testing. The alleged swindle became the subject of an HBO documentary, a book, a podcast, and many, many articles.
CNBC reports that Holmes's legal team filed a status memo this week, arguing that the probable circus around the trial could be dangerous. "The defense, jurors and witnesses will all enter the courthouse through crowds of onlookers who have often approached and even touched counsel and the defendant during entry to the building," they reportedly wrote. And if anyone in the courtroom were to come down with coronavirus, "the risk of a mistrial would be substantial."
Holmes's trial date has already been pushed, most recently to give everyone time to review the approximately 20 million pages of documents involved. Now, CNBC reports that prosecutors are hoping to introduce additional investors who say Theranos scammed them; to add two new wire fraud counts to Holmes's docket; and to expand the scope of their case by three years. Adding the charges would, however, require a grand jury, which Davila said he cannot summon at this time.
As it stands, Holmes faces up to 20 years in prison if convicted, plus a fine of $250,000 and restitution for each count.