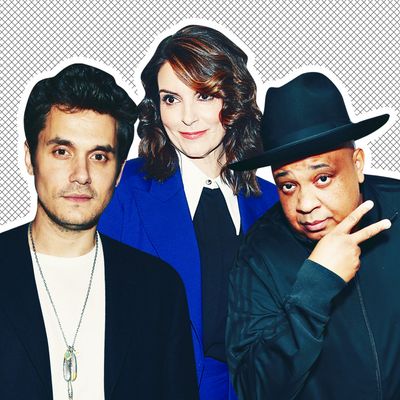 John Mayer, Tina Fey, Rev. Run.
Photo: Getty Images
In this time of social distancing, Zoom, the online video-chat service, has become a meeting room, conference hall, karaoke bar, club, even orgy venue. And as many people whose social lives have moved onto the platform know, the bigger the Zoom call, the more chaotic it becomes — people talk over each other, internet connections are dropped, and there's always someone who forgets to mute themselves when they're not speaking. Now, imagine how chaotic these calls would be if one of the people involved was Billy Ray Cyrus.
According to a new report from The Hollywood Reporter, agent Richard Weitz has been hosting star-studded Zoom events for the past couple of weeks. The first one he threw, in late March, was a gift for his daughter's 17th birthday. He'd booked pianist Dario Giraldo of Chicago's Redhead Piano Bar to play for a small group, and later in the evening got friends like LL Cool J to join in as well. Weitz and Giraldo started inviting more and more people to join and perform on the calls. On April 1, over 200 people — including Tina Fey, Daveed Diggs, and Fred Savage — joined a call to watch Josh Groban perform Simon & Garfunkel's "America." In the chat box, Fey reportedly wrote, "America? Are you trying to kill me Groban?!"
Other performers on Weitz's calls include John Mayer, who performed "Your Body Is a Wonderland" and "New Light"; Debbie Gibson singing "Only in My Dreams"; Rick Springfield doing "Jessie's Girl"; and Rev. Run doing a couple of lines from Run DMC's "It's Tricky." Guests to these digital soirées have reportedly included Rob Lowe, Monica Lewinsky, and Julianne Hough, and on Sunday, April 19, over 300 people signed on to watch Billy Ray Cyrus perform "The Gambler." It's unclear which celebrities, if any, used the "touch up my appearance" filter, or a whimsical background.
"I want people to have a good time," Weitz told THR about the calls. "It's like comfort food — songs and artists that people have literally grown up with that make everyone happy and bring joy in this difficult time."
No word so far on how many people have experienced Zoom hangovers from these online concerts.