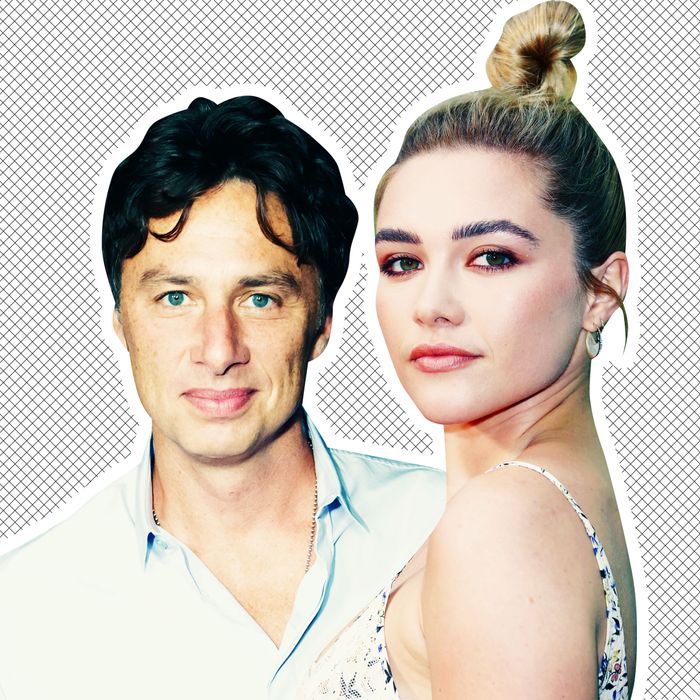 Florence Pugh and Zach Braff have been dating for at least a year, and fans of the former remain mad about it. Possibly because the two make an unlikely couple — what with the sizable age gap and apparent divergence in social circles — and possibly because much of the country is bored stuck at home with nothing but an internet connection and the ingredients for fluffy coffee. Whatever the reason, Pugh is asking nicely and at length for everyone to shut the hell up about it.
Pugh posed a video to her Instagram on Wednesday telling her followers that the comments on a photo she'd posted days before of Braff on his birthday received so much hate, she had to turn off the comments on her page, and she is not having that. "Within about eight minutes of the photo being posted, I had about 70 percent of the comments hurling abuse and being horrid and basically bullying someone on my page," she said. "I will not allow that behavior on that page," she added, emphasizing that her platform was created to spread positivity — like through her cooking and singing — and that anyone who exhibits such behavior is welcome to unfollow her.
Pugh continued, "I do not need you to tell me who I should or should not love and I would never in my life — ever ever — tell anyone who they can or cannot love. It is not your place, and really it has nothing to do with you."
This isn't the first time Pugh has addressed fans' making fun of her boyfriend. In December, someone responded to an Instagram comment Braff left on Pugh's page with "You're 44 years old." Which was true (until this week!) and riled up Pugh enough to get her to retort, "And he got it."
Anyway, acceptance is important.