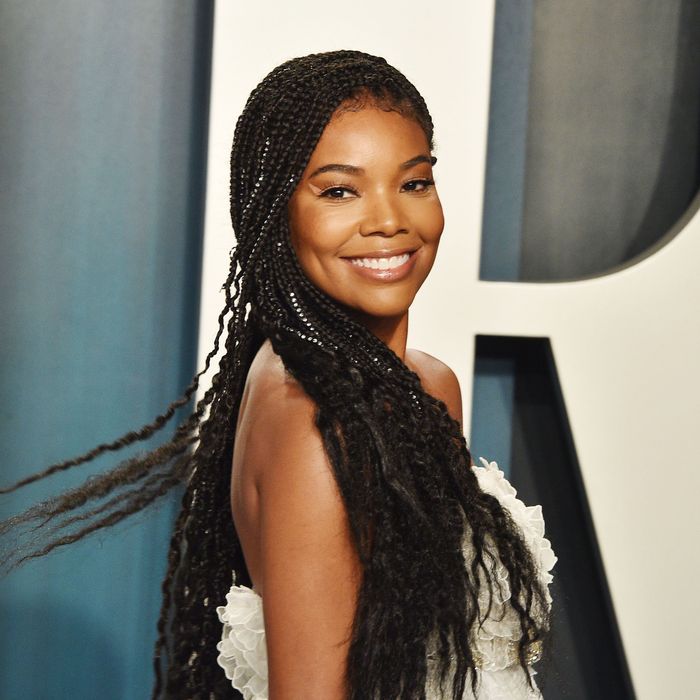 Photo: Patrick McMullan via Getty Images
Social distancing is changing all of the beauty routines we once knew. Nails are shedding gel polish and acrylic globs, eyelash extensions are molting off, and celebrities' natural hair textures are triumphantly emerging from underneath the protective hairstyles, extensions, and wigs we usually see them in.
The latest set of natural curls to make their social distancing debut belong to Gabrielle Union. The actress recently posted a video of her natural hair set to a very appropriate soundtrack of Leikeli47's "Wash & Set."
Union hashtagged the post #QuarantineNaturalHairChronicles, which leads one to believe that she will be embarking on a natural-hair journey while staying home, and #FrederickDouglassRealness, which leads me to believe that she is very good at hashtags. She also noted that she is "unlocking the secret soon … ," followed by the hashtag #InTheLab, which leads us to believe that a new natural-hair product may be in store for Flawless, the hair-care line Union launched in 2017.
In more excellent news, Union's new hairstyle just so happens to match that of her 1-year-old daughter, Kaavia James (also known as the hero who managed to convey society's collective 2020 mood in a singular photograph). If you thought matching your monochrome sweat suit to your baby's monochrome sweat suit was cute, gird your loins, because matching your natural curls to your baby's natural curls is even cuter.