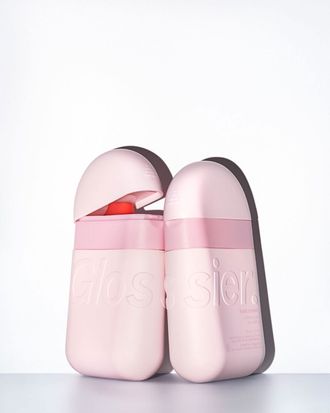 Hand Cream, the new Glossier hand cream.
Photo: Courtesy of @glossier/Instagram
There's a creamy new family member joining Glossier's moisturizing household. Today, Glossier founder and CEO Emily Weiss announced that the brand's newest concoction is a hand cream named Hand Cream. Hand Cream has been "nearly two years" in the making and will make its official online debut next week on April 23. However, stateside health-care workers on the front lines of the COVID-19 outbreak will be the first to slather it on.
"We're grateful to other businesses who are retooling their factories to make hand sanitizer (something we can't do, since we don't own our factories)," Weiss wrote on the company's blog. So instead, the purveyors of all things dewy and moist have donated the first 10,000 Hand Creams in existence to nurses and doctors to help do some damage control on hands ravaged by constant handwashing and sanitizing.
We'll have to wait for more details regarding what exactly lives inside the Hand Cream's millennial-pink dome, which makes me want both Bubble Tape and a bottle of baby lotion. But for now, Weiss assures us it's "a BEAUTIFUL formula, delivered in some pretty ingenious packaging."