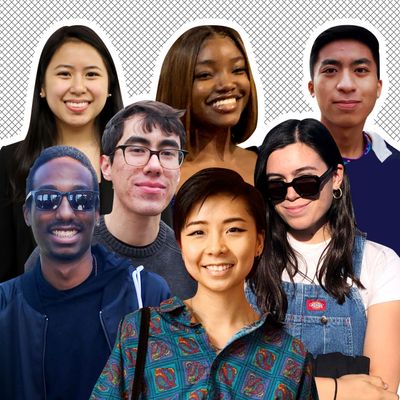 Photo-Illustration: The Cut
As the U.S. struggles to respond to the coronavirus crisis, the Class of 2020 faces a stormy economic forecast. In the past month, millions of people have lost their jobs, and unemployment nationwide is sure to get worse before it gets better. College seniors who were primed to enter the healthiest labor market in two decades are now poised to seek their first post-grad job in an economy on the brink of a depression.
The Cut talked to 27 soon-to-be graduates from across the country about how it feels to wrap up college amid COVID-19. Pursuing careers in fields as diverse as journalism, biochemistry, and nursing, these students expressed everything from regret that they'll miss out on commencement to hope that this difficult moment will soon pass. Read on for their reflections.
Olivia Gregg, 21 | University of Michigan - Ann Arbor
It feels like we're in a state of limbo: mindlessly attending online class, wishing to hang out with our friends before we move away, and thinking about the uncertainty of our future. I've been able to apply to opportunities, but each day positions disappear. It's been even harder to comfort my friends who have lost internships and full-time jobs.
Degree: B.A. in Communication and Media Studies
Up next: TBD
Makayla Grijalva, 21 | University of New Mexico
The university is trying its best to
re-create graduation ceremonies, but virtual graduation and celebrating six months after officially finishing school just isn't the same. I don't think the recognition can be re-created or postponed. It's just a college experience we have to miss out on for the greater good. After graduating, I want to write for a local newspaper, online or print, to help share the stories of the community. Unfortunately, many local papers have had to lay off reporters during the crisis, making finding a position more difficult than ever.
Degree: B.A. in Multimedia Journalism and Political Science
Up next: TBD
Cindee Tang, 22 | Vanderbilt University
Our university gave us four days to pack up our belongings and leave campus. I never got to say good-bye to my friends or talk to my favorite teachers about my postgrad plans. I've had a radio show my entire college career, and I wasn't able to have my final show. I had to say good-bye very quickly and abruptly. I'm an immigrant single child of an immigrant single mother, and it saddens me that she will not be able to see me walk the stage in my regalia.
Degree: B.A. in Human and Organizational Development
Up next: Venture for America fellowship
Aisha Flores, 22 | Fashion Institute of Technology
Studying in NYC, there's always something you're doing. You have your routines. And then one day, classes move online, your internship gets suspended, you no longer have a spring break, and you move back home to Puerto Rico for the remainder of the semester. Years from now, saying that you graduated with the class of 2020 will mean that you overcame a great deal of adversity and still made it. But for now, we have to stay safe and take care of each other.
Degree: B.A. in Advertising & Marketing Communications
Up next: TBD
James N. Pillot IV, 21 | Stanford University
This is a moment where I'll acknowledge my privilege in not only continuing to study at a top-notch institution in a field that I love but also in shielding myself from the volatility of the economy by remaining in school. There are countless people living in unstable homes who have no option but to find some sort of employment as soon as possible post-college and for whom these upcoming months will either bring consequences that put real hindrances on their immediate future or, in the worst of cases, may result in them losing a loved one. So, that being said: Everyone. Please. Be kind to one another.
Degree: B.S. in Electrical Engineering
Up next: Electrical engineering master's program
Hannah Metzger, 21 | University of Colorado Boulder
Because of the pandemic, I have no idea what I'm going to do after college. I had planned to live in Spain with family for six months as a travel writer before returning to Colorado to seek long-term employment at a newspaper or magazine. Now, Spain is one of the hardest-hit countries in the world. And even if it wasn't, I can no longer visit the consulate to get a visa for the trip. My future has never felt more uncertain. I worry that the graduating class of 2020 is coming into the job market at a huge disadvantage and that this poor start will follow us long after the pandemic has ended.
Degree: B.A. in Journalism
Up next: TBD
Joey Carreon, 23 | University of Alaska Anchorage
While I'm not personally too bummed about losing out on my commencement ceremony, I feel for my mom and grandma the most. They're both immigrants, so I wanted them to be able to soak in every moment of my graduation, since I know how much it means to them. I feel as if the ceremony would've validated all the years of hard work they put in and sacrifices they made when raising me. This wasn't ever just my dream, it was ours.
Degree: B.A. in Journalism & Public Communications
Up next: TBD
Armon Mahdavi, 21 | University of Washington
I was texting a friend the other day who had gone back to her home out of state for the rest of the quarter, and we both suddenly acknowledged that we may not ever see each other again. My school recently announced that those graduating this year are "invited" to come to the 2021 graduation ceremony instead, which really made a lot of us feel like an afterthought. After graduating, I was hoping to move straight to New York, but now it seems that will be delayed quite a bit. When you see so many print publications laying off workers, it feels doubtful that they'll have a space for a new college grad.
Degree: B.A. in Comparative Literature and History
Up next: TBD
Manda Villarreal, 23 | University of Michigan - Ann Arbor
I feel guilty for grieving my graduation and everything that came with it, but I am. Being an art student, I was so looking forward to my senior exhibition, displaying my yearlong design project. Losing my graduation day is what hurts the most. My graduation was scheduled on the same day as my dad's birthday. It's hard to know that I will never get the memory of saying "Happy birthday" to him in my graduation speech in front of everyone or saying "Thank you" to my professors and classmates.
Degree: B.A. in Art & Design
Up next: TBD
Meagan Pusser, 21 | High Point University
I feel like I've lost the privilege of the last good-bye. Going back onto an empty campus to return books and my key left me feeling hollow as I thought of all the things that I wanted to do one last time, but would never get the chance to do. I just wish people would follow the guidelines and stay home. It really sucks that I don't get my senior year the way I wanted, but it's just truly terrible that people are dying because those that "aren't sick" can't follow the rules. Everyone needs to do their part.
Degree: B.A. in English Writing & English Literature
Up next: Master of Fine Arts in Creative Writing program
Jada Booker, 22 | Spelman College
Fortunately, the crisis has yet to fully transform my postgrad plans. I was informed that my start date at a company I committed to might change, but there is also uncertainty around that. I cannot actually feel and cope with the new phase of life I am entering. Usually I would be celebrating milestones, which would invoke a sense of "moving on," but instead I am at home, wondering when we will be allowed back outside, back to normal. The crisis has made me cherish the present and every fleeting moment.
Degree: B.A. in Economics
Up next: Working as a business-technology analyst
Isabel Garcia, 21 | Loyola University Chicago
When I first found out that the rest of my final semester was going to be online, I thought of all the lost opportunities and events: my final months to hang out with friends, a senior bar crawl, senior boat cruise, and graduation. As a premed student, I feel like I gave up so many social events to focus on my studies and hoped these final moments of my senior year would be a time to make up for those lost opportunities. It's quite sad to know that I now will be missing out on huge events that I looked forward to for years.
Degree: B.S. in Biochemistry
Up next: Medical school
Bella Martin, 21 | University of California, Los Angeles
My generation grew up during the recession of 2008. A familiar anxiety has resurfaced for us: "What is going to come next?" In January, I began a dream internship at a talent agency in Beverly Hills. I was so excited and grateful to learn about the ins and outs of the entertainment industry. But as cinematic production has been put to a halt for the foreseeable future, the industry has frozen in its tracks. My internship was brought to an end, and the majority of the agency's staff has been laid off.
Degree: B.A. in Political Science and History
Up next: TBD
Samuel Yellowhorse Kesler, 21 | University of Pennsylvania
It is slowly settling in that I will not see many of my best friends for months when this was supposed to be the time we would be celebrating. I'm an English major, hoping to be a writer for a magazine or similar work, and I was in the process of applying to jobs at the beginning of March. Now many of the places I've applied to are writing back to tell me they are no longer hiring. It feels pointless to apply to jobs I am almost certain will be rescinded, and I have to wonder whether it is worth it to keep up the effort or move back home until this blows over.
Degree: B.A. in English
Up next: TBD
Isaac Lu, 21 | University of San Francisco
I do see a silver lining in all of this. Being sheltered in place means we now have all the time in the world to do things we had told ourselves we didn't have the time for in the past. Things like learning new skills, reading books, and developing successful habits. Things that can benefit us down the line as we begin our careers. In a time where everything else has stagnated, there could not have been a more perfect time for growth.
Degree: B.S. in Kinesiology
Up next: TBD
Elizabeth Beugg, 22 | University of Pennsylvania
Most of the time, I completely forget that I'm about a month out from graduation or that I'm graduating at all. It feels like everything from mid-March onwards has been wiped clean — it's a little dissociating. I take that back — it's very dissociating. But things could be so, so much worse. In the end, I'm in a very privileged position if all I have to sulk about is missing my graduation. I try to remind myself that most careers aren't linear. They have breaks and detours and regressions. I like to think this is part of that for me. On the bright side, I'm in purgatory, not Hell.
Degree: B.A. in Fine Art and English
Up next: Working as a production assistant
Kayli Reese, 22 | University of Iowa
This photo of me was taken at the Iowa Newspaper Awards in February, where the Daily Iowan was awarded Newspaper of the Year over every paper in the state. The DI staff felt on top of the world that day, not knowing that just a month later we would be receiving reports of COVID-19 cases in our county. It still hasn't fully hit me that I won't be graduating in the way I've been picturing for four years. I've been visualizing walking across a stage and budgeting for a cap and gown. I'm the first of my parents' kids to graduate college, as well as the first grandkid for all my grandparents.
Degree: B.A. in English/Journalism & Mass Communication
Up next: TBD
Lara Báez , 21 | New York University
A lot of comparisons have been drawn between this crisis and the last recession. Seniors who graduated that spring have shared messages of hope, saying there is light at the end of the tunnel, you will get a job eventually, and life will resume. As we all adjust to the new normal, students like me still applying for jobs might have to come to terms with the idea that while we'll be unemployed for a while, things will get better and we'll come out stronger.
Degree: B.A. in Media, Culture, and Communication
Up next: TBD
Julia Monyak, 21 | University of California, Los Angeles
I graduated a quarter early this past March, the very week that the coronavirus crisis in the United States began to rapidly worsen. The following week, I learned that my internship was ending prematurely due to the pandemic. I suddenly found myself with no job, no school, and a whole lot of uncertainty. While I still have all of these concerns, I have learned that it is better not to dwell on them. There are people who are suffering far worse because of this pandemic. I have tried to focus on what I'm grateful to have in this situation and taken advantage of the free time I have at home to do things I didn't have much time for in the past — reading, running, painting, and cooking.
Degree: B.A. in Communications
Up next: TBD
Sarah Soderberg, 21 | University of Arizona in Tucson
I had a very planned-out timeline for graduation, but it's all been thrown out the window. Many new graduate nursing programs are being canceled, and it's harder for new nurses to get a job than you would think. Many hospitals don't feel like they can adequately train us at this time. Despite everything that has happened, I've never felt more ready to be a nurse, and this crisis has reminded me why I love nursing.
Degree: B.S. in Nursing
Up next: TBD
Savannah Rothhaas, 22 | Hillsdale College
The adjustment to online classes has been very difficult. It's been a struggle for the professors and the students to switch gears. I've found myself grieving the loss of the end to my last year. Fortunately, I applied and was accepted to a pharmacy school in Ohio before Christmas, so my postgrad plans academically have not changed. However, I plan on marrying in late May, but coronavirus may have other plans. We may end up moving it, which is a huge stressor.
Degree: B.S. in Biochemistry
Up next: Pharmacy graduate studies
Tyler Panlilio, 21 | University of Illinois at Urbana-Champaign
On graduation days, my best friend and I had a ritual of tossing a Frisbee on the main quad. We would talk about everything that happened that school year and people-watch as the seniors, in cap and gown, took pictures with their families. We'd do this every year, always knowing we'd be in their spots soon enough. That won't be happening anymore. The whole world is kind of on pause.
Degree: B.A. in Journalism
Up next: TBD
Rori Sachs, 21 | Syracuse University
Job prospects we worked years to build are suddenly frozen. However, this was all necessary. Safety is the No. 1 priority. But still. What if this happened two months later or two months earlier? Last summer, I worked at a talent agency and was hoping to start in a mailroom training program, hailed as the "grad school" of the industry, but all of that is halted right now. What was once a thriving job market turned into a crisis almost overnight. But for now, all we can do is try to stay safe and wait.
Degree: B.A. in Television, Radio & Film
Up next: TBD
Hannah Whitman, 21 | University of Michigan - Ann Arbor
The job search for teachers falls quite late, usually coinciding with graduation time. However, school districts are in crisis mode right now, trying to set up online learning platforms quickly as more and more states close schools for the year. This makes me very uncertain as to how much attention schools are giving to new applicants right now. With the possibility of having to do online schooling in the fall, I feel that I am severely underprepared to give my students the education they deserve, despite having just graduated from one of the top elementary-education programs in the country.
Degree: B.A. in Elementary Education
Up next: TBD
Alex Gray, 21 | Iowa State University
I feel like I've been cheated out of my last few months of youth. The last months at school are supposed to be spent with your friends outside or on a senior bar crawl. I actually miss my classes right now. There were a lot of people I had to say my good-byes to because I didn't know if I would see them in person ever again. I still have a summer internship lined up in my hometown, but every day there's anxiety that I'll get an email saying the internship has been delayed or canceled entirely due to the pandemic. I really don't know what I'll do if that falls through.
Degree: B.A. in Public Relations
Up next: Marketing communications internship
Tatiana Mena Ramos, 24 | New York University
It's a terrifying and disappointing time to graduate. Being from Puerto Rico, my undergraduate studies had already been affected in a similar way because of the strikes and Hurricane Maria, but this is a whole other story. On the one hand, being a student during an unprecedented crisis is an incredible experience because of the unique research opportunities you're encouraged to take part in. On the other, you spend so much time and money to be at your dream school and suddenly it's (partially) taken away. Online teaching is an amazing solution to such a stressful problem but the physicality of on-campus learning (especially in NYC) is incomparable. My intention was to stay in New York after graduating, rather than go back home to Puerto Rico, but not knowing what my options are is stressful and disheartening.
Degree: M.A. in Arts Politics
Up next: TBD
Lamis Abualkheir, 24 | New York University
Graduating at this time is a privilege because we are continuing our classes in the midst of a pandemic. What breaks my heart a little is that I won't enjoy my last semester with my friends or have my family over to celebrate my accomplishment. I am not worried because every day is a new opportunity, and I see opportunities in times of hardship.
Degree: M.S. in Management & Systems in Leadership and Strategy
Up next: TBD