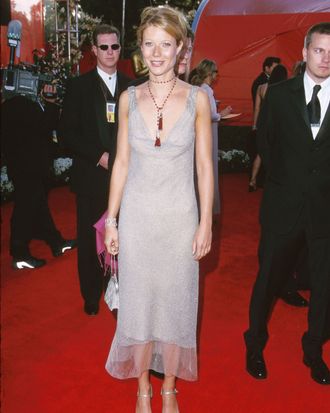 Photo: Steve Granitz/WireImage
Amid the coronavirus pandemic, some celebrities have stepped up and tried to do their part. A few efforts have, well, fallen short — think of the much-maligned video of a bunch of famous people lip-syncing "Imagine" to raise good vibes — while others have been more substantial. For instance, several A-listers are participating in the "All-In Challenge," where celebrities auction off treasured experiences and possessions to raise money for organizations that combat food insecurity. So far, Leonardo DiCaprio has offered up a walk-on role in his new film with Martin Scorsese, Justin Bieber has volunteered to serenade a lucky donor with "One Less Lonely Girl," and Ciara and Russell Wilson are auctioning off a double date. Over the weekend, Gwyneth Paltrow announced she'd be participating, too, by putting up one of her old Oscars dresses … one that she called just "okay" in a 2013 blog post.
CNN reports that Paltrow is auctioning off the Calvin Klein dress she wore to the Academy Awards in 2000 — the year after she won the Oscar for Shakespeare in Love — as part of the #AllInChallenge. Paltrow said in an Instagram video over the weekend that the dress "holds great sentimental value" and is "very end of the '90s, which is back in style now so I thought it would be a good one to donate."
But her most recent statement is somewhat at odds with a 2013 blog post on Goop.com, where she listed it as one of her two least favorite Oscars looks, calling it an "okay dress but not Oscars material. I chose it because I wanted to disappear that year." Some Instagram commenters pointed this out. One wrote, "In her post she says the dress is sentimental. I think it's interesting how she wants to donate a dress she's not fond of." Another chimed in, "Hilarious in an interview that dress she says is one of her least favorite Oscar choices."
On the other hand, maybe Paltrow's being really thoughtful. It's a dress she didn't particularly want to leave the house wearing, well-suited for a situation where many people are being urged not to leave their homes. Also, one could argue that the dress now holds unique cultural significance, having found itself at the center of yet another minor Goop-related scandal. Own a piece of internet history!