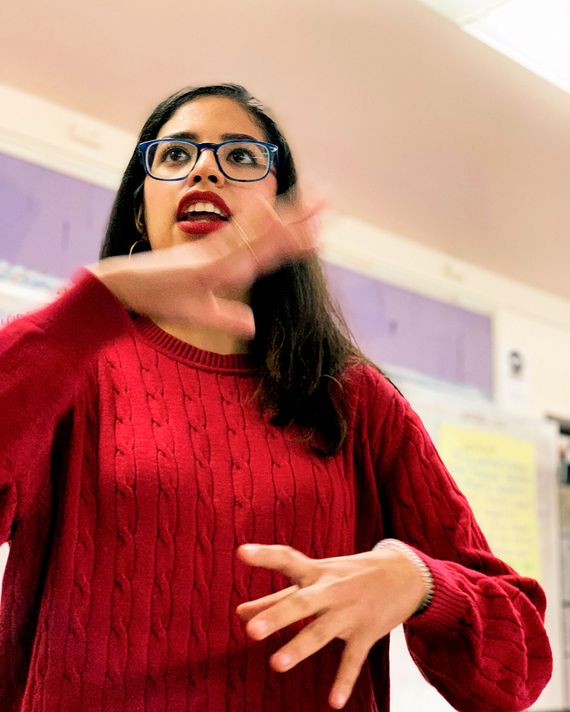 Samantha Elkaim.
Photo: Courtesy of Samantha Elkaim
We're committed to keeping our readers informed. 
We've removed our paywall from essential coronavirus news stories. Become a subscriber to support our journalists. Subscribe now.
The first week she taught online, Samantha Elkaim planned a lesson on misinformation: Her students collected coronavirus material from social media and analyzed its trustworthiness and accuracy. The second week, they started research papers. "If the thing you're most curious about right now is coronavirus, write about it," she told the class. "If you're really curious about baseball right now because it's the thing that's keeping you from going crazy about coronavirus, write about baseball." She wound up with roughly a 50-50 split between topics coronavirus-related and not. (One student wanted to write about whether people were going to love technology or hate it when this was all over.) Before the pandemic, Elkaim had been hoping to get to Ta-Nehisi Coates's Between the World and Me, but she's not sure it will happen now.
Elkaim has big glasses and a big smile and could still pass for the college student she was not too long ago. She teaches 11th- and 12th-grade English at a public high school in lower Manhattan, and throughout her childhood — attending public schools in the Bronx, Brooklyn, Manhattan, and Staten Island — she was a kid who loved school, loved spending time with her teachers. It took her a while to realize she might want to be a teacher herself. Her mother is a teacher, and therefore teaching seemed normal and boring. But eventually she made her way to the adolescent-English program at Hunter.
Elkaim's mother taught kindergarten and first grade for years; Elkaim spent five years as a middle-school teacher before moving to high school last fall. Even so, she learned a few crucial lessons about the job from watching her mother that have come into focus since the coronavirus shut down New York City schools. One was that teaching is all about relationships. Her mother was always good at this — picking up on the little things that showed a kid you were paying attention. A conversation about a cartoon-character backpack could open the door to a genuine connection. "You're never going to strong-arm a kid into doing what you want or need them to do," Elkaim learned. "But if you find the 'in,' you can make it happen."
Now that her students are stuck at home, they seem hungry for connection. But such moments are scarce in online school. Saying "hello" in the comments on Google Classroom isn't the same as finding a minute to talk with the quiet kid who shows up early after lunch. Carried on at a distance, the relationships all seem so fragile.
"School is such a place of escape for kids. It's such a place to be free. Some kids are way more out and open — whether that's sexuality, whether that's their own ideas — and then you meet their parents and you're like, Oh, you don't know any of this about them." All teenagers want is to get out of the house, but sheltering in place means "you're at home with these people who don't get you," Elkaim said. "Honestly, what I hear the most is 'I would give anything to go back to school.' "
Good attendance right now looks something like 70 percent, and even that takes a collective effort. Teachers ask kids to text friends who have been missing from class; wrangling a longtime absentee feels like a triumph. Elkaim's goal then is to keep as many students engaged as she can — despite technological difficulties, ever-evolving bureaucratic confusion, and the sheer unprecedented experiment of improvising a new educational system while the world falls apart. On a basic level, she just wants the kids to keep talking. "I'm so fearful that if it stops, that's it," she said.
For New York City public-school teachers, the experiment started at 5:30 p.m. on Sunday, March 15, when Mayor de Blasio, after a week of resisting growing pressure, announced the city's schools would close. The delay left many teachers baffled and angry, and the days that followed inspired little confidence from teachers that their physical safety was a priority. Distance-learning training was organized as in-person group sessions, with faculty doing their best to maintain social distancing as they continued to gather in school buildings. Some took sick days rather than risk commutes and crowds.
Elkaim felt lucky that her school permitted teachers to do their training from home, and she and her colleagues reassured one another that they just needed to make it through two and a half more weeks of classes — then they'd have spring break to do real lesson planning and get ahead. As the faculty scrambled to prepare a remote curriculum, the school's non-teaching staff worked the phones, trying all the numbers they had on file for each student in hope of establishing reliable contact with parents. At students' suggestion, they set up a school Snapchat to send scheduling and technology updates to the kids.
Elkaim's first day of online teaching felt like her first day of school in the fall: coming into a new job, having planned as best she could, but unsure what would happen once she was in front of the kids. "I feel like I'm at a school that at least is acknowledging the reality of what's going on," she said. "We're not just trying to make the physical school fit in the online world." After that week, it became clear that approximating a school day, with seven classes and accompanying assignments, felt impossibly long when it happened on a screen. Teachers scrapped the schedule and instead broke classes into a rotation of alternating days, with office hours on Friday for one-on-one meetings.
Elkaim and her mother have been talking shop throughout the crisis. Her mother now teaches English as a New Language at an elementary school on Staten Island. Since the shutdown, she's been working out of Samantha's old bedroom, trying to help parents help their kids. The first week she felt "like a computer technician," she said. She recently took a three-way call with Spectrum so that parents who didn't speak English could get their wireless router set up. But the problems she sees go beyond the technical. There are parents who are working off-the-books, don't have paid time off, and can't stay home; there are parents who are undocumented, don't have Social Security numbers, and have trouble accessing the deals cable companies have offered to families who need Wi-Fi for school.
Throughout the school system, such problems abounded. Students in homeless shelters lacked Wi-Fi. Whole families found themselves sharing one phone, or one computer, among siblings all trying to do their work. At Elkaim's school, 84 percent of the students qualify for free or reduced-price lunches. (The school draws students, 60 percent of whom are Hispanic and 29 percent black, from neighborhoods like the South Bronx, Harlem, and Far Rockaway.) As March turned to April, some of Elkaim's students were still limited to cell phones; she kept up with them over text while they waited for laptops to be delivered. The Department of Education was in the process of distributing 300,000 iPads to city students, and by mid-April, approximately 55,000 had been given out.
The second week, Elkaim thought she was achieving some sort of equilibrium. Then, on Friday night, word came down that the respite she'd been anticipating was gone. Even after the state canceled spring break that Wednesday, teachers held out hope that Passover and Good Friday would remain days off. Now the chancellor made clear that they would not.
"The ground is always shifting under your feet," Elkaim said. Teachers receive constantly changing information from the city, the union, the state. Elkaim's school had been using Zoom for daily advisory meetings, when the chancellor abruptly announced that they couldn't. "We had just gotten the kids on Zoom!," Elkaim said. Teachers were advised to use Microsoft Teams and told that Google Meet was under review, leaving Samantha to wonder if her school would have to get off Google, too. (Shortly afterward, Google Meet was approved.) "My principal's making decisions, and sometimes she's like, 'Look, this is the way I'd like to take attendance. Let's do it this way until the city says no.' "
Working out of her Carroll Gardens apartment, Elkaim has a new rhythm, starting with a video for her students outlining the day's assignment. Instead of filming herself, she records what's happening on her screen, clicking through instructions and explaining what students are expected to submit. Even though everyone thinks of teens as tech-savvy, she says, they often struggle with activities that office-dwelling adults take for granted — like the fine points of word processing. So she records as she highlights text and clicks through toolbars, then posts and waits to see what questions roll in.
Reading and writing translate fairly readily online, compared with, say, a lab science. But even in an English class, school online moves slower: A quick classroom activity can get stretched out over a couple days when students are working asynchronously and clarification doesn't happen in person. "So much of teaching is about gauging reaction, and now I have no gauge of reaction," Elkaim said. "If you're in a room and you start going in one direction, you can see a bunch of confused faces and realize, Oh, wait, I need to go back." Now that realization might not come until several confused emails later, if at all. "It's like I'm doing this blindfolded," she said. "It feels like I'm missing a sense." She ends her emails and videos by telling students to text her Google Voice number if they need anything.
"Text me, call me — it's a different structure," Elkaim said. Rigid hierarchies don't seem useful at the moment.
Elkaim's students aren't children and they aren't adults, but the city's shutdown has brought them the stressors of both. They miss their friends; they also worry about money. The week before schools closed, some were already seeing their hours cut at the shops and restaurants where they held part-time jobs. "Some of my kids live in situations where they're 17, they're 18, and they're contributing members to their household," Elkaim said. "They don't have these jobs to go out on the weekends; they have these jobs to pay for their food. They need to pay for their portion of the rent."
The school offers a special program in emergency management, and before the coronavirus hit, roughly a quarter of the senior class was training to become EMTs. In the third week of online school, Elkaim assigned a New York Times article about how the city's 911 dispatchers were taking more calls, day after day, than they had on September 11. Descriptions of care rationing and triage made sobering reading: High-school classes rarely deal with matters of life and death, but theirs did.
Lately, 9/11 has been the only comparison Elkaim can think to give her students for the moment they're living through. On that morning in 2001, she was a 7-year-old at school in Bensonhurst: She and her classmates weren't told what had happened — maybe the teachers thought they were too young to understand. What she remembers is hearing an announcement telling everyone to turn off the AC and close the windows. Her mother was teaching in the same building, so Elkaim was released to her classroom. She remembers the dawning recognition that the grown-ups didn't know what was happening either.
"It was the first time you saw adults being uncertain and scared, and that's how you knew it was a big deal," Elkaim said to me. "The world wasn't what it seemed," she remembers sensing. "These structures weren't always going to be there."
*This article appears in the April 13, 2020, issue of New York Magazine. Subscribe Now!