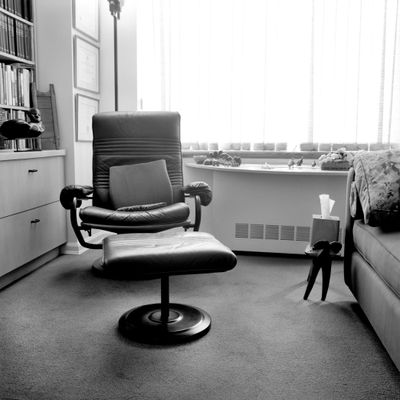 Photo: Getty Images/©Glasshouse Images
Nearly half of all Americans feel that the coronavirus pandemic has had a negative impact on their mental health, according to a new poll conducted by the Kaiser Family Foundation. It's not surprising that anxiety levels have soared: Over the past few weeks, 95 percent of Americans have been ordered to stay home, 16 million Americans have lost their jobs, and recently, the death toll from COVID-19 has been well over 1,000 each day. But what is it like to be a therapist during a time of so much stress and uncertainty? Jennifer Panning is a clinical psychologist who lives with her partner and two children in Evanston, Illinois, and is currently counseling many of her clients over video chat. Here, how she gets it done.
On a typical morning right now:
I've been letting myself sleep in more these days, so I usually wake up around 8 a.m., shower, and if I'm lucky, I have time to walk my dog to get some exercise and fresh air before I start my day. Coffee is a must in the morning, and I'm usually checking emails or starting telehealth sessions by 9 a.m. Every week, I see about 15 or so clients virtually, and run one group. I try to schedule a few sessions in the morning, then have a two-hour break in the middle of the day to focus on other activities. This also helps with eyestrain.
On the transition to virtual therapy:
Going from working in an office setting to telehealth required a very quick shift. I have some people who wanted to do telephone sessions because they don't have access to video platforms, but I'm seeing most clients over video. So far, the transition has been going very smoothly, I think because I have long-standing relationships with many of my clients. I've realized how much we still can connect, and it's been comforting for my clients and myself to know that we can still have a meaningful session over video. However, you do miss out on some information. In person, it's easier to observe nonverbal signals, like seeing someone in a waiting room who's slumped over in their chair, which you can't really do virtually. The technology can also be a little exhausting, and staring at a screen can be a strain on the eyes. Also, seeing my picture on the screen can be discombobulating.
On managing her own fears and anxieties right now:
I love my work, and my work gives me meaning, and that gives me a huge comfort. But I'm not going to lie, the pandemic has brought up more anxieties for me. What I'm experiencing, and what I've heard other therapist friends say they're experiencing, is that we're holding a lot of our own anxiety and our own personal shit right now. It's important for us to be honest with clients about that. I'm human and we're in this together, and I think there's some comfort for them in knowing that. I think I've maybe been a little bit more vulnerable than I normally would. I've started to have some clients asking me how I'm doing. A client yesterday said to me, "I know that you work so hard and that you have a family, and that you're going through this crisis as well, and I'm worried about you." Sometimes we don't always get that expression back, so that was really moving for me.
I've also been telling clients about some of the things that I have found useful in terms of coping, like immersing myself in a project. Right now, I'm working on a paint-by-numbers painting of an owl. It's probably not going to look that great when I am done, but I find it relaxing. My other "project" is rewatching The Sopranos. In general, I'm steering clear of talk about productivity, because I think that isn't helpful right now. We're all doing the best we can. I'm normalizing that to myself and to my clients — that we're going to have good days and bad days throughout this.
On collective grief:
We're all going through a collective grief and a collective trauma right now. Some of that grief is large scale: We're seeing our fellow humans get sick and die, and we're watching our health-care workers suffer. And then there's the other grief over the small losses of everyday life. The grief that we can't go out to dinner with friends or go to a movie, or even go to the gym — so many things things are so good for our mental health, that we're not able to do in the same way. What I've seen with my clients is that they're feeling guilty about their small losses because they're looking more at their big losses. I have clients who are graduating, and they've said things like, "I'm sad I'm not going to have my graduation ceremony, because I put in so much work and I really wanted to celebrate with my friends, but I feel guilty about that because then I think about people who are losing loved ones or are experiencing serious trauma." I've told clients that we need to acknowledge the small losses because they absolutely do matter, whether that means missing out on a sporting season or just normal routines. We took those things for granted because we could, and now we're realizing that the small pleasures in life are good things, and we'll probably appreciate them more when we're able to go back to a semblance of a normal routine.
On staying informed:
A lot of my clients tell me about their complete frustration over the federal government's inaction, and that they're feeling helpless. I've been advising my clients not to watch the federal pressers and instead listen to scientists and the local government and other more trustworthy sources, because we're flooded with information right now. Our brains want to know information — that's adaptive. In survival mode, we think, the more information we have, the more we can figure out what to do. But I tell my clients if they check the news once a day and practice social distancing, they'll know as much as they need. Flooding our brain with information will only create more anxiety and stress.
On loneliness:
Some of my clients have been struggling with loneliness, so I've been encouraging them to reach out to loved ones and even people who they haven't connected with in quite some time. It is challenging because the usual recommendations of going to a coffee shop, joining in a group activity or hobby, or even going to the library can't happen right now. So instead, I'm encouraging them to find virtual support through social media or even in places like Reddit.
On prioritizing her own mental health:
I have my own therapist and my own support system of other therapists. My dog, who's very cuddly and lazy, has also been such a great support. I'm also connecting with friends over Zoom, which has been great.
I've found that I'm being more conscious of my own anxiety levels because I'm holding a lot more anxiety from clients than usual. I'm giving myself a lot of permission to rest, to sleep in a little bit, to not push myself. I'm listening to my body more than I usually do. I'm also getting outside a lot, walking my dog and getting sunshine. Those are things that help me reinvigorate. I've also been trying to have more boundaries with work. Evenings are for spending time with my family. My kids are big pasta eaters, so pasta and salad has been a favorite dinner for us. The biggest thing is keeping my mind in the present moment. I tell myself, In this moment, I'm at home, I'm safe, I have a roof over my head, I have food in my fridge, and I love my job. I think the danger comes when we try to predict months down the road where we'll be. That can lead to feeling stuck and frustrated and hopeless.