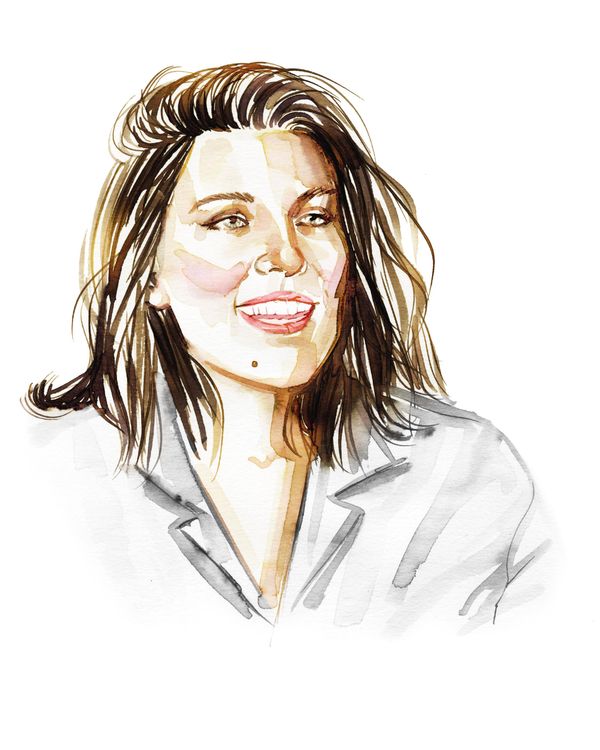 Illustration: Samantha Hahn
Like so many people right now, fashion designer Rosie Assoulin is trying to balance keeping her business afloat and her family of five entertained and fed. "I am doing my best to keep some joy alive for my family and my community," she said. She's been doing a lot of cooking and Zooming, but she's also trying to find moments of gratitude and generosity. "Like so many others, I've found small acts of giving are a great antidote to despair." Below, Assoulin shares three things that help her find happiness and meaning in the everyday.
1. Finding pleasure and comfort in food: I have really been leaning into cooking. It's fun to try new things and get experimental, especially with my kids. Honestly, it's the only time of day I can get them all to listen to me and cooperate! My husband, Max, and I work together, and he has been taking on a lot. He's tasked with the challenge of handling logistics of our business and trying to keep everyone's head above water, all while cleaning dishes and managing Zooms. I was out of commission for a few days last week in bed, and he made matzo-ball soup from scratch. We have a Syrian-Arabic word for that: We call it adamy, which is like saying mensch in Yiddish.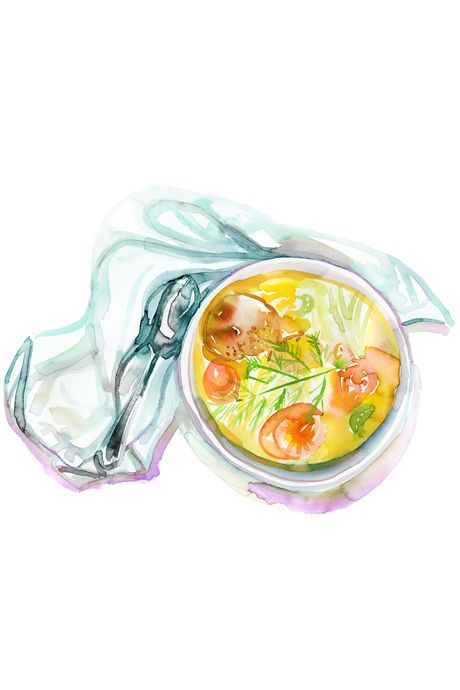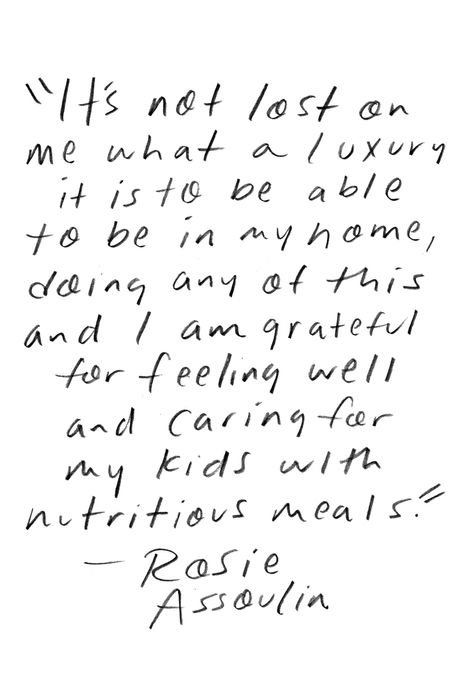 2. Using music as motivation: As a household, we've been listening to a lot of music. I am very motivated by music, and it makes chores easier. It's also fun to break out into a jig with the kids. They like learning new songs and ask for them on repeat. Not gonna lie, the Frozen soundtrack is in heavy rotation as well, but I get so much more music in my day now.
3. Small acts of giving: It's not lost on me what a luxury it is to be able to be in my own home doing any of this, and I am grateful for feeling well and caring for my kids with nutritious meals. So many people aren't in this position, a fact this quarantine has really helped crystallize. I've tried to push away moments of anxiety, sometimes rage, and frustration that bubble up throughout the day with the opportunity to share, give, and connect. Simple gestures: calling a friend or parent, tagging a friend in something that reminds you of them, or going outside of your own circle of need, donating to a food bank, promoting the need for blood donations, expressing gratitude to health workers, reposting helpful information wherever we can. A little complaining is a great way to let off steam too, of course, but gratitude fills that space with something bigger, better, and more fulfilling. That, and the feeling that we are united as a country and a whole world.