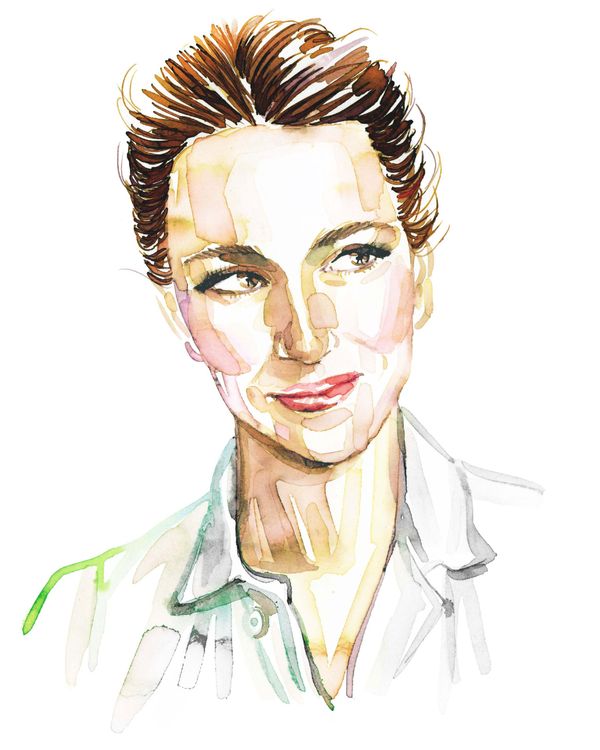 Fashion designer Cynthia Rowley.
Illustration: Samantha Hahn
Fashion designer Cynthia Rowley has been in fashion a long time — she launched her namesake label in 1988. Her business has seen a lot, but of course, nothing like a pandemic. She and her husband, Bill Powers, who runs Half Gallery on the Upper East Side, are riding it out with their two daughters, trying not to get on each other's nerves. Rowley is keeping a positive attitude. "My thermometer is set to Celsius, so I figure I'm learning something," she said. Here are the ways in which she's letting go.
Improvising everything: After week one, I let my kid cut my hair. I dyed my own roots. And I've been reveling in creative cooking. Once we sorted out the nondairy, gluten-free, and vegetarian diets in our household (there's only four of us, by the way), we improvised some honey-nut Brussels sprouts, invented French toast breakfast pizza, and hacked our fave restaurant's mushroom recipe. I've actually never cooked this much in my life — and then there's the aftermath. I've figured out that if I need some alone time, I just announce to the fam it's time to clean up.
Trying to live in the moment: I used to think it was so great when we would be on vacation and I wouldn't know what day it is. Now it's just scary. I figure as long as I know the month, I'm good. The other thing I used to say on vacation was, "Guys, how amazing is this that we get to spend every day 24/7 together!?" I think you can guess the end of that story. But we're all grateful in so many ways, and when we come together at dinner, that's what we talk about.
Keeping it simple: I am finding a surprisingly positive message in the chaos of the fashion industry. It feels liberating to only listen to our audience and be as creative and collaborative as possible. We started making masks during week one, but it's obviously bigger than that. It's more important than ever for companies to make small quantities and sell out of styles, creating as little waste as possible. We can stay positive together and embrace hope and creativity to get through this together.