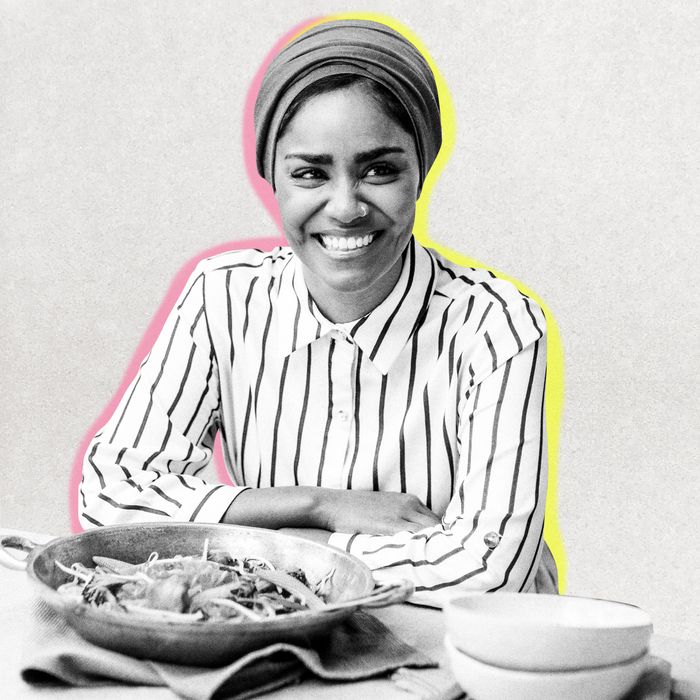 Nadiya Hussain.
Photo-Illustration: by The Cut; Photo by: Chris Terry, image from Time to Eat by Nadiya Hussain (Michael Joseph).
Nadiya Hussain is a beloved former contestant on The Great British Baking Show. She appeared on the program in 2015, where she prepared a "big fat British wedding cake" and perfect iced buns that helped her claim the title of Britain's best amateur baker. Since then, she's baked and personally delivered Queen Elizabeth's 90th-birthday cake, a three-tiered orange drizzle cake; written multiple cookbooks, children's books, and a memoir; and starred in a number of cooking series. And on April 29, her newest cooking show, Time to Eat, in which she shares her trusted kitchen shortcuts and go-to recipes for time-strapped and budget-conscious families, premieres on Netflix. Hussain, who is 35, lives in Milton Keynes, England, with her husband and three children. Here's how she gets it done.
On a typical morning:
I always wake up when the sun rises, and the first thing I do is wash and pray. Then I like to use a Shakti Mat, which is basically a mat with pins on it. I like to lay on that for 15 minutes, which feels like laying on a bed of nails. I only discovered it about a month ago — I read that it helps blood flow, stress, and anxiety, so I bought it for my husband, because he has issues with his shoulders from being hunched over his computer. It starts out feeling weird and it does hurt a little bit, but if you can get past those first two minutes, you go into a place where your muscles relax, you feel much less tense. If I'm feeling very daring, I'll do it without any clothes on, but I usually have to have a layer of clothes for protection. After laying on the mat, I'll go downstairs, make myself a cup of tea, and then wait for the kids to come down. My rule is, I eat when I'm hungry, so whether or not I have breakfast depends on the day.
On keeping track of her schedule:
Even in normal times, my job is so sporadic and so erratic. I could be working 10 days out in the middle of nowhere in Southeast Asia or I could spend four weeks at home writing recipes. I have an integrated diary with my husband, my agent, and my kids. They can look in the diary and know if mommy is working today and when I'll be around. I use my phone as my focal point. That being said, I usually write everything that's in my phone onto an actual note, because that helps things stick in my head. I'm also a doodler, so when I'm doing an interview — I'm not doing it right now! — I might draw or write a little poem. I don't really know how to stop.
On the therapeutic benefits of baking:
I started baking in my early 20s when I got married, moved away from home, and wasn't seeing my parents as much as I would've liked. I missed them, and I used baking as my form of escapism. Baking helped me forget how anxious I was. I loved that I could enter a totally different headspace. I love really complicated bakes, like puff pastry and brioche and croissants from scratch, because they take days from start to finish. This might sound really ridiculous, but you know how your kids need you? That's how I feel about my bakes. If I don't tend to them, they go to pieces. I love that my croissants and brioche and pastries are always waiting for my attention. I live for that.
On watching cooking shows as a child:
Growing up, I watched a lot of cooking shows — mainly Delia Smith. For me, watching her was a form of escapism. You know, there was Delia, a middle-class English woman, and then there was me, a young, working-class woman from an immigrant family. Watching her was aspirational. I was in awe of her amazing, massive kitchen and beautiful landscape garden in the back. I'd watch her make her big turkeys and stuffing balls and cake, and it was a world away from mine. I never imagined I could be that person.
On being the star of her own show:
I can never quite believe that I'm on television. This wasn't the job that I dreamt I'd be doing, because I never thought it possible. I didn't grow up watching Muslim women on television. I didn't grow up watching Bangladeshi women of color on television. I never watched shows and thought, I want to be just like them. That idea was too far-fetched. So to be able to have a cookery show is so much bigger than a cookery show for me, because not only do I get to share my recipes and my ideas and my madness, but I hope and I pray that I get to be the person that people look at and think, I can be like her. To be able to do a cookery show and be this British, Bangladeshi, Muslim woman of color — that's a big deal.
On taking shortcuts in the kitchen:
I love the effort and joy that goes into making elaborate meals, like a real Thai green curry. That being said, I'm a mother of three, and I have a husband and cat and three chickens and a rabbit. Between feeding all those mouths and my own work, I often feel like I'm working two full-time jobs. When I'm cooking during the week, I'm all about taking shortcuts, which is what my Netflix show is about — it's about making time to eat and using up the ingredients you've bought. I love cheating. I also have a budget for groceries, and I try to not go over that. If I can make a meal really superfast, using odds and ends and bits that I've got at home and present a beautiful meal to my family, that brings me joy.
On cooking with her family:
What differentiates a weekday from a weekend is pancakes. Sometimes we do tray bakes, where we put the pancake batter in a tray and bake it with swirls of peanut butter and jam. That way, there's no waiting for pancakes — we just take the tray to the table, split up the pancake, add toppings, and eat it. As a family, we do a lot of cooking together. On a Sunday, we might have a roast if we're up to it. When it's nice, we cook on the barbecue.
On unwinding at night:
As soon as the kids are asleep, I have to take a bath to wash the day off. I like to sit in my bath with bubbles, with my book, and stay there until the water is completely cold. Right now, I'm reading Glorious Rock Bottom by Bryony Gordon. After my bath, I pray before I go to bed. I'm like a little old lady, I have an electric heater that I turn on that makes my bed all toasty. Then, I put on my eye mask, and I'm off to sleep.