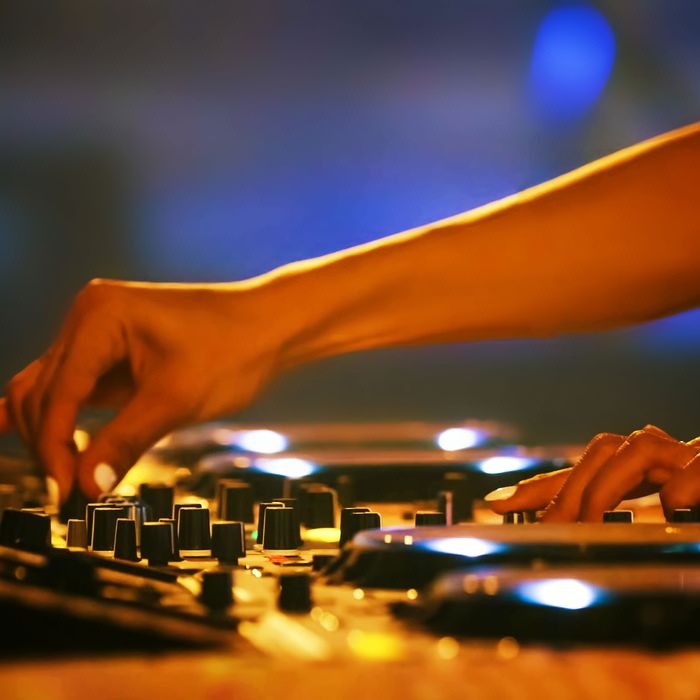 Photo: Chuanchai Pundej/Getty Images/EyeEm
Unfortunately, I mean it when I say that I am a very literal person. My Spotify playlists reflect this: I have one called "Good," which includes all the songs that I think are … good. I have another called "Disco," which — you guessed it — is just disco. My most complex playlist is "Running," which is a short list of songs with titles like "Run" and "Run the World." (I branched out with "Move Your Body.")
Listening to music helps me escape, but my playlists out me as someone who has a hard time ever fully letting go. Now, in the midst of a global pandemic, control is hard, if not impossible, to come by. I feel a huge range of emotions within any given hour, many of which I cannot identify or rationalize. As a result, my playlists — and the extremely specific ones that Spotify has concocted with the help of an algorithm — aren't doing it for me.
For some much needed assistance, I called up Venus X, a popular New York DJ known for co-founding and hosting GHE20GOTH1K parties. She's been DJ-ing remotely Sunday nights on Instagram Live, with encouragement from Virgil Abloh. She's also published her first public playlist on Spotify, titled "Transmissions from Planet X," which she's been adding to after each set.
Of course, it's not business as usual for Venus. She's not trying to get a party going. "I'm trying to find a groove that allows me to experience the range of emotions that I'm experiencing with the best soundtrack," she said. "Now, you really have to organize music for your own mental sanity and survival."
Below, Venus X shares her tips for how to make playlist from wherever you are right now. "It's like scoring your own movie," she says.
1. Clear your schedule.
"If you want to make a good playlist, you've got to spend a couple of hours creating it. But it's worth it, because it will last you forever."
2. Dump everything you want to use in one place.
"Put everything into one initial playlist that's like your draft. It's like pulling out all the things you want to wear from your closet, and then trying them on."
3. Be wide-ranging with your selection.
"Pull different languages, different genres, and different moods. You'd be surprised what music can sound like when it's reorganized in context. Experimentation is crucial."
4. Remember, this is not a Spotify playlist.
"Avoid being literal at all costs, because you're going to spin in one direction and it's going to make you sort of sick, in a way. I wish that I could experience happiness all day long, or sadness all day long, or listen to classical music all day long, but it just doesn't work like that. Spotify playlists are about specificity in a way that life is not."
5. In a new draft, pick an anchor point, or an emotion to begin with.
"It's different for everyone. If you're moody, start out with something angry. If you're scared, then start off with something ambient, or something more coaxing, or something more spellbound. It's important to calibrate people into the playlist."
6. From there, create clusters of different moods.
"Picking the first song is super-important, but then imagine that you're going to go through five or six different emotions in that song, and then try to coordinate those emotions with three to five other songs, each. People might say that the playlist will too all over the place, but what else are we experiencing right now besides a range of emotions? Everything changes every day."
7. Start to work out sequencing.
"Skip to the end of each song, so that you get the last 15 to 20 seconds of it and figure out how that transition sounds. Even if you don't know what the tempo is precisely, you can still tell the difference between an upbeat song and a slow song. What gets your heart rate going? What slows it down?"
8. How you transition is up to you.
"What works for me might not work for someone else. I don't have instructions on how to create your personal flow; the point is you need one."
9. Climax in the middle.
"The middle should just feel like fun. It's like climbing a mountain, or watching a movie; it's not going to end on the highest peak."
10. In the end, you should have about 20 to 25 songs.
"A good playlist is about an hour and a half long."
11. But leave room for more.
"The point of a good playlist is that it's an anchor for something much longer. If you can create an experience out of 20 to 25 songs, and then keep adding 10 songs and arrange the flow of those 10 songs, you're going to get better and better at it. By the end, you may have thousands of songs in one playlist. I'm going to be adding 10 to 20 songs to my playlist after my set each week, and hopefully by the end, I'll have this classic playlist."
12. Play it back.
In the meantime, you can listen to Venus X's "Planet X" playlist on Spotify and take notes. She'll also be playing every Sunday on Instagram Live starting at 7 p.m. ET, and taking over the Cut's Instagram on Sunday, April 25, from 7–8 p.m. ET.