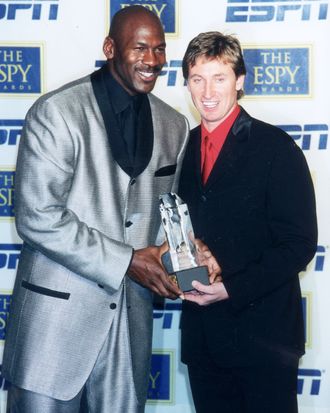 Jordan with Wayne Gretzky.
Photo: Scott Harrison/Getty Images
This weekend, my boyfriend insisted we sit down and watch the first two episodes of "his show" on the television. What could it be? I wondered, and felt a flash of panic when he turned to ESPN — Oh no, a sports game! Luckily, it turned out to be something not only tolerable, but very good: The Last Dance, a documentary series chronicling Michael Jordan's final season with the Chicago Bulls.
The first few episodes of the documentary cover a lot: MJ's college years and time as a rookie, as well as some nasty tension and politicking between team managers. But what most captured my attention was Jordan's outfits — specifically his experimental, oversize suits. Much of the documentary includes flashback footage, and for the most part MJ is in basketball shorts and jerseys. But, as he began to do more press after joining the Bulls in the '80s, he really started to express his personal style. For him, this meant a variety of felt Kangol caps, his signature gold hoop earring, and, of course, a variety of power suits.
And when I say power suit, I truly mean power suit. Padded at the shoulders, and running the length of his torso, the jackets are something to behold:
They look outrageously, impossibly large. Of course, this is because they are: at six-foot-six, MJ has a torso that looks to be at least three feet long. On top of that, he seems to like his jackets to cut off at mid-thigh, which puts them at nearly four feet long:
According to a recent GQ story, Jordan really began to favor this silhouette in the '90s, after a Chicago tailor surprised him with a suit prototype: "baggy pants, jackets extra long and extra full, with the idea that they'd adjust the fit to a traditional slimmer cut on future fittings." But Jordan liked it as it was, pre-adjustments — according to the tailor, he said all his other suits felt too short. He ordered 13 more with the same oversize cut on the spot, "creating a new baggy style his tailors had generally avoided."
And though the blazers' miraculous size was meme fodder for some, I find their sheer enormity bold and delightful. While watching The Last Dance, I amused myself by considering his bewildered dry cleaner, and imagining how many Sangeetas could fit into just one of these things.