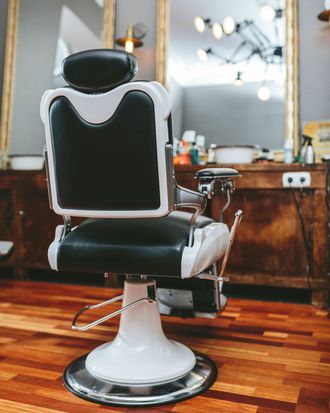 Photo: Westend61/Getty Images/Getty Images/Westend61
After weeks of closure to limit the spread of COVID-19, Georgia governor Brian Kemp announced last week that select businesses, like hair salons and fitness centers, could reopen with "minimum basic operations." Many small-business owners feel conflicted over the new guidance. One of them is Heidi Oley, whose Instagram account went viral after she started giving her boyfriend goofy, pop-culture-inspired hairstyles during isolation, and who owns the Atlanta-based salon Chroma Station. Oley talked to the Cut about her reluctance to resume business, what she'll have to do to prepare, and her fears about reopening.
The decision to reopen hair salons in Georgia right now feels malicious and terrifying. I am embarrassed to say that I live in this state. It's our governor's job to protect people, but I have to make an impossible choice between poverty or sickness. It feels like a decision made to get us off unemployment.
A lot of hairstylists are independent contractors and have not been receiving pay. They were going to be able to apply for it on the 22nd or 23rd. But on the 24th, Governor Kemp reopened salons, so it doesn't matter. If it is so safe to work in such close proximity to others, then why hasn't he reopened the tour of his mansion? Why can't we go inside his house? He should test it out with us, or he should test it out first. I would love to see Governor Kemp's graphs allegedly showing how great Georgia is doing. All the other ones I see from the CDC, which is five miles away from his house, shows the numbers are only climbing.
Because we are now technically "able to work," we are now no longer eligible for unemployment. To me, it feels like we are guinea pigs. It's eye-opening they would choose these places to open. The businesses that are listed are staffed by relatively poor people. We applied for the standard relief or grants, but they all went to bigger corporations, and we didn't get anything that trickled down.
To function as a salon during this time will be a new learning experience, but not something I am looking forward to. I will do whatever I can to make my clients and everyone feel safer. I am thinking about opening a week from now. I don't feel safe doing it any sooner, because I need to gather supplies for my staff and clients.
I need to buy a lot of cleaning supplies. I've had to order boxes of gloves. I need to get disposable capes for my clients, so I ordered disposable raincoats from the dollar store. I can't rewash smocks, or else I will be running the laundry every two minutes. I am going to make our own hand sanitizer because I can't find any. It's heartbreaking because I feel like I am competing with health-care workers for these supplies. I can't provide my clients with masks because it's a liability for me, and I can't find them anyway.
They want us to cover the shampoo bowls in plastic. But if you don't, Barbicide has to sit in it for 10 minutes after each client. I have to leave cleaning solution on certain areas for different amounts of time and have it stay wet for ten minutes. I already sanitize my combs and brushes. Clients also can't sit on unwrapped chairs. My waiting area is closed. There will be no magazines. I won't be offering any beverages. I'm asking my clients to wait in their car before they come in. Stylists have to wear gloves and change them out after every client and wash hands in between. We have to spend 30 minutes between each client to sanitize. Ironically, we still practice social distancing, but it's okay to touch a stranger on their head for a service.
My salon is a small shop, and we normally have three people working at a time. Before this, we could see about 24 people a day. But we will have to stagger shifts, so it's probably eight to ten max. There is a station that is next to mine, but it can't be used or else we won't be six feet apart. We are going to forgo blow-dries. If someone sneezes, I don't want the blow-dryer making it travel to the other side of the salon. No double processes. I'm thinking about only doing shampoos for people getting color services. I want to limit the exposure time with each person. An hour and a half would be the max to have someone in my chair. A lot of salons are doing dry cuts or asking them to come in with clean hair.
It's a double-edged sword. I miss and adore my clients. A lot of them have been with me for a decade. I would love to see them. I've read posts saying they won't support businesses that open today or open before this is over. It's not our choice. If anything were to happen to them, I couldn't deal with that. But I have bills to pay. I am stuck between a rock and a hard place. It's scary. I've talked to quite a few other stylists in Georgia, and we are all terrified.
My clients are supportive and waiting. They want to be safe. If you want to support your local hairstylist or salon, gift cards are great. If you're able to, pay for a service. Write five-star reviews. When we do reopen, people will be looking for salons. Contact your stylist and see what additional rules they're implementing. See if you need to bring your own mask. Tell your hairstylist something nice, like "I miss you." That means a lot to me.