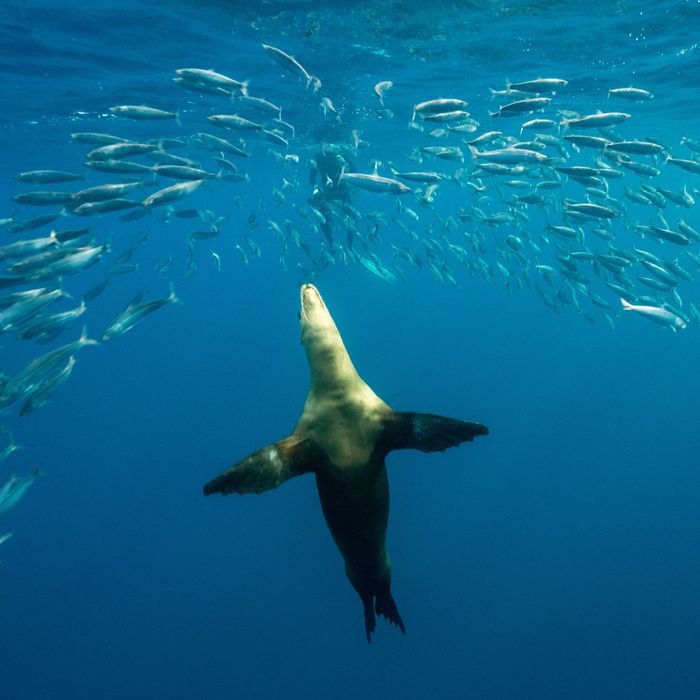 Photo: Getty Images/© Wildestanimal
The ocean is not well, and it hasn't been for some time. Corporate policies and production have been trashing it for decades. Oil spills pollute the waters and decimate habitats, as do overfishing and hunting of marine species. Climate change contributes to rising acidity levels in the ocean, a side effect of which is the bleaching of coral reefs; in the next 20 years, 70 to 90 percent of all coral reefs are projected to disappear.
But the good news is there's still time to turn this train around. The BBC reports that, in a new scientific review published in the journal Nature, a team of researchers argues that the ocean is "remarkably resilient" and could fully recover from the negative impacts of human interaction over the next three decades — if we act now.
Why so hopeful? The researchers say they've documented examples of ecosystems bouncing back as a result of conservationist intervention. The review's lead author, Carlos Duarte, a professor of marine science at Saudi Arabia's King Abdullah University of Science and Technology, writes that the study "provides specific, evidence-based recommendations to scale proven solutions globally." He and the other researchers identified nine aspects of marine ecosystems that are essential for reversing the damage: seagrasses, mangroves, salt marshes, coral reefs, kelp, the deep ocean, oyster reefs, fisheries, and megafauna. Steps that need to be taken to achieve a turnaround by 2050 include climate-change mitigation, regulations on harvesting, and protecting species.
One of the report's co-authors, Professor Callum Roberts of the University of York, writes that all of this could be accomplished given the will to do so. "We now have the skills and expertise to be able to restore vital marine habitats … which keep our seas clean, our coasts protected, and provide food to support entire ecosystems." Aside from will, the undertaking would also require large sums of money — the study puts the cost at about $10 billion to $20 billion a year, and estimates a $10 return later for every dollar spent now.