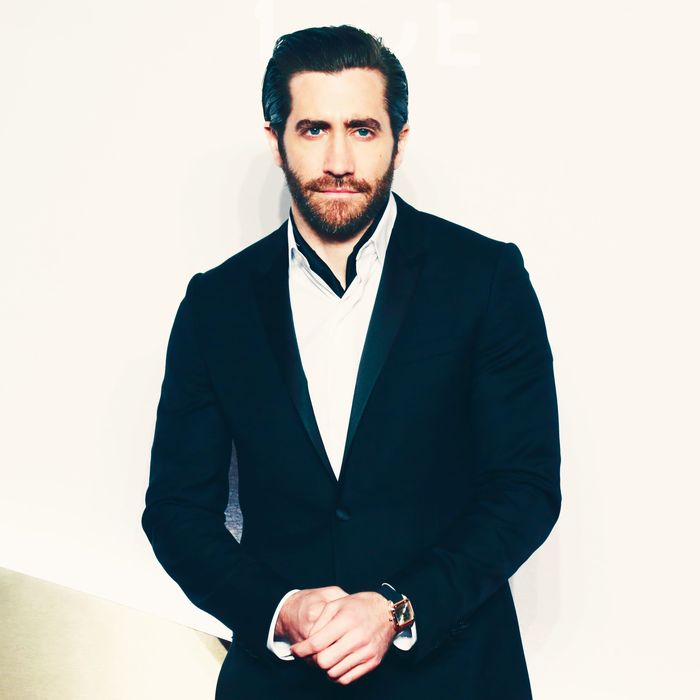 Jake Gyllenhaal.
Photo: Julien M. Hekimian/Getty Images
Does Jake Gyllenhaal live in a Jake Gyllenhaal museum?
That was the question raised last year, when "Page Six" reported that actor and topless handstand challenger Jake Gyllenhaal was constantly having pictures of himself framed. "Jake Gyllenhaal comes in all the time and I've never framed something for him that's not a picture of himself," the owner of a framing store in downtown New York City was supposedly overheard saying.
But don't believe everything you hear, or everything you hear someone heard one time at a framing store. Jake Gyllenhaal doesn't live in an apartment where every surface is covered in an expensively framed image of himself, okay? He doesn't take visitors on tours and say, "That's a picture of me, and that's another a picture of me, and that's actually just a mirror, but if I stand in front of it, it's like it's a picture of me." And when he's lonely, he certainly doesn't put pictures of himself around the dining table and pretend to throw a dinner party, and say things like, "You've really outdone yourself with this lasagna, Jake. Well thank you, Jake, I'm so glad you could make it." He doesn't do any of this (although that dinner party idea sounds like a nice social-distancing activity), because, as he told Another Man magazine in an interview this month, that "Page Six" story was "nonsensical":
"So what I think happened is — because I can safely say here that I don't have any framed photographs of myself in my apartment — is that I have a production office, and at the production office we have posters of my movies."
See? Not only does he not curate and manage a living Jake Gyllenhaal museum in his apartment, Jake Gyllenhaal doesn't even have a single framed photo of himself in his apartment! He just happens to have several in his office, but, as Another Man clarified, this is "not that weird," and I agree with them. That being said, I think this picture of him in a gray sweatsuit would look nice framed.