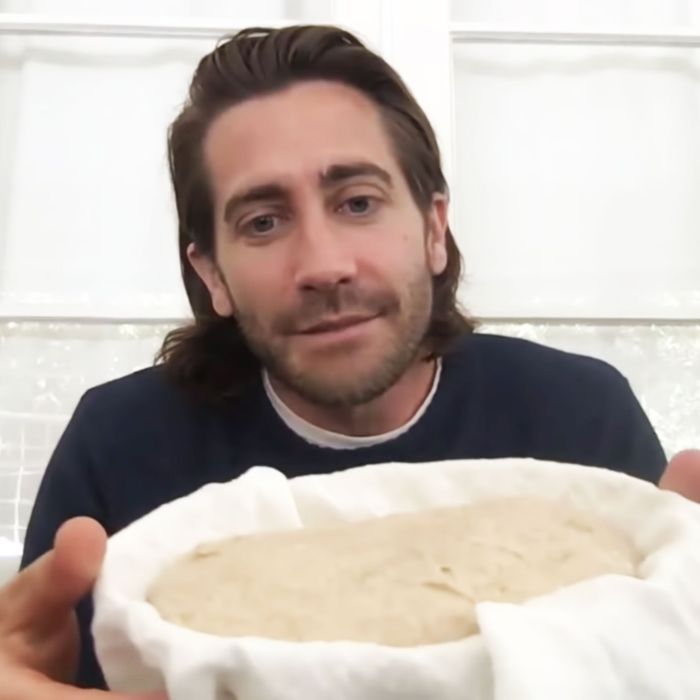 Photo: The Late Show with Stephen Colbert/Youtube
It has become evident that Jake Gyllenhaal is spending his time indoors fashioning himself into a sex symbol for the social-distancing era.
Gyllenhaal is of course a conventionally handsome man, but has (for me) never inspired the kind of desperate, painful horniness that, say, Legolas or Dev Patel might. But the last few weeks of watching him have forced me to acknowledge that things have changed, and he is now occupying a new, sexier room in my mind palace.
My feelings on Gyllenhaal began to shift, I believe, with the chain, which he started wearing last summer, and which somehow made his eyes look bluer and his chest more expansive.
Then came the handstand challenge, which gave me something new to consider: his beautifully muscled back and how his butt looks in leggings:
And, still reeling from the tragic terf bangs he wore in Velvet Buzzsaw, I was pleased to see that he had grown his hair out to look more like a post-rehab Jackson Maine, which really suited him. Look:
Then, there was the Sondheim of it all. My God. Gyllenhaal lent his voice to a duet with Annaleigh Ashford for Steven Sondheim's virtual 90th birthday celebration and fundraiser. The performance was over Zoom, but the deep intensity and passion with which he sings made me cry a bit. I am ashamed of this, but honestly:
And now, his sourdough tutorial. Up until now, I've had no interest or desire in making sourdough, not because I don't like bread, but because baking is one of the things I am worst at.
And then, who should join the cult of sourdough but Jake Gyllenhaal, who, in a segment of The Late Show With Stephen Colbert, extolled the virtues of baking it. "Shh, I have sourdough rising," he whispers to Colbert. "Shh. It needs to rest. It's resting."
He goes on to describe how he got into bread-making with the kind of shine in his eyes you often see in parents talking about their newborns:
It's possible that Gyllenhaal's antics have nothing to do with a desire to stir the loins of women watching from home. But if they are, well, Jake, it's working.