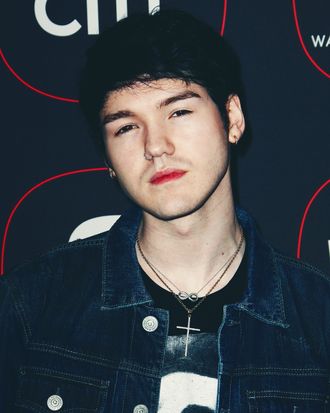 Photo: CraSH/imageSPACE/Shutterstock/Copyright (c) 2019 Shutterstock. No use without permission.
Look, in these trying times, we all need mysteries to ponder that are neither existential nor terrifying in nature. Don't ask yourself, When will I go outside? Or, What will the future hold? Instead, ask of the universe, "Has Goody Grace ever seen The Crucible?"
We know who Goody Grace is — sort of. He is Kate Beckinsale's new boyfriend, a 22-year-old rock musician. They were pictured over the weekend walking her dog. We know he is Canadian (Goody Grace, not the dog). We know that last year he released a track called "Scumbag," and that he is friends with Machine Gun Kelly. We also know that at least according to Hollywood Life, he "vibes on infinity."
But we don't know how this young man came by the name "Goody Grace," except that he legally changed his name from whatever it was to Goody Grace when he was 18 years of age. "It's just a name I came up with," he once said.
And what we truly don't know, what has invaded my waking hours like a dark spell, is this: Has Goody Grace ever seen or read The Crucible, either the Daniel Day-Lewis movie or the Arthur Miller play? Does he know that "Goody Grace" makes him sound like a woman in the Massachusetts Bay Colony accused of witchcraft in 1692? As in, "I saw Goody Grace with the Devil!" Has no one ever mentioned this to him?
Anyway, I'll be thinking about it.