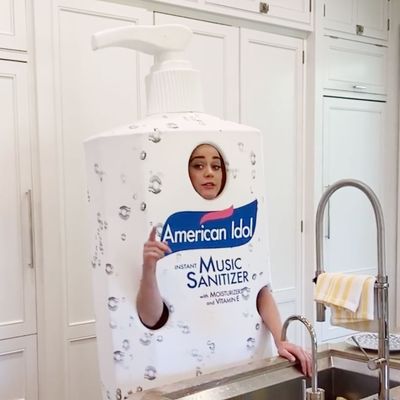 Photo: @katyperry/Instagram
This past weekend, Katy Perry debuted yet another enormous costume, this time in a video promotion for American Idol, on which she is a judge. A huge hand-sanitizer bottle, it's only the latest in what increasingly appears to be an endless supply of oversize ensembles modeled on regular objects:
The singer's first foray into this style of dress was back in 2014, when she dressed up as a gargantuan Hot Cheeto for Halloween. She followed the look a year later with a dress whose skirt was modeled on a circus tent.
Then there was the 2019 Met Gala. The theme was "camp," so the giant chandelier she wore on the red carpet made some sense, and so did, I guess, the huge cheeseburger she wore — and also wiped out in — at the after-party:
Soon after, she rewore the burger in Taylor Swift's "You Need to Calm Down" music video. Swift, meanwhile, dressed as a carton of huge fries, which, given what we know about the situation, may have been a good-faith loan from Perry's own closet.
The ensembles do look a bit like high-concept hired entertainment for a child's birthday party, but Perry's oversize livery is custom designerwear. Her Met Gala looks were Jeremy Scott, and, per "Page Six," this Purell number was a collaboration between her creative director, Johnny Wujek, costume designer Shokra, and fashion designer Pini.
I like to imagine that she has a whole closet full, and is merely selective about when and where she debuts them. Personally, I'm holding out for her own cardboard-costume rendition of Legolas, whom of course she is (regrettably) set to marry sometime in the future.