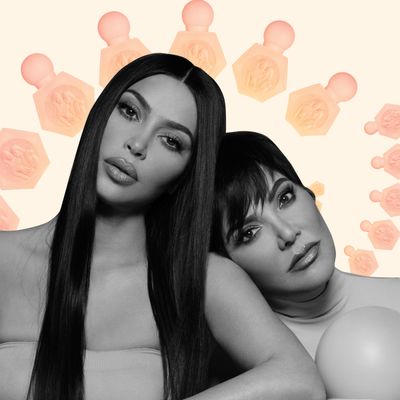 Kim Kardashian West and Kris Jenner.
Photo: Courtesy KKW Fragrance
Scientific studies confirm that, of all the senses, smell offers the best recall. In Scent Memories, the Cut asks people about the scents they associate with different times in their lives.
Next up are Kim Kardashian West and Kris Jenner. The mother-daughter duo recently collaborated on their very first fragrance together, KKW x KRIS, a fresh, white floral bouquet of gardenia, tuberose, and freesia with a splash of aperol spritz. In response to the COVID-19 pandemic, through May 5, KKW Fragrance will be donating 20 percent of profits from all sales on kkwfragrance.com to Blessings in a Backpack, an organization that provides food to elementary-school children who might otherwise go hungry while schools are closed. The Cut recently caught up with Kardashian West and Jenner to talk brownies, chewing gum, and puppy meals.
Kim, what's your first scent memory of Kris?
Kim Kardashian West: Always something to do with food, because my mom would cook all the time. I would say smelling her lemon cake or her brownies … the brownies are probably the strongest scent memory I have of my mom.
Kris, what's your first scent memory of Kim?
Kris Jenner: When she was a baby, I would always give her a bath every day and smother her in baby lotion. In those days, we used all sorts of different products because they all just smelled so yummy. Kim always had her hair done in the big ponytail with all these products, so she always smelled so good. As she got older, she smelled like experimenting with all these different beauty products, which she loves. But she had an especially yummy smell when she was a baby.
Tranquility smells like:
KKW: Candles. I always have candles in my room, and tranquility smells like the time when all the kids are sleeping, and I can just come into my room at the end of the day and breathe everything in; just that whiff of the scent of the day. I like to stick to one scent theme for the day or for the week until the candles burn out.
KJ: I think a lot of us are thinking of things we used to be able to do, the places that we've been, and I think tranquility for me has always been the smell of … tanning oil [laughs]. When you'd go on vacation and you'd get that coconutty smell of that oil, and then for me, it goes from that to the smell of grass and of being in Palm Springs. Just happy, calm times spent with family.
Motherhood smells like:
KKW: A mix of candy, throw-up — or not throw-up; I'd say spit-up. It's different from throw-up — milk, and the outdoors. And delicious baby scent, which trumps all of that and makes the spit-up okay.
KJ: Oh my God.
KKW: Keepin' it real.
KJ: For me, motherhood has taken on a lot of different smells over the years because I'm now a grandmother of ten, so for me, being a grandmother smells like baking cookies with my granddaughters, who love to come over and bake. I snuggle a lot with the younger ones, so with them it truly smells like the smell of their hair, which smells so fabulous.
My guest bathroom smells like:
KJ: All of my guest bathrooms smell like tuberose because it's my favorite smell. There's a certain air fragrance spray that they don't sell here, and Kim always brings it back for me from Paris, so I better hang onto it!
KKW: Honestly, it just smells like my kids because they take over every room; there isn't a real scent that I would like. Like tuberose, I would love that, but I don't have the luxury of that right now.
A scent I love that other people don't:
KKW: I love the smell of roses and rose-scented things, and you're either a rose lover or a rose hater, there's no in between with rose scents. I also love the smell of Clove gum and the taste of Clove gum, and there's a hand sanitizer that I recently tried that smells just like it, and you either love it or hate it.
KJ: Oh, that's a good one. I can't be in the same vicinity as anybody cooking liver. I cannot take the smell of cooking liver.
KKW: How would you even know what that smells like?
KJ: Because my grandmother used to make it for her puppies. She used to cook liver in the house for the dogs and I had to leave the house every time. If I'm ever in a restaurant and someone orders liver and onions, I have to leave the table. I can't.
KKW: I've never even heard of that as an option to order.
KJ: Look at the menu next time. It's at every restaurant!
Kim, what does Kris smell like now?
KKW: I think she smells exactly like this fragrance. Every time one of my sisters smells our fragrance, she's like, Oh, this is mom. This is the combination of her lotion, her fragrance, her personal pheromones, everything about this is what she smells like. If you've ever wanted to know what Kris Jenner smells like, it's this bottle.
Kris, what does Kim smell like?
KJ: I honestly don't know if it's because we spend so much time together, but I don't think Kim smells that different from me. Her first fragrance that she ever did, which was appropriately called Kim Kardashian, I wore that for a really long time, and it just reminded me of Kim. I think we also like a lot of the same notes.
KKW: Yeah. I think so, too. A mix of gardenia and tuberose.
KJ: For sure.
Photo: Courtesy KKW Fragrance
If you buy something through our links, New York may earn an affiliate commission.