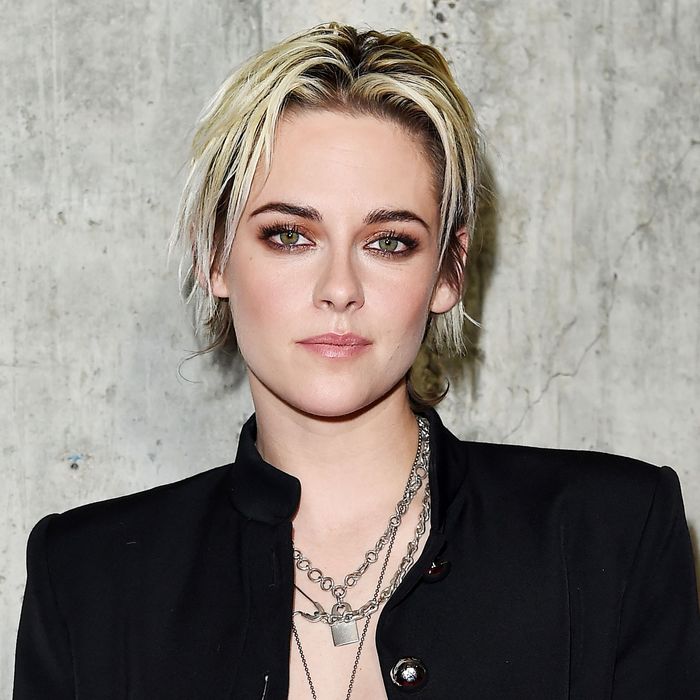 Kristen Stewart.
Photo: Axelle/Bauer-Griffin/FilmMagic
Dyeing your own hair at home is the self-isolation activity du jour. While many celebrities gravitated toward DIY pink, fashion icon Kristen Stewart swerved toward neon orange with the help of a professional.
Last month, hairstylist CJ Romero dyed K-Stew's hair a bright, bespoke orange shade he poetically dubbed "Cosmic Rust." It's a nice little call back to the neon orange-red shade Stewart dyed her hair for last year's camp-themed Met Gala (a look she emphasized with bleached-out eyebrows.) That 2019 shade matched a Chanel nail polish, and this 2020 shade is a dead ringer for another inanimate object; this enticing pool table felt upon which Stewart's hand rests.
During this pivotal hairstyling session, it seems Romero also gave Emma Roberts the all-powerful shag haircut (which, don't worry, appears to be growing out just fine). At some point, Stewart also seems to have returned the favor by giving Romero a very impressive haircut. Only time will tell what other secret skills Stewart possesses that will slowly be revealed via Romero's Instagram account.
Recently, he posted a selfie of the two together with a pool stick in which the Copper Rust seems to have faded to a candy-corn version of itself. That one seems less daunting to attempt at home, should you be inspired. Don't overthink it — a 3:1 ratio of Orange Kool-Aid mix to Cherry Kool-Aid mix should get you there.