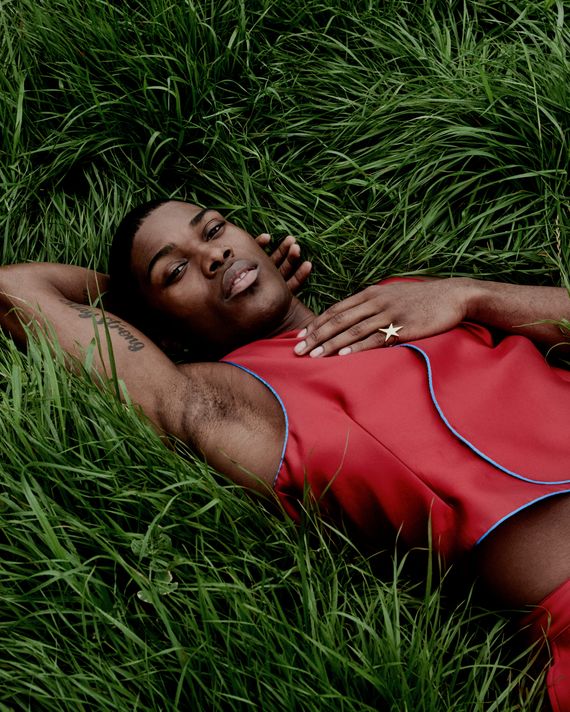 I notice the smell first. I'd been expecting the unnerving thwomps and grunts and the general intensity, but stepping into Gibson Hall, where Navarro Cheer is holding its practice, it's the smell that almost knocks me off my feet. It isn't body odor — though stinky, sweaty people are everywhere — rather a stale, plasticky smell with a soupçon of disinfectant. As I zigzag among the rows of discarded Gatorade bottles, Sonic cups, and energy drinks, my nose is confronted with a specific sense of place. Oh, right, I think, taking another whiff. This is a school gym.
La'Darius Marshall shouldn't be hard to find, but all the throwing and flipping and spinning makes the task a little like doing a Where's Waldo puzzle after half a bottle of wine. Marshall, 21, is a magnetic presence on Cheer, the six-part Netflix docuseries about the Navarro College cheer team in Corsicana, Texas. He has that perfect reality-TV mix of raw, unimpeachable talent and an appreciation for mild (though typically justifiable) drama. If the entire squad were placed on a personality matrix, it would seem that most of Marshall's teammates would be clustered at the extremes — extroverted and jubilant like his close friend Jerry Harris, or somber and reserved like flier Lexi Brumback. But Marshall occupies a point somewhere in the middle. It seems like he's always teetering on the edge of every possible emotion, doing the best he can to maintain a kind of balance between vulnerability and bravado.
On the show, he can come off as abrasive and arrogant, his signature attitude accompanied by a sharply raised, well-manicured eyebrow and GIF-worthy critiques of his teammates. (Though, he says he's grown out of that a bit after watching himself on the show). And years before Cheer premiered this winter, he was already a viral star. But here at the edge of the gym, Marshall crosses his arms with the stoic and authoritative energy of a coach you pray you'll never disappoint. It's only when his time on the mat begins that he flips a hidden switch and transforms into the person I recognize from TV. Smiling at the imaginary crowd at the Daytona national championship, he tosses a teammate oh so elegantly onto the pyramid of bodies, their legs entwined, forming a kind of human chair. And then, because this is practice, he does it again. And again and again for nearly 90 minutes. Only when practice ends does he fall back into himself and hide underneath a black hoodie that says "California" in hefty white letters, a sort of rebuttal to his small-town surroundings. It's this strategic, long-rehearsed ability to turn off and on the infinite facets of his personality that makes La'Darius Marshall so thrillingly unknowable. But with so many variations of himself at play, how could the future be anything but bright?
With all the concussions and back pain and broken bones you've seen Navarro endure thus far, it's hard to watch this team without a sense of parental anxiety. It's easy to forget the teammates are still in college, many of them in their final semester. You want the best for Marshall & Co. after they graduate this summer. You want them to find a way to turn their talent into lucrative professions (sans the head injuries, of course), even though the show constantly reminds you that a professional league for their sport of choice does not exist. It's an anxiety that reverberates this year more than ever. Now that Daytona has officially been canceled, they won't be sent off into the great unknown of adulthood with the satisfying bang of an event for which they've trained all year — and, in a way, their entire lives. Instead, their time at Navarro will end with a whimper. "I'm just taking it day by day and accepting that this is yet again another one of God's plans for me," Marshall said. "I love Navarro with all of my heart and cherish every moment we had together."
He later accepts Daytona's cancellation with the reluctant wisdom of someone who understands a tough breakup is ultimately for the best, but up until mid-March, when we met, he was training multiple times per day and his next moves seemed clear. What awaits him (most immediately) is a sandwich from Collin Street Bakery & Café, the home of what is arguably Corsicana's most famous export outside the Cheer cast: fruitcakes. After Daytona, a coaching job in Jackson, Mississippi. And maybe down the line, a house in the country with his boyfriend of four years and "No. 1 supporter," Tanner. "I love that life, not that I've ever lived it," a wistful Marshall says, telling me that he'd have horses and goats and "some big Great Danes." Cheer paints the portrait of a black gay kid from the South who channeled a painful, solitary childhood into a powder-keg personality that now seems destined for a life in the spotlight as an actor, a dancer, or perhaps even a model. The goal of these kinds of performance professions, which are now within arm's reach, is simple and explicit: to be seen.
We begin strolling around campus, and he calls out two "nice Nissans" that slowly roll past. Without any hesitation, he reveals that his dream car is a Honda Accord; a silver one, to be precise. The crackling personality displayed during practice might suggest a more intimidating vehicular parallel like a Mercedes G-Class or Dodge Ram, but Marshall explains why the silver suburban-mom car is a better fit. "I'm very simple. And it's a practical car." He compares the dueling personalities of on-mat and off-mat La'Darius to Nicki Minaj and her gay British alter ego, Roman Zolanski. Minaj is his favorite celebrity idol — as well as on his phone background. "When I perform, I act just like her," he says. "And when she performs, she's Roman." (I don't tell him that Minaj killed off Roman in 2014, because it would ruin the moment.)
Marshall's performances, as it were, began in the small city of Fort Walton Beach, Florida, where he grew up the third oldest of four boys. When his mother, Sheketra, who struggled with addiction, placed the boys in the custody of a neighborhood caregiver, Miss Edeora, La'Darius was at the age when the differences with his brothers were growing more and more apparent by the day. "He would always do something to draw attention to himself," says Brekiana McGriff, Miss Edeora's granddaughter. "His brothers picked on him because he hung out with me and my [girlfriends]." They wanted La'Darius to be more traditionally masculine, just one of the guys, but he resisted. He began performing as a cheerleader a little over five years ago, when he entered high school, though he'd been tumbling since the third grade and doing more advanced moves by middle school. He recounts those early cheerleading years with a glowing, lovely nostalgia — which exists in stark contrast to how he describes his home life at that time. Cheer provided a semblance of not just order to his life, but reward. The harder he worked, the better he became. And the better he became, the more he was noticed.
At Navarro, he was introduced to Monica Aldama, his coach, who, the show argues, is largely responsible for the hypnotic intensity of the college's cheer program. Marshall says their bond is now like that of a "son and a mom," but it took two years and one blockbuster season of television to reach that point. As someone who often fell victim to the emotional and physical betrayals of authority figures, Marshall found it hard to trust Aldama at first. "Coaches can sometimes tell you they mean well for you but they don't," he explains. It wasn't until last year that Aldama, in one of those moments when an educator must temporarily assume the role of counselor, asked why he never let anyone in. Marshall says they talked for "two days" after that and have been close ever since. Consistency. Reliability. Balance. These were the things Marshall had been looking for his whole life, and he found them in Corsicana. (Curiously enough, I suddenly realize, they can also be found in a Honda Accord.)
In the penultimate episode of Cheer, a more complete portrait of Marshall's childhood is presented in stark detail. While living with Miss Edeora, he was sexually abused by an older boy whom his siblings often hung out with. "I feel like [my brothers] knew … and they turned a blind eye to it," he says in the series. "I just felt like if my own family does not have my back, then I don't have nothing." Marshall tells me that if not for the Cheer cameras, he may never have opened up about being a survivor of abuse. Once the producers requested a two-hour interview, Marshall says, he "just knew" the experience was the sort of personal story they would be digging for.
It's in this scene detailing the abuse that Marshall transforms from a mere reality-TV trope — the fiery ingenue — to a complex human being whose past so acutely defines his present. Onscreen, we alternate between B-roll of the grimy yellow slide and broken wooden gate outside his childhood home and Marshall sitting in front of a tie-dye tapestry. He looks up at the ceiling and pauses. "The abuse that I endured … was just so much." He chokes up as he goes on to describe harming himself because of how little those around him truly valued or noticed him, and you forget you're watching a show about competitive cheerleading and not the heart-wrenching coming-of-age story of a kid who defied the odds to become precisely the kind of role model he always needed.
"You have to battle yourself and battle your inner demons … because they tell you it is socially unacceptable to talk about it and you're being a wuss if you do," Marshall tells me. "And I just don't see how that culture is even close to being healthy. That's like me going through my entire life and not telling my story." To watch him on the mat is to witness both a virtuosic display of athletic ability and the fierce, concentrated whole of his potential. He could be doing anything, but he happens to be right here, displaying a magical stability in a sport that is inherently unsteady. "When I'm performing, you're going to see me," he says, tears falling down his cheeks. "In that moment, the kid in me is like, 'You're going to see me whether you like it or not.' And I feel like that kid is finally gone. He definitely got what he wanted. He definitely feels free."
But that feeling of freedom was far from instantaneous, and opening up to the cameras caused the pain he'd hidden for so long to bubble up to the surface. This past summer, after filming ended, there it was, confronting him yet again. Before long, Marshall stopped eating and drinking and started losing weight. He fell into what he calls a "dark place," but it wasn't the act of sharing his story that took him there. Rather, he says, it was the fear of being victimized because of it. "I never wanted to be perceived as a victim," he tells me. "I don't like the word … I know what I've been through, but look how far I made it." And plenty of people, he now realizes, are looking, including his brother Antonio, who was interviewed in Cheer. Marshall tells me their relationship has actually improved since the show debuted, a development he's certain would "never" have happened otherwise. (When I question that certainty, he reiterates: "Never.")  Though they're not FaceTiming (he balks at the suggestion), they do check in on each other by text. But even if their relationship never extends beyond iMessage, this counts as progress. The most important thing he's learned since filming Cheer, Marshall tells me, is this: "I don't have to have shields on — I just should live … You're gonna miss out on your blessings if you don't allow people to come in."
And now, he's ready to retire. "I'm already 21," he says. "To me, that's old, and it's time to give it up." As for what's next, who knows. Radiology, he says, as if he just pulled a random profession out of an enormous hat labeled "Anything But Cheer." "I want to be something different. I just get burned out really easily. And my body? I can feel it coming." Again, he mentions acting. When I tell him he's brought it up twice unprompted, he laughs. "That's something I have a big passion for that I've never gotten to do." He says he wanted to join theater in high school, but with all the cheering, there just wasn't any time. When I ask if he'd be more interested in TV or movies, he says movies at first, then flips back to TV. "I just want to be in something fun," he says. And if he has to put all his energy into acting classes, then so be it, he says before yawning again. Cheerleading is exhausting work, but so is fame, should he choose to embrace it. Now, with Daytona canceled and competitive cheerleading officially in his past, he's living in something of a trial period. Since the taping of the show, he's bounced from A-list event to A-list event, morning show to morning show. Everywhere he goes, he's asked for a selfie. Dua Lipa recently followed him on Instagram, which no doubt puts immeasurable pressure on his social-media strategy. He'll have to leave the invisible switch on for the foreseeable future, but without his teammates' encouraging mat-talk or the comfort of what was, until just now, his greatest outlet.
Fortunately, he has plenty of people to turn to while navigating whatever comes next. "The women in my life have always led me in the right directions," he says. And indeed, all of the people he's discussed with reverence (not counting Tanner) have been women — Coach Monica, Miss Edora, Brekiana McGriff, Debbie Bonner (a cheer mom he lived with at Navarro), Coach Candace (who taught him how to tumble), Latoya Loveless (his mentor), Miss Jackie (the auntie who took him in "from the streets"), and finally, Nicki Minaj, whom he credits for his emotional resilience. "Watching [Minaj] go through a lot of stuff in life and still make it and still smile and still keep going … taught me how to do that," he says. "Because there was a time where I literally thought I was not going to make it. I thought I was already done. But I always had Nicki Minaj."
As the humble expanse of Corsicana fades in my rearview mirror, I start to wonder when I'll see La'Darius Marshall again. Will there be another season of Cheer? Will he appear in a new Ryan Murphy soap? How about in head-to-toe Gucci on a billboard in Soho? I look around at the flat North Texas farmland surrounding me and imagine him right here, rocking away as people zip on past. And that's the thing about La'Darius Marshall: Every time he finds himself in the clouds, it doesn't take long for him to float right back down to the mat.