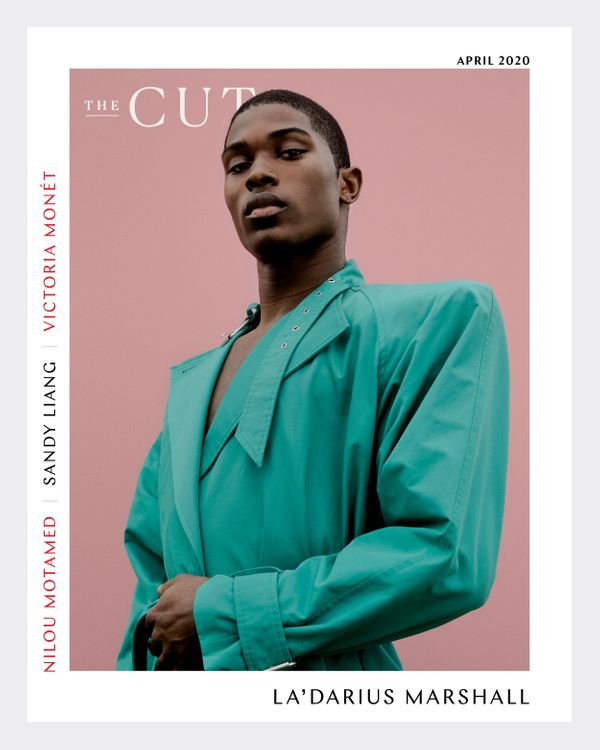 In January, it seemed like everyone was watching Netflix's docuseries Cheer. The show followed the Navarro College cheer team as it prepared to compete in Daytona's annual National Cheerleading Championship. With a cast of camera-friendly and high-energy young cheerleaders, Cheer seemed destined to mint at least one star, and the clear standout was La'Darius Marshall, the subject of the Cut's April cover story.
To shoot La'Darius, photographer Erik Tanner and the Cut's senior photography editor Liane Radel drew inspiration from a wide range of references: Stanley Kubrick's 2001: A Space Odyssey, the iconic style of Grace Jones (evoked by the structural Balenciaga coat seen on the cover), and the body-focused work of painter Egon Schiele. Tanner wanted to focus on the way La'Darius's movements blend sensitivity and strength. "He had such a great sense of his form, but beyond that is his expression," Tanner told the Cut. "The looks that he gave — I believed them because they were thoughtful and honest."
Apart from the movement and poses, what ultimately makes a beautiful photograph is emotion, which Tanner and Radel intended on capturing from the shoot's inception. "I wanted to show him in the beauty of nature, have him react to it, and take it to a place where he could feel really alive," says Radel. "It was quite cathartic." Below, check out a behind-the-scenes video from the shoot.