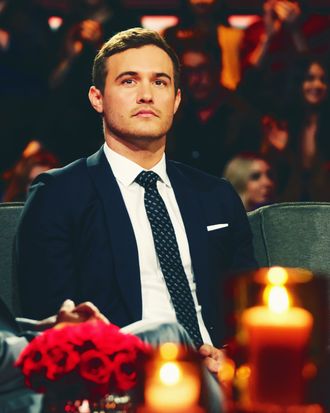 Peter Weber
Photo: John Fleenor via Getty Images
Perhaps you had assumed — fairly — that because this most recent season of the Bachelor ended a month ago, you would be granted at least a momentary reprieve from the sloppy romantic antics of the Bachelor, Peter "Pilot Pete" Weber. But do you not remember this season at all? Peter is a messy boy who lives for drama, and just because the cameras aren't rolling anymore does not mean he will refrain from making confusing, ill-advised dating decisions.
First, a quick recap of where we last left Peter: At the end of the season, the two women left competing for his hand in marriage were Madison Prewett and Hannah Ann Sluss. Madison, a devout Christian who is saving herself for marriage, dumped Peter in Australia because she was angry that he had slept with other women during Fantasy Suites week. Peter was heartbroken, but still proposed to Hannah Ann, only to end their engagement weeks later because he said he still wasn't over Madison. At the season 24 finale in L.A. in March, Peter and Madison announced that they were giving their relationship a try and taking it "one day at a time." Two days later, they announced on Instagram that they had broken up.
Now, Peter has been making the podcast rounds and doing what he does best: gossiping and starting drama.
As Cosmopolitan reports, this week, in an interview with former Bachelor Nick Viall on his podcast, The Viall Files, Peter said that his (second) breakup with Madison lasted approximately six (!) hours. After the emotional live finale, Peter explained, Madison went to talk to her family, and then joined Peter in his hotel. "That was mainly just [us] trying to be there for each other," he said.
The next day, the two of them "pretty much spent the entire day together" trying to figure out if they could make their relationship work. "I remember going to her hotel … it was super sad," he said. "For probably six hours, we stayed on her bed there, we laughed, we cried, we hugged each other. It was rough."
Peter's interview comes just a couple of weeks after he was spotted looking very flirty in Chicago with yet another former contestant from his season, Kelley Flanagan. Photos posted by TMZ on March 25 showed the two decidedly not practicing social distancing on the shores of Lake Michigan — Peter had Kelley slung over his shoulder, and witnesses said the two were "very handsy." The two have apparently been quarantining together in Flanagan's Chicago home, and though neither of them will say whether they're dating, Peter said on the Bachelor Happy Hour podcast with Becca Kufrin and Rachel Lindsay that he definitely has a "crush" on Kelley. He also told Viall:
Are we dating? No. Do I love spending time with her? Absolutely. We're not dating. Could I see that in the future? Yeah, of course. I'd be extremely lucky and very happy if that happened.
Well, I guess it's only a matter of time before he and Kelley start making their own social-distancing TikToks.