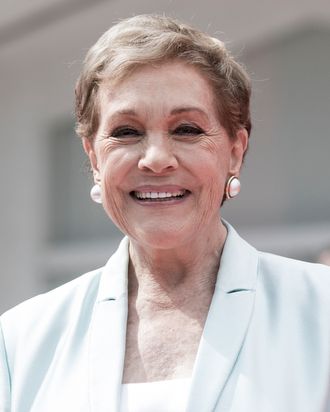 Photo: Corbis via Getty Images
If you find the sound of a celebrated voice relaxing, there's no shortage of programming for you these days. Diddy has a (much-buzzed-about) guided meditation out, Matthew McConaughey has a relaxation app called Calm. But why not try something made for kids and steeped in your own childhood nostalgia? Why not listen to Mary Poppins herself, a.k.a. Julie Andrews, read you a bedtime story?
On Wednesday, Julie Andrews and her daughter, children's author Emma Walton Hamilton, will launch their new storytelling podcast, Julie's Library: Story Time with Julie Andrews. It's designed to be a literacy program for children ages 4 through 10, but according to the podcast's distributor, American Public Media, it's also "aimed at multigenerational family audiences." So there's nothing wrong with a fully grown adult listening to Julie Andrews read them a bedtime story in preparation for a bout of deep REM sleep.
Hamilton said in an interview with CBS Sunday Morning over the weekend that she hopes "these stories will bring families together, will bring all of us together." Andrews added, "and encourage reading and literacy and, I mean, all of those subliminal things that go along with enjoying a good book." The podcast's press release states that each of the stories featured on the podcast "is brought to life through music, sound design, and special guest appearances."
It's basically the magical carpet bag of podcasts, bearing an inexhaustible supply of family entertainment, child education, and adult power naps.