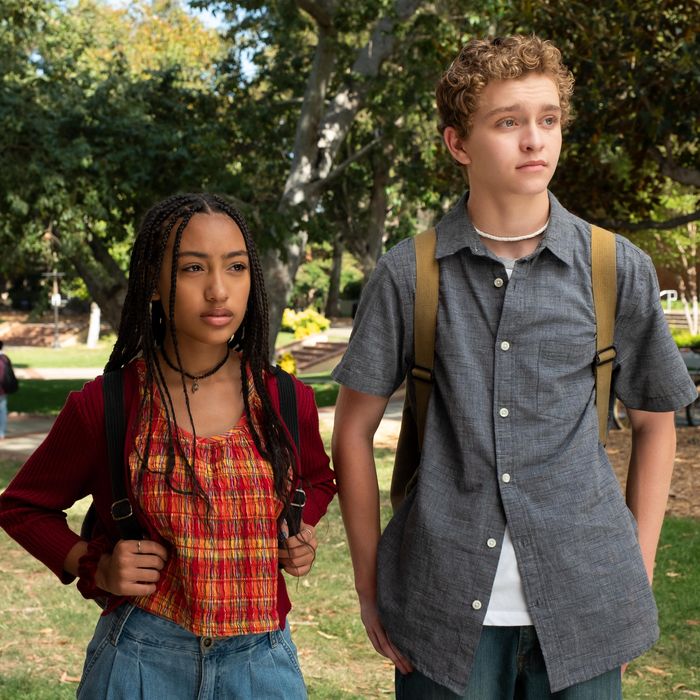 One of the first scenes in Little Fires Everywhere left me shocked. It wasn't the drama — though the Hulu show, based on Celeste Ng's 2017 novel, has it in spades — but a magazine: the August 1997 copy of YM, with the Spice Girls on the cover. On the show, Mia (Kerry Washington) buys a copy for her daughter Pearl (Lexi Underwood) at a grocery store. I vividly remember owning a copy of that magazine. I probably coerced one of my parents to get it for me at the grocery store.
Little Fires Everywhere centers around tensions between the wealthy Richardson family and the itinerant Wallace family — artist mom Mia and quiet daughter Pearl — in Shaker Heights, Ohio, in the late '90s. And while there's a lot to like about the show, my favorite part has been the scavenger-hunt appeal of locating things in the background that remind me of my tween years.
Production designer Jessica Kender is behind the cans of Slim Fast and Ethan Allen furniture that create the world of the show. Kender worked closely with showrunner Liz Tigelaar, and they bonded over growing up during that time period. "We were teens and 20-somethings in the '90s. I graduated from college in 1997, and every time we would do something, it would be a little jog of memory. When they go to the supermarket, I was trying to think of samples that would go around, and I was like 'We have to have Snackwells!'" They had help from stars like Joshua Jackson and Reese Witherspoon, who were eager to go down memory lane with them. (While Kender didn't have an immediate hand in costuming, the chokers and puka shell necklaces are peak '90s as well. She did say that a photo of Witherspoon with a bunch of tiny butterfly clips was used as costume inspiration.)
For me, the most appealingly nostalgic moments come whenever we get to see one of the five teen character's bedrooms. Kender says all the actors did walkthroughs of their rooms and examined whether or not they felt right for their characters. Popular Lexi Richardson has a room full of '90s trends: "Lexi's room, if you love the '90s, that's the one you'll love. There's a 90210 board game, and "control, shift, delete" is on a post it to remember on her computer." Angsty Izzy Richardson's room is practically wallpapered in punk posters, doodles, and a prominently displayed 12 Monkeys poster took Kender and her team several weeks to create.
The set designers weren't able to find everything they wanted. A Jerry Maguire poster had to suffice for Lexi after they were unable to source a poster for Titanic, a staple for any teenage girl at the time. We don't get to see as much of the boys' rooms, but Kender says they too were filled with stuff that represents who they are. Emo Moody, who suggested watching Before Sunrise with Pearl, of course has a ton of indie movie posters, but also the band that stood for teen angst at the time. "We did a whole Nirvana conspiracy board for him. Someone spent a good three days on his Nirvana board and we never really see that." Athletic Trip's bedroom leans into the jock stereotype: it's filled with "street signs he pulled off and stuck on the wall, and the beer posters with the girls in the thongs," says Kender. Sadly, we never get to see it, but if you can remember the '90s, you can probably picture it perfectly.