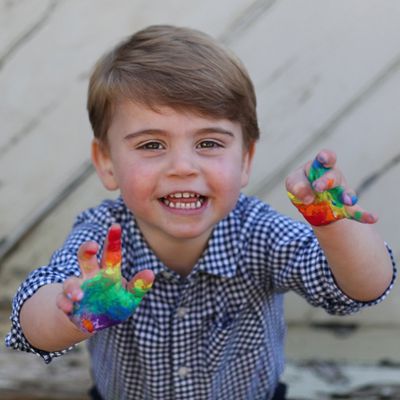 Nostalgia Baby.
Photo: @KensingtonRoyal/Twitter
Tomorrow, the Royal Baby turns two. Or, a Royal Baby — there are a few babies with this title, but the one in question, the birthday boy, is Prince Louis. Yes, I know, it seems like only yesterday that he was an infant blessed with enviably strong brows. Now, however, he is a toddler endowed with nostalgically side-swept bangs. How time flies!
On Wednesday, Kensington Palace shared a "sneak peek" of Prince William and Kate Middleton's youngest child: a series of photos in which the little prince can be seen making beautiful arts with his rainbow-painted hands. Presumably, the motif may have something to do with rainbows many families have been displaying in their windows as a symbol of unity during the coronavirus pandemic, which Louis's grandmother referenced in her recent national address. A very nice contribution, Louis! Both in terms of creativity and style. That sweeping fringe has catapulted me straight back to 2004.
With other notable early aughts trends rearing their heads in recent years — tiny sunglasses! low-rise jeans! little tendrils of face-framing hair pulled down from ponytails! — perhaps you wondered when side-swept bangs would join the party. Well! Possibly as soon as now: Prince Louis is not the only style icon currently brushing his forelock toward one eye, like a little curtain made of hair. Supermodel Bella Hadid, who frequently dresses for the year 2003, recently cut her own bangs into a side-sweep while isolating at home. First Louis, then Bella, and next…maybe you?