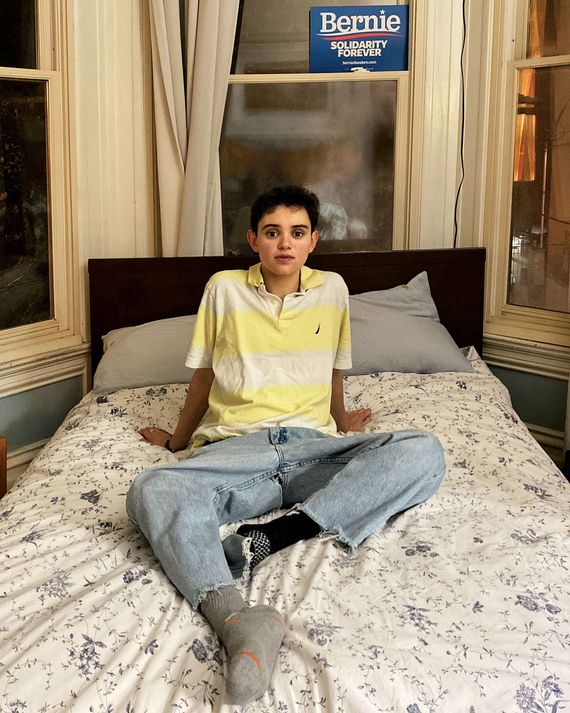 Photo: Courtesy of the subject
(Above): August King Ackley, studying visual arts and creative writing, San Francisco.
How did you feel when you found out you'd be home the rest of the year? Well, I was having a really good first semester, but second semester I was starting to feel pretty overwhelmed socially. I felt all this pressure to be complex and interesting and I don't know — I guess what I'm saying is I felt a little relief.
What's it like being back?
I'm reverting to a bit of a high-school dynamic. It's obviously not true, but I sort of feel like I'm grounded: I can't see my friends, can't hang out with my girlfriend. Actually, when I first got home, me and my girlfriend were seeing each other. But then our moms talked and decided we couldn't do that anymore.
Like, they had a phone call?
Yes. It was a whole thing. I dramatically stormed out of the house after.
You're from New York?
Yes. And, ironically, when I got into NYU, I said I only wanted to go if I could live in the dorms. People keep saying this crisis has given them time to connect with their families. Not me. My mom works at a retirement home, so she spends most of her time cleaning, not wanting to interact with us physically.
Did you have time to make close friends?
I did. We made art. We got into these crazy philosophical conversations. They got me, who I am as a person. It was a breath of fresh air. And now I'm here, and I don't want to be here, but I'm forced to be.
Are classes awkward?
It's hard to have meaningful discourse. Like, I have this one literature class, and we'll be having a discussion, and then someone raises their hand, and then the professor has to say, "Okay, you can unmute yourself" — by the time you get to speak, you've forgotten the point you're trying to make.
How are you keeping busy?
Lately, my friends and I have been playing a lot of Zoom poker. People are buying in $60, $70 at once — we play until two in the morning. I made $200 the other night.
Where do you work in your house?
In my room. But it's a small apartment, and my parents can hear everything. Sometimes I'll be in one of my night acting classes, and they'll poke their heads in and be like, "What are you talking about?" And I'm like, "Mom, it's a character."
*A version of this article appears in the April 27, 2020, issue of New York Magazine. Subscribe Now!