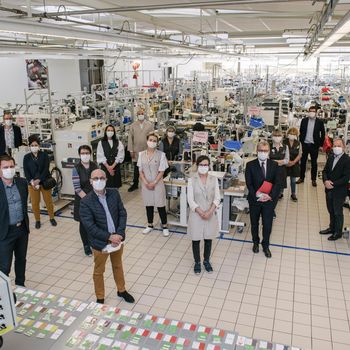 Photo: Courtesy Louis Vuitton
Millions of people are still in need of nonsurgical face masks to help fight the spread of the coronavirus, and in early April, Louis Vuitton announced that it will repurpose its workshops across France to make hundreds of thousands more. The brand later added that it will also be making thousands of gowns at its Paris ready-to-wear atelier, and will repurpose all five of its American workshops to produce masks as well.
The French house's parent company, LVMH, already converted a number of its factories to produce hand sanitizer, and reportedly ordered 40 million masks from China to be sent to France. Louis Vuitton decided to reopen its factories in April following a plea from the French government. Hundreds of artisans have already been mobilized, and voluntary Louis Vuitton pattern cutters will work from home simultaneously as well.
Michael Burke, Louis Vuitton chairman and CEO, marked the launch of mask production by visiting the brand's Sainte-Florence workshop.
"As an important French House, Louis Vuitton wishes to commit at its level to producing many thousands of masks that will be distributed within the region, at no charge, to protect those who are most exposed," he said.
Vuitton plans to keep between 20 percent and 30 percent of its masks for internal use, and will donate the remainder to retirement homes in France. The gowns will be provided to frontline workers in six Parisian hospitals that are taking care of patients suffering from the coronavirus. Masks produced in America will be donated to highly-impacted states.
Needless to say, none of these supplies will have the Louis Vuitton logo on them.
This post has been updated.