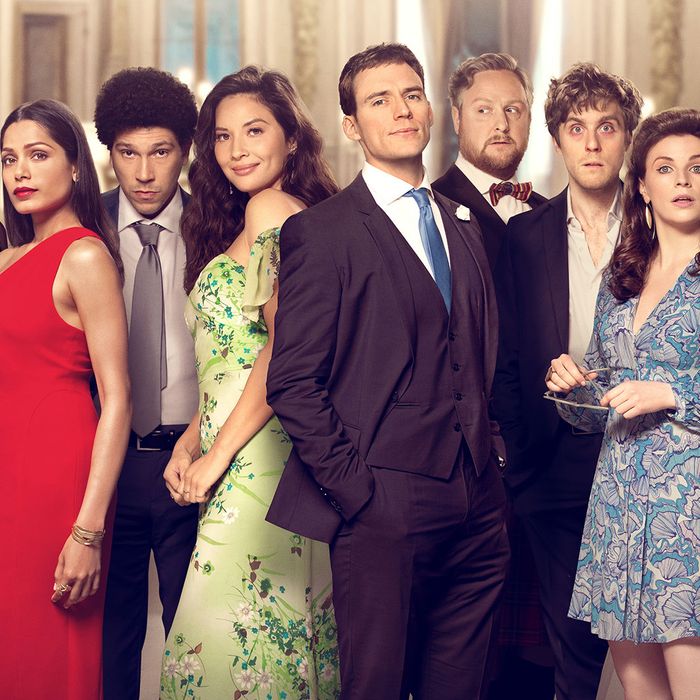 While some masochists are spending their extra time indoors bingeing pandemic movies, I'm more interested in something with little conflict, attractive people, and happy endings. I'm talking about a rom-com, of course, and if that's your speed too, you're in luck: Netflix's new (British!) romantic comedy Love Wedding Repeat is one of the best rom-coms we've had in a while.
Love Wedding Repeat, out today, follows a day in the life of Jack (Sam Claflin), who is trying desperately to keep his sister Hayley's wedding from imploding. Directed by Dean Craig (Death at a Funeral), it's Wedding Crashers by way of Love Actually, and it is totally delightful. It unfolds over the course of a single day — Hayley's wedding — at a small Italian castle and focuses on the antics of an ensemble cast of eight guests. Dina (Olivia Munn) is the story's lone American, a war reporter who spends much of the movie being close-talked at by a drunk male guest about his terrible job. Meanwhile, Jack is trying to catch her attention after a fumble several years earlier, all while trying to subdue a coked-up wedding crasher, Marc (Jack Farthing).
There are also several awful and heartfelt wedding speeches, a beautiful and bitchy Frieda Pinto, a handsome movie director of unspecified European origin, and a misplaced sleep sedative. It is, in short, the perfect romcom; you will probably cry, but happy tears for a change.