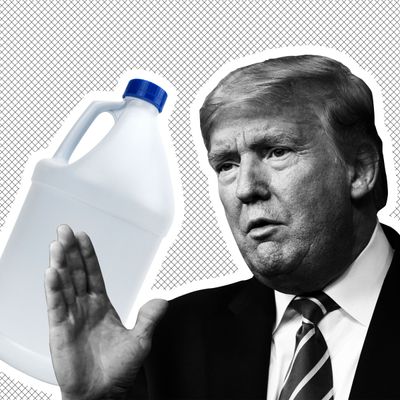 Donald Trump and his potentially "interesting" coronavirus treatment.
Photo: Drew Angerer/ iStock/Getty Images
After Donald Trump suggested that injecting disinfectant could be a potential treatment for coronavirus, Lysol has issued a bleak warning: Please do not drink or inject yourself with bleach or any of our disinfectants.
Trump's suggestion came during last night's White House coronavirus task force briefing, when Trump decided to dole out some unsubstantiated and clearly dangerous "medical advice": After saying that shining an ultraviolet or other "very powerful light" could be a potential coronavirus treatment, he then contemplated bleach. "I see the disinfectant where it knocks it out in a minute, one minute. Is there a way we can do something like that by injection inside?" he pondered. "Or almost a cleaning, 'cause you see it gets in the lungs and it does a tremendous number on the lungs," he continued, concluding that this could be "interesting to check" out.
Actually, that isn't worth checking out, Lysol countered in a strongly worded statement in response to Trump's claims. "As a global leader in health and hygiene products, we must be clear that under no circumstance should our disinfectant products be administered into the human body through injection, ingestion or any other route," RB, the company that produces Lysol and other disinfectant brands, wrote. "Our disinfectant and hygiene products should only be used as intended and in line with usage guidelines."
Medical experts were similarly aghast. "Inhaling chlorine bleach would be absolutely the worst thing for the lungs," pulmonologist John Balmes told Bloomberg. Dr. Vin Gupta, a pulmonologist and global health policy expert, told NBC News: "This notion of injecting or ingesting any type of cleansing product into the body is irresponsible and it's dangerous. It's a common method that people utilize when they want to kill themselves."
While it may seem easy to dismiss Trump's disinfectant suggestion as obviously ludicrous, one of his earlier coronavirus-treatment suggestions resulted in at least one death. In late March, an Arizona man died after drinking fish-tank cleaner that contained chloroquine phosphate, which he mistook for hydroxychloroquine, an antimalarial drug that Trump repeatedly touted as an effective coronavirus treatment. The drug is still in clinical trials and not a proven treatment.