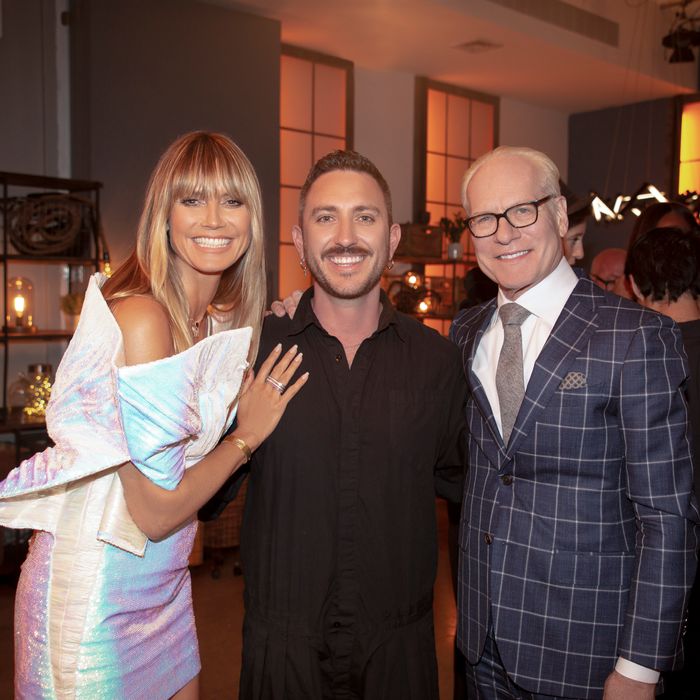 From left:
Heidi Klum, Jonny Cota, and Tim Gunn.
Photo: David Scott Holloway/David Scott Holloway/Amazon Stud
Every so often, a competition-based reality show creates an actual star. That's what happened in 2008, when Christian Siriano won Project Runway, launching him into a successful career as a designer and an established role in New York's fashion landscape. Amazon Prime's Making the Cut owes a lot of its DNA to Project Runway — it's even hosted by Runway alums Heidi Klum and Tim Gunn — so when the show announced its winner last week, it was impossible not to think about Siriano, and about what a young designer might need to do to succeed now that the landscape is strewn with rubble.
Compared with Project Runway, Making the Cut's budgets are higher ($1 million for the winner), its locales are fancier (Paris, Tokyo), and its emphasis on commercial success is notably more intense. In each episode, the contestants design one runway look and one more accessible look. Whoever is deemed the winner (by a panel of fashion luminaries that includes Naomi Campbell) gets to see their accessible look sold on Amazon after the episode airs.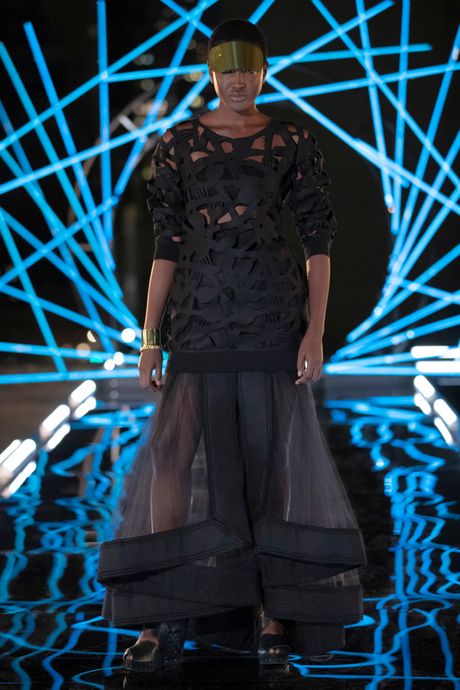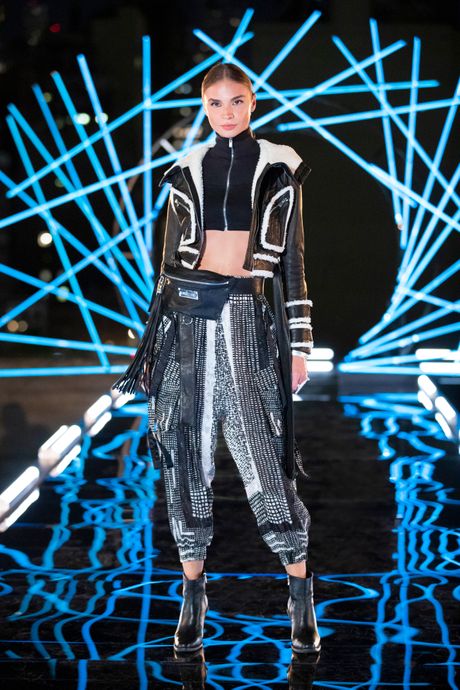 The commercial angle shouldn't be a surprise — this is Amazon, after all. In Making the Cut's finale, the top contestants (Jonny Cota, Esther Perbandt, and Sander Bos) were given three chances to demonstrate that they understand how to create and sell a brand. First, they were asked to set up a a pop-up shop in New York — a challenge that knocked out Bos. Next, the remaining two gave a $1 million pitch to Christine Beauchamp, the director of Amazon Fashion. That's where Cota pulled ahead, tossing around terms like "production models" and "sustainable growth," and impressing Beauchamp, who called his presentation "compelling."
But the final test came down to a runway face-off. Cota and Perbandt debuted their collections on a rooftop against the New York City skyline. Both aesthetics could be described as "edgy," with a mostly all-black palette with smatterings of white and leopard print. Still, there was a noticeable difference between them: Perbandt's clothing ran toward the aspirational (think motorcycle jackets paired with wide 18th-century-inspired skirts), whereas Cota's put his own spin on popular items you'd see in stores now like maxi dresses, bomber jackets, and even some menswear.
The judges were split, but tie-breaker Nicole Richie granted Cota the final prize. "I feel like he always had a very strong story to tell, understood the designer he is, [and] who he designs for," Klum said in an interview. "To me, he always had a very clear brand identity." Of course, everything's changed since the show was filmed. Cota will need all of his business savvy to figure out what might come next.
Watch Cota takes home the grand prize here.