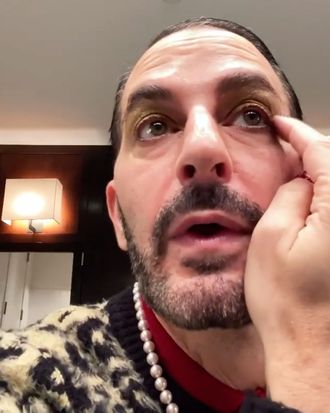 Photo: themarcjacobs/Instagram
We found Marc Jacobs, and it turns out he's in the same place that many of the country's celebrities are at any given moment: in the bathroom composing a makeup tutorial. Jacobs's debut beauty vlog falls somewhere in between professional (his brand manufactures all the products he uses) and deranged. Mostly, it is a tribute to the majestic and bitchy beauty of leopards, as evidenced by the spotted Hedi Slimane sweater he's got on.
Marc kicks off his "Too-Torial" (which he describes as a way for "us to all to get inspired") with some Diana Vreeland quotes to set the mood. "A world without leopards, well, who would want to live there?" says Jacobs, quoting the iconic fashion editor and columnist, adding, "I couldn't agree with her more." Another phrase Vreeland was fond of saying — "Why not?" — Jacobs interprets to mean "Why not paint your face, why not get dressed, why not parade in your underwear, why not dance naked … and why not be me and be unafraid to be me and unashamed and excited to be me?"
At the end of this lengthy introduction, Jacobs at last gets out his eye shadow palette and begins applying three shades of rustic golds with his finger tips. As if in apology for his haphazard effect, Jacobs explains, "I do this for me, and if you get some joy out of it, terrific, and if you don't, unfollow." He shows off the manicure he recently gave himself, red and shimmery. As he reaches for the mascara, he remarks, "You can never be too skinny or have long enough lashes. I was kidding about the skinny thing." Then he drinks some green juice on camera and talks about his colitis for a while.
And that's pretty much it! A final mirror selfie reveals he's been wearing perilously tall and chunky red wedges this whole time. Now I'm impressed.