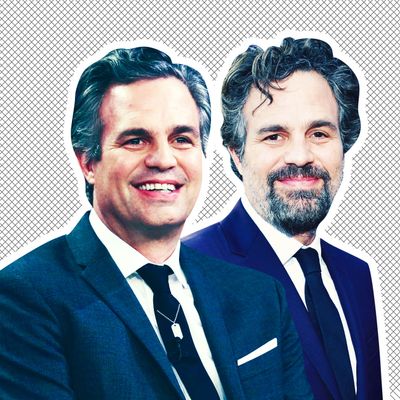 Mark Ruffalo, a hot man with a preternatural talent for acting and an extravagant hatred of GMOs, is playing twins. This is my Normal People.
On HBO's new TV adaptation of Wally Lamb's best-selling 1998 book I Know This Much Is True, Ruffalo will depict twin brothers Thomas and Dominick Birdsey, one of whom has schizophrenia. It's far from a light romp, but the six-episode miniseries, however serious and sad, also features two Mark Ruffalos, and that's a big selling point for me. Not only two Ruffalos, but lots of them. Ruffalo told the New York Times on Thursday, "It's 600 pages of dialogue. I was on every page." Apparently, at one point producers brought in another actor to wear a Mark Ruffalo mask in scenes between the brothers so that the real Ruffalo had a person to respond to, but "it didn't work at all."
This all sound like really excellent work. But as much as I enjoy prestige dramas about family turmoil, I do wish that there were simply a show called Two Mark Ruffalos, and we could all just enjoy that. A scene might go something like this:
MARK RUFFALO 1: What we need is an investigation, someone needs to be held accountable.

MARK RUFFALO 2 (a journalist): I gotta agree.

RUFFALO 1: Hey, no kidding, you seem like a great guy!

RUFFALO 2: Women do say that! Let's grab a beer, get caught up on each other's anti-fracking campaigns.

RUFFALO 1: Great idea! Maybe we can join forces.

RUFFALO 2: I'd love that, man. But first [hands Ruffalo 2 a thick pile of tattered pages held together by rubber bands], this is my life's work.

RUFFALO 1: Whoa.

RUFFALO 2: All that corruption you thought was low-level? Well, it goes straight to the top.

RUFFALO 1: And you're giving it to me, man?

RUFFALO 2: Sparks won't let me run with it, and yesterday the Feds tracked me down to my local burger joint, told me to take a vacation.

RUFFALO 1: [Standing on the cold sidewalk of a Boston suburb with his hands in his pockets.] Mark, this is so huge, but it's just a lot for me to take in. I tried … but … I can't be who you want me to be.

RUFFALO 2: [Wearing glasses now.] Hey, I get it.

RUFFALO 1: [Stomping out his cigarette with comfortable shoes.] I'm just … a guy, you know.

RUFFALO 2: [Taking a deep drag.] I know, Mark. I know. You take care of yourself now.

RUFFALO 1: [Also wearing glasses.] This has been one of the greatest experiences of my life.
Maybe now that he's comfortable playing twins he'll consider future projects in this vein. I'm open to all the angles.