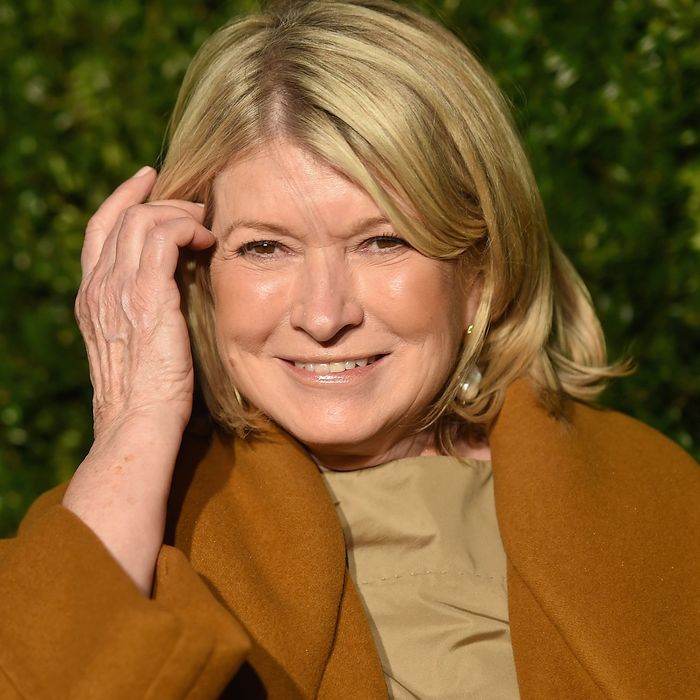 Thanks, Martha!
Photo: WireImage/Getty Images
Self-isolation looks a little different when you're a famous person stuck inside a huge house filled with expensive things and fancy sinks, which is why Martha Stewart's down-to-earth quarantine beauty routine is so refreshing.
Today, the media mogul posted a selfie on her @MarthaStewart48 account (the blurrier, more personal one). It was accompanied by a caption shouting out the members of her glam squad, whom she now thinks about daily while attempting her "own daily ablutions and preparations" in quarantine. "I warn all of you to not attempt frivolous 'fixes' during this time," she begins, before delving into her suggested, at-home, DIY beauty routine.
It is completely void of the usual influencer clichés, which are especially annoying right now: No $170 cream, no 6 a.m. mediation call-time, no fancy blunt stone for rubbing your face. Martha just wants you to go back to the basics to get your hair, face, and nails through the shutdowns until they can be put back in the practiced hands of professionals once again. Here, her main tenets:
1. Wash your hair, condition it, air-dry it.
2. Remove chipped polish and lightly file your nails.
3. Apply lots of rich hand lotion and reparative ointments.
4. Cleanse your skin well and moisturize morning and night.
5. Tinted sunscreen is good all day, and lipgloss, of course.
6. Apply masks two or three times a week! If you can find CBD masks and serums use those.
The CBD is totally optional, but I think using the word "ablutions" whenever referencing our beauty routines going forward should absolutely be mandatory.