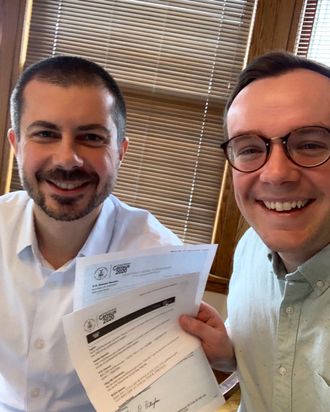 A new isolation look.
Photo: @PeteButtigieg/Twitter
Like so many of us — stuck inside, looking for any way to inject a little novelty into the monotony of our day-to-day lives — former presidential candidate Pete Buttigieg appears to be experimenting with new looks while social distancing. Mayor Pete (or, the Pete Formerly Known As Mayor; his run as South Bend, Indiana's leader ended in December) has not only grown a beard but also cut his hair. Glad to see he's taking our advice.
It appears Pete may have been working on the beard for a few weeks: South Bend has been under a stay-at-home order since March 23, and the scruff was firmly in place when he spoke with our colleagues at Intelligencer late last month. Asked if he thought a beard might have boosted his chances of winning the Democratic nomination, he mused that although "we'll never know for sure," the stubble "seems to be popular online." Perhaps Pete's public finds it relatable. With nonessential businesses currently closed in most states, clipper sales have skyrocketed, suggesting many people have resorted to home haircuts.
"I just relish the fact that I'm no longer expected to shave every day," he told Intelligencer. "I didn't mean for it to be a statement — we'll see how long it lasts."
As of Wednesday, the beard was still in the race for our attention, clearly displayed alongside a striking new buzz cut in a TMZ Live video. The makeover can also be seen in a photo Pete tweeted in which he and husband Chasten look very jazzed to complete the Census.
As it happens, shaving one's head is a popular option in the isolation era. Who needs shampoo when you can put that money toward beans, and also, what an ideal opportunity to explore what your naked head looks like. Sincerely hope we never get such a chance again.