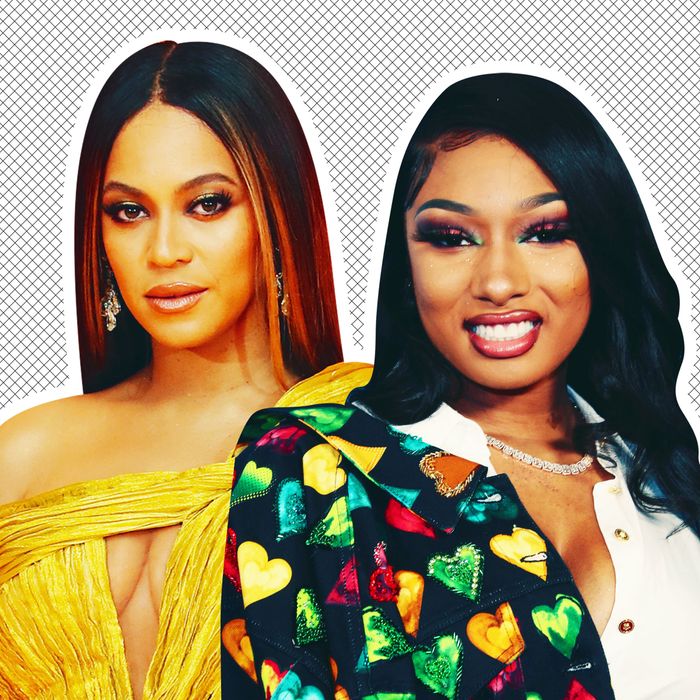 Thank you!
Photo: Getty Images, Shutterstock
I have a small and sneaking feeling that you might like a little treat. Something to take the edge off while we weather this absolute shitstorm; something like maybe … a banger to drown out the sounds of the next-door couple bickering on the other side of your tissue-thin wall? Hm, well, today appears to be your lucky day. Beyoncé and Megan Thee Stallion got together and made you something: a remix of the latter's hit song "Savage" off her Suga EP. They are so thoughtful — I mean, really, because the proceeds from this single (which you can download on Tidal) go to Bread of Life, a Houston disaster relief organization, during the coronavirus pandemic.
And then, Beyoncé doesn't drop new music all that often, although when she does, the wait tends to be extremely worth it. This collaboration is no exception; Indeed, in any other scenario, we might call this "Savage" remix the song of summer, only, do we get a song of summer even if we don't necessarily get a summer? Or at least, not a summer as we have historically known it? What do "seasons" mean when days and weeks and months all bleed into one flat circle? As the original architect of the Hot Girl Summer philosophy, though, Megan Thee Stallion may be the best equipped to manifest our wishes into physical reality — if she releases the summertime bop, then summertime will come, etc., etc.
At the very least, the "Savage" remix is something new for you to dance to in your room. To quote Beyoncé, *chef's kiss* she's a treat — and you deserve a treat! Enjoy.