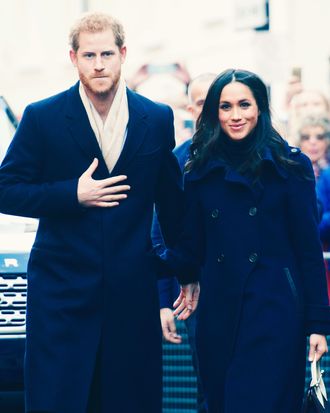 Photo: WPA Pool/Getty Images
Harry and Meghan may have officially decamped to L.A., but they haven't finished with the U.K. tabloids, which have continued to breathlessly cover them in spite of their distance. And this past Sunday, the couple released a letter officially cutting off four U.K. media outlets, noting that "there will be no corroboration and zero engagement" with the Sun, the Daily Mail, the Mirror, and the Express:
It is gravely concerning that an influential slice of the media, over many years, has sought to insulate themselves from taking accountability for what they say or print — even when they know it will be distorted, false, or invasive beyond reason. When power is enjoyed without responsibility, the trust we all place in this much-needed industry is degraded. There is a real human cost to this way of doing business and it affects every corner of society.
The letter cements the couple's media-relations policy, which they released back in January when they announced their decision to step down as senior working members of the royal family. The policy included their unprecedented choice to no longer participate in the Royal Rota system, a group of U.K. outlets and tabloids that have had exclusive access to cover royal events for decades.
It also follows legal action against several tabloids that Harry and Meghan initiated back in October. The couple filed a suit against Associated Newspapers, the publisher of the Daily Mail and Mail on Sunday, for "the misuse of private information, infringement of copyright, and breach of the Data Protection Act 2018." The suit was filed in response to the Mail on Sunday publishing a private letter from Meghan to her father, but followed years of tabloid coverage that has been described as mean-spirited and racist. Early in his relationship with Meghan, Harry even issued an appeal imploring the U.K. tabloid press to end "the wave of abuse and harassment."
The first hearing in the case heads to the U.K. courts this week. In his statement announcing the case last October, Harry suggested that tabloids' treatment of Meghan mirrored that of his mother, the late Princess Diana:
There comes a point when the only thing to do is to stand up to this behavior because it destroys people and destroys lives. Put simply, it is bullying, which scares and silences people. We all know this isn't acceptable at any level. We won't and can't believe in a world where there is no accountability for this.
Meghan and Harry made clear that this is not a "blanket policy for all media." Read the full letter here.