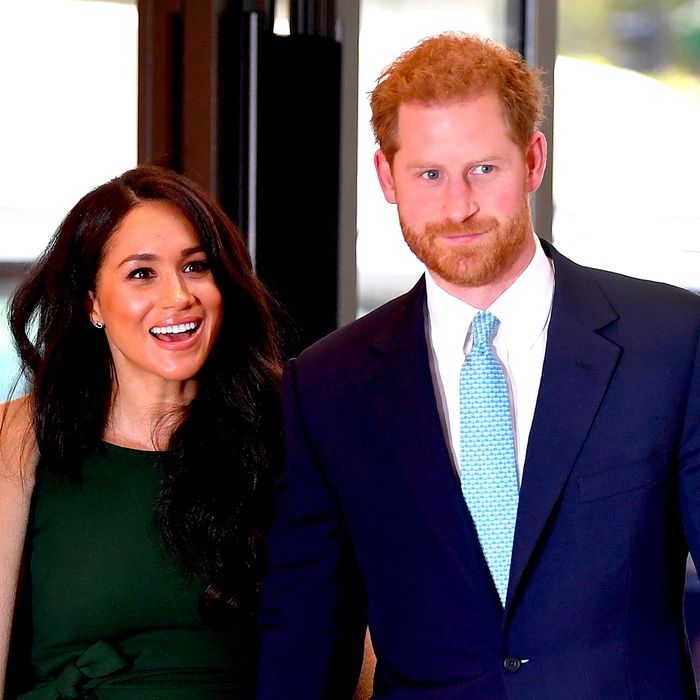 Meghan Markle and Harry.
Photo: TOBY MELVILLE / POOL / AFP/Getty Images
Meghan Markle and Harry, you know the one, have been "quietly" delivering meals to home-bound Angelenos during the coronavirus pandemic, according to reports. Well, their charitable efforts were quiet — now they are news. Nonetheless, the Duke and Duchess of Sussex have been volunteering with a Los Angeles organization called Project Angel Food, dispatching meals and non-perishable items to 20 clients with critical illnesses.
"They told us they heard our drivers were overloaded and wanted to volunteer to lighten the drivers' workload," Richard Ayoub, Project Angel Food's executive director, told Entertainment Tonight, recalling the couple's offer to help out.
Harry and Meghan moved to L.A. sometime in March. According to ET, Meghan's mother — Doria Ragland, and L.A. resident with a background in social work — told her that Project Angel Food needed support. Per People, it currently has a waitlist of over 400. CNN reports that the charity has seen a huge spike in calls since stay-at-home orders began: Project Angel Food's clients tend to be older and have the kinds of chronic illnesses that put them in the high risk bracket for coronavirus, and drivers have been deluged with as many as 70 calls per day.
The couple completed their first round of deliveries on April 12, Easter Sunday, and subsequently signed up to make more runs on Wednesday. And yes: they stuck to social distancing protocol, and wore masks and gloves while they dropped off the food.
"They were extremely down to earth and genuinely interested in every single person they met," Ayoub told People. "Our clients are [people] who are often forgotten. They really wanted to go visit these people. They wanted to see them and talk to them and hopefully put a smile on their faces."
One of Project Angel Food's clients, Dan Tyrell, told WeHoVille he didn't immediately recognize the pair when they showed up with his food. "I thought that tall red-headed guy looked pretty familiar, and that girl was very pretty," Tyrell said. "Then I saw the large black SUVs with the security guards behind them."
"They were both nice and very down-to earth people," he added. "They had masks on, and they were dressed down with jeans, but very nice jeans."